From Iran To Kansas, To Texas, Zeinali Continues To Learn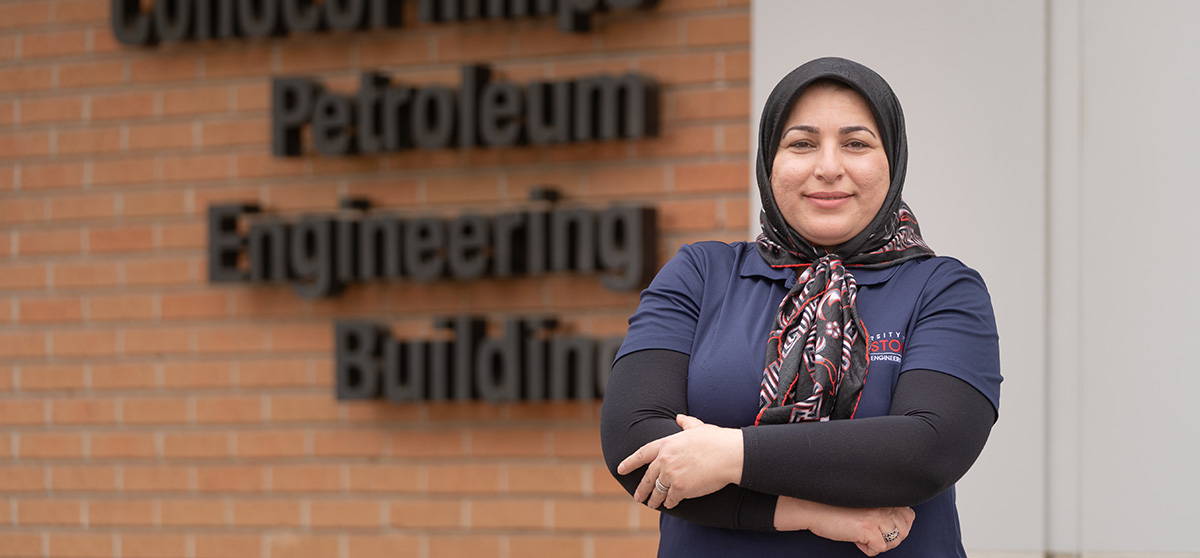 By Stephen Greenwell
For University of Houston master's student Leila Zeinali, her interest in learning has never really abated, and it has persisted from her native Iran, through a stint as a high quality teacher herself, to the Petroleum Engineering classrooms she is now a student in.
Her father's work with Iran's national oil company was what first stoked Zeinali's love of mathematics.
"As a child, I was fascinated with my dad's work as an oilfield technician," she said. "His job was to measure the volume of oil in oil tanks received from the pipeline for distribution through Lorestan. For this purpose, he was using statistics — and later, I found out, geometry and trigonometry and algebra — for measurement purposes. The process was intriguing to me, and naturally, I developed a deep interest in all things mathematics, especially geometry and calculus."
Before attending college, though, Zeinali had to pass a rigorous national exam called "Kokoor."
"To pursue my interest, I had to compete in the national exam in Iran for the few available seats in top universities," she said. "The national exam in Iran was a beast." 
"More than a million students competed for about 100,000 seats. My hard work was paid off, and I ranked in the top 3,000 among more than 100,000 in the math and physics selection exam. As a result, I entered a good university in our city, and my rank earned me free tuition and a four-year scholarship."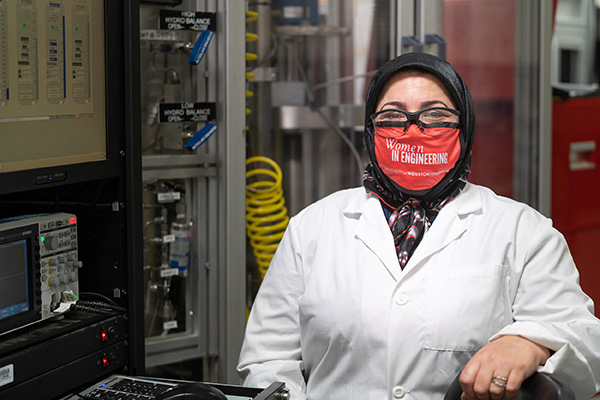 Leila Zeinali in the lab
After graduation, Zeinali taught for seven years, two of which were in underprivileged schools. She won several awards, including one for the highest graduation rate in the district. However, when her husband Mojtaba Ghoraishy entered a doctorate program at the University of Kansas in 2002, she moved to the United States with him.
While he focused on finishing his program, Zeinali was the primary caregiver for their son Mohammad and daughter Minoo, but that itch to continue learning still gnawed at her. She audited several math courses at Kansas, and when the family settled in Houston after he completed his doctorate, Zeinali enrolled at the University of Houston.
"Here in this city, I had the opportunity to pick up where I left off, and I decided to go back to school to follow the path of math and science," she said. "Among multiple engineering paths, Petroleum Engineering had become my favorite for various reasons. My dad's work in the oil business has instilled in me respect for the industry. The same goes for my native country in Iran, in which oil plays a prominent part daily. And the third reason was my husband, and the community of people around me, are all in the oil business, which further grew my interest in the profession."
After entering the program in the Fall of 2012, Zeinali said she immediately immersed herself in the study of fluid mechanics, reservoir rocks, oil production, and completion classes, and other fundamentals of the field and felt so excited.
As someone with a mathematics background, I saw how Petroleum Engineering related to math. However, it was more intriguing how different parts of the industry, from exploration to refinery, work hand-in-hand to deliver energy to the consumer.Leila Zeinali
"My experience at UH has been no less than fantastic," she said. "As someone with a mathematics background, I saw how Petroleum Engineering related to math. However, it was more intriguing how different parts of the industry, from exploration to refinery, work hand-in-hand to deliver energy to the consumer. Among the valuable courses in Petroleum Engineering, I would like to single out the Capstone Project we designed hydraulic fracture optimization for a Kinder Morgen CO2 segment. That was my first experience working in a multidisciplinary team in the industry."
Beyond the educational experience though, Zeinali highlighted the networking opportunities that UH's location provided her with, both in terms of professional organizations and industry. She recently placed first in the UH Society of Petroleum Engineers Master's student paper contest.
"Through participation in technical associations like the Society of Petroleum Engineers, the American Association of Drilling Engineers, and the Society of Women Engineers, I have become familiar with the various inner workings of the energy industry," she said. "SWE holds a special place for me. I share the same vision of SWE leadership in encouraging more women to come to engineering, and that will benefit the country. The engineering profession empowers me to step out of the typical boundary of the perceived women's role in society. UH and its environment was vital for me to achieve this perspective."
Zeinali encouraged other students to take advantage of Houston's proximity to the established energy industry.
"The UH Career Fair has given me three opportunities to experience the industry as a summer intern," she said. "In 2015, 2016 and 2019, I worked for GE Oil & Gas, and Baker Hughes. Working with a team taught me how to approach and troubleshoot problems and resolve the issues in a step-by-step fashion. It was an essential, valuable experience about how to work within a group of various disciplines and rely on them as a resource. Eventually, what gave me the most satisfaction was that I could use some of the learning from UH courses directly to a day-to-day industry problem."
Zeinali earned her bachelor's degree in December 2016, but decided to continue her education. She cited professors like Dr. Michael T. Myers, Dr. Christine Ehlig-Economides, Dr. John Lee, and Dr. Ramanan Krishnamoorti as positive influences on her learning environment. She received her master's degree in Spring 2021. While completing her graduate course work, she overlapped at UH with her son, Mohammad Mahdi Ghoraishy, a Computer Science student.
"My experience as an intern, my engagement in various professional societies, and interactions with professionals from the oil industry encouraged me to expand my technical depth," she said about her decision to pursue an advanced degree. "I also loved the thriving university environment, which gave me the energy and excitement to pursue my curiosity to learn. Among my options, UH was the most promising place to continue."