Engineering Transitional Information Sessions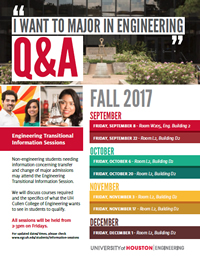 Non-engineering students needing information concerning transfer and change of major admissions may attend the Engineering Transitional Information Session.
We will discuss courses required and the specifics of what the UH Cullen College of Engineering wants to see in students to qualify. Sessions will be held from 2-3pm on Fridays in Room L2, Building D2. (Building D2 is the small lecture hall building next to Engineering Building 1.)
September 8 (Session will be held in Room W205, Engineering Building 2.)
September 22
October 6 (This session is cancelled.)
October 20
November 3
November 17
December 1
Click here to view our undergraduate transfer student guide!
Click here to view our road map for transferring into Engineering from Inside UH
Click here to view our road map for transferring into UH Engineering from another institution