Cullen College Quick Facts
College enrollment figures include undergraduate engineering majors who have not declared majors and graduate students concentrating in interdisciplinary programs. These students are not reflected in department totals.
146
*
Faculty
*Faculty figure represents tenured/tenure-track faculty members.
3209
Undergraduate Students
$
40
M+
Research Expenditures
Degrees Awarded
(FY 2022)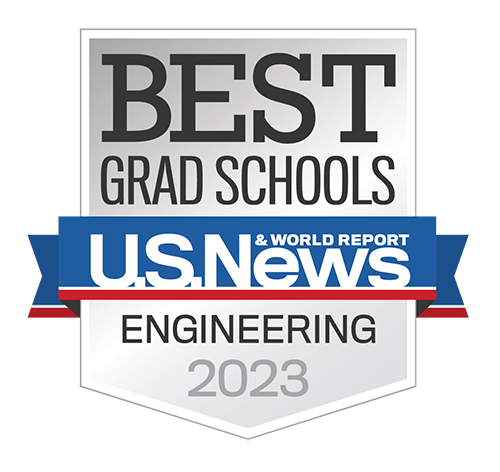 Named a Best Grad School for Engineering 2023 by U.S. News & World Report
#69
in Best Engineering Schools
#9
in Petroleum Engineering
#34
in Chemical Engineering
#50
in Industrial Engineering
#64
in Civil Engineering, Environmental Engineering
#71
in Mechanical Engineering
#85
in Electrical Engineering
#88
in Biomedical Engineering
#91
in Materials Engineering
OUR VISION
To become a "Top 50" engineering program as defined by U.S. News and World Report in support of the University of Houston's Tier One initiative.
Departmental Quick Facts
Undergraduate Enrollment, Fall 2022
| | |
| --- | --- |
| Biomedical Engineering | 272 |
| Chemical Engineering | 438 |
| Civil Engineering | 421 |
| Computer Engineering | 275 |
| Electrical Engineering | 502 |
| Industrial Engineering | 133 |
| Mechanical Engineering | 1,011 |
| Petroleum Engineering | 64 |
| Total | 3,116 |
Masters Enrollment, Fall 2022
| | |
| --- | --- |
| Biomedical Engineering | 48 |
| Chemical and Biomolecular Engineering | 35 |
| Civil Engineering | 64 |
| Computer Engineering | 102 |
| Data Science | 236 |
| Electrical Engineering | 93 |
| Environmental Engineering | 23 |
| Industrial Engineering | 241 |
| Materials Engineering | 8 |
| Mechanical Engineering | 151 |
| Petroleum Engineering | 34 |
| Total | 1035 |
Doctoral Enrollment, Fall 2022
| | |
| --- | --- |
| Biomedical Engineering | 77 |
| Chemical and Biomolecular Engineering | 100 |
| Civil Engineering | 51 |
| Electrical Engineering | 137 |
| Environmental Engineering | 19 |
| Industrial Engineering | 19 |
| Materials Engineering | 41 |
| Mechanical Engineering | 66 |
| Petroleum Engineering | 48 |
| Total | 558 |
Undergraduate Degrees Awarded, FY 2022
| | |
| --- | --- |
| Biomedical Engineering | 47 |
| Chemical Engineering | 73 |
| Civil Engineering | 69 |
| Computer Engineering | 31 |
| Electrical Engineering | 84 |
| Industrial Engineering | 24 |
| Mechanical Engineering | 199 |
| Petroleum Engineering | 27 |
| Total | 554 |
Masters Degrees Awarded, FY 2022
| | |
| --- | --- |
| Biomedical Engineering | 26 |
| Chemical and Biomolecular Engineering | 13 |
| Civil Engineering | 18 |
| Computer Engineering | 9 |
| Electrical Engineering | 31 |
| Environmental Engineering | 5 |
| Industrial Engineering | 42 |
| Materials Engineering | 8 |
| Mechanical Engineering | 45 |
| Petroleum Engineering | 15 |
| Total | 212 |
Doctoral Degrees Awarded, FY 2022
| | |
| --- | --- |
| Biomedical Engineering | 11 |
| Chemical and Biomolecular Engineering | 22 |
| Civil Engineering | 6 |
| Electrical Engineering | 26 |
| Environmental Engineering | 2 |
| Industrial Engineering | 1 |
| Materials Engineering | 15 |
| Mechanical Engineering | 12 |
| Petroleum Engineering | 6 |
| Total | 101 |