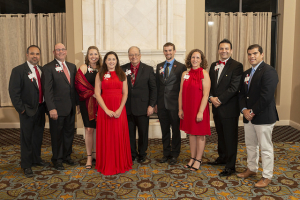 Welcome to the University of Houston Engineering Alumni Association! The mission of the Engineering Alumni Association is to champion, support and unite the UH Cullen College of Engineering, its students and its alumni.
The Engineering Alumni Association meets on the second Thursday of each month to plan our events, programs and discuss any topics facing the association. We are always looking for new volunteers interested in giving back to the Cullen College of Engineering!
Interested in learning more? Follow us on our social media platforms — we are currently on Facebook, Instagram, and LinkedIn. Any questions or concerns can be emailed to alumni [at] egr.uh.edu.
2020–2021 Board of Directors
Wayne Mausbach, P.E. ('69)
Sebastian Hernandez, P.E. ('14)
Nathan Schmidt, P.E. ('05, MBA '16)
Justin DeClue ('99, MS '03)
Trevor Moore, P.E. ('14)
Jamie Imhoff ('97, MBA '06)
Jorge Villalta, P.E. ('07)
Carlos Chiquillo ('04, MBA '10)
Chris Egan, P.E. ('94)
Kenneth Flakes, P.E. ('02)
Lisa Benzenhoefer ('05)