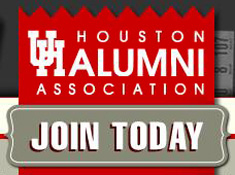 The Engineering Alumni Association is a constituent organization of the Houston Alumni Association (HAA). By paying membership dues to UHAA, you are automatically a member of the Engineering Alumni Association. Your membership dues help support the activities of both UHAA and the EAA. Are you a member of the Alumni Association? If not, why not join today?
The University of Houston Alumni Association is a 71 year-old, non-profit (501)(c)(3) tax exempt corporation that is owned and operated by the alumni of the University of Houston. UHAA represents the interests of more 200,000 alumni, and it exists to support and promote higher education in general and specifically, the University of Houston.
How do I become a member?
Active Membership status is accorded to all graduates and former students who make an annual gift of $50 or more to UHAA. Couples may receive joint membership in recognition of a $60 gift. An annual gift of $100 or more gives you special recognition in the Century Club. Life Membership is accorded to individuals making a one time gift of $1000 (or $250/year paid over 4 years).
What benefits do I receive as a member?
The primary benefit of UHAA membership is advancing the reputation of the University of Houston and ensuring the value of your UH degree. In recognition for their support, members receive the distinctive UHAA window sticker, a subscription to UH Alumni Quarterly magazine, and invitations to alumni events and activities that provide enjoyable networking opportunities. In addition, you receive campus parking privileges, use of the UH library system, continuing education discounts, bookstore discounts, and eligibility to hold office in the UHAA, its constituent associations and clubs.
What are the membership categories?
New Grad $20/year
Recent Grad (2nd/3rd year after graduation) $25/year
Active Membership $50/year
Joint Membership $60/year
Senior Citizen Membership $35/year ($45 joint)
Century Club $100/year ($125 joint)
Life Membership $1000 ($1500 joint)