First Endowed Chair Established In Industrial Engineering Department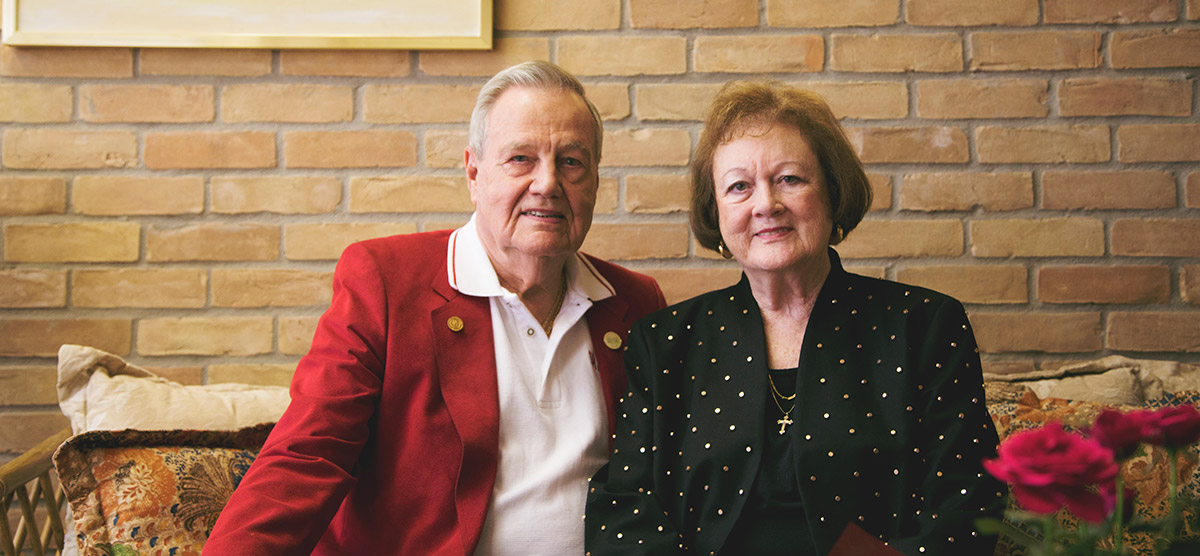 By Chris Stipes
University of Houston alumnus Larry Snider achieved great success throughout his career as an engineer, leading companies and optimizing systems around the world. Now enjoying retirement, the Snider legacy will live on for generations with a $1 million gift to the Cullen College of Engineering to establish the R. Larry and Gerlene (Gerri) R. Snider Endowed Chair in Industrial Engineering — the first fully funded endowed chair in the department's history. 
The Industrial Engineering program offers excellent educational training to approximately 300 undergraduate and graduate students interested in careers that apply mathematics to improving system performance in an array of industries including health, energy, manufacturing, human factors, logistics, and supply chains.
"We look forward to embracing a high caliber industrial engineering chair to build the program and maintain high impact academic research, while also enhancing an already exemplary student experience. The Sniders' generosity provides the program with stability and vision for many years to come," said Paula Myrick Short, UH senior vice president for academic affairs and provost. 
Working full-time to put himself through college, in 1955 Larry earned his bachelor's degree in process engineering, a combination of industrial and chemical engineering. Gerri also worked full-time and managed their household. For decades, the Sniders have been passionate supporters of the University and steadfast proponents of hard working students, currently funding three scholarships at the Cullen College; one for Native Americans, in honor of Larry's membership in the Cherokee Nation, and two scholarships for women in honor of their daughters Melody Kathryn and Rebecca Lee. 
Larry's distinguished career took him and his family to many major cities in the United States and around the world. His career began at Sheffield Steel & Kaiser Steel where he held senior engineering positions and later joined Booz Allen Hamilton as a consultant, before progressing to vice president in charge of the Production Inventory Control Division. Larry then joined Peat Marwick Mitchell as Houston partner in charge of commercial consulting before leaving to become president/COO of Sterling Electronics. Snider worked as the president/CEO of RAPACO Energy, establishing it as an active coal mining company. Upon the sale of the company, Larry returned to his first love of consulting as managing consulting partner for Coopers Lybrand in the southwest region, the position from which he retired. Larry established RLS Professional Services LLC to continue consulting for companies he had previously served. 
"We are very pleased to donate some of the financial resources God has provided us to create the endowed chair in Industrial Engineering since my degree in process engineering from the Cullen College Industrial Engineering Department provided me a very solid foundation for my career and our successful lives," said Larry. "We pray this donation significantly enhances Industrial Engineering's success in training future engineering leaders and makes a great impact on the world."
Beginning March 1, 2022, the chair of the UH Department of Industrial Engineering, currently Gino Lim, will be appointed and known as the R. Larry and Gerlene (Gerri) R. Snider Endowed Chair in Industrial Engineering. Joseph Tedesco, dean of the Cullen College of Engineering, called the gift a "significant milestone" for the department.
"This is the first ever fully funded endowed chair for the Department of Industrial Engineering and to have such distinguished supporters continue to give back to the University is truly special. This gift will enable the program to grow to meet the evolving needs of industry. We are grateful for the Sniders' incredible support," said Tedesco. 
Lim has been the department chair since 2011, and calls industrial engineers the "most flexible" engineers on the planet because of their ability to collaborate across a wide range of sectors to find solutions. From writing algorithms to improve the efficiency of health care systems to working with municipalities to achieve faster recovery times from hurricanes and blackouts, IE professionals are problem solvers. 
We pray this donation significantly enhances Industrial Engineering's success in training future engineering leaders and makes a great impact on the world.Larry Snider
"We utilize data and applied mathematics to integrate machines with humans that ultimately enhance the quality of products and services. Through the Sniders' gift, our ability to prepare students for future societal global challenges has been strengthened, and to that we say 'thank you.'"
In 2015, the Sniders established a $4.2 million testamentary charitable gift annuity supporting the future success of the UH Cullen College of Engineering. Their latest gift enables the University to invest the funds to produce interest income while leaving the endowment's principal untouched, thus ensuring sustainable financial support.
"The Sniders have elevated the Industrial Engineering department with their thoughtful and generous support," said Eloise Brice, vice president for university advancement. "This gift ensures we can continue to retain the talent needed to advance the University and achieve our goal of becoming a Top 50 public university."
Larry served as the UH Alumni Association President from 1991-1992, received the UH Engineering Alumni Association's Distinguished Engineering Alumni Award in 1991 and the Lifetime Achievement Award in 2013. He and Gerri are also members of the Cullen College Bridgebuilder Society.