Engineering the Final Four
Caleb Broodo Balances His Love Of Basketball And Engineering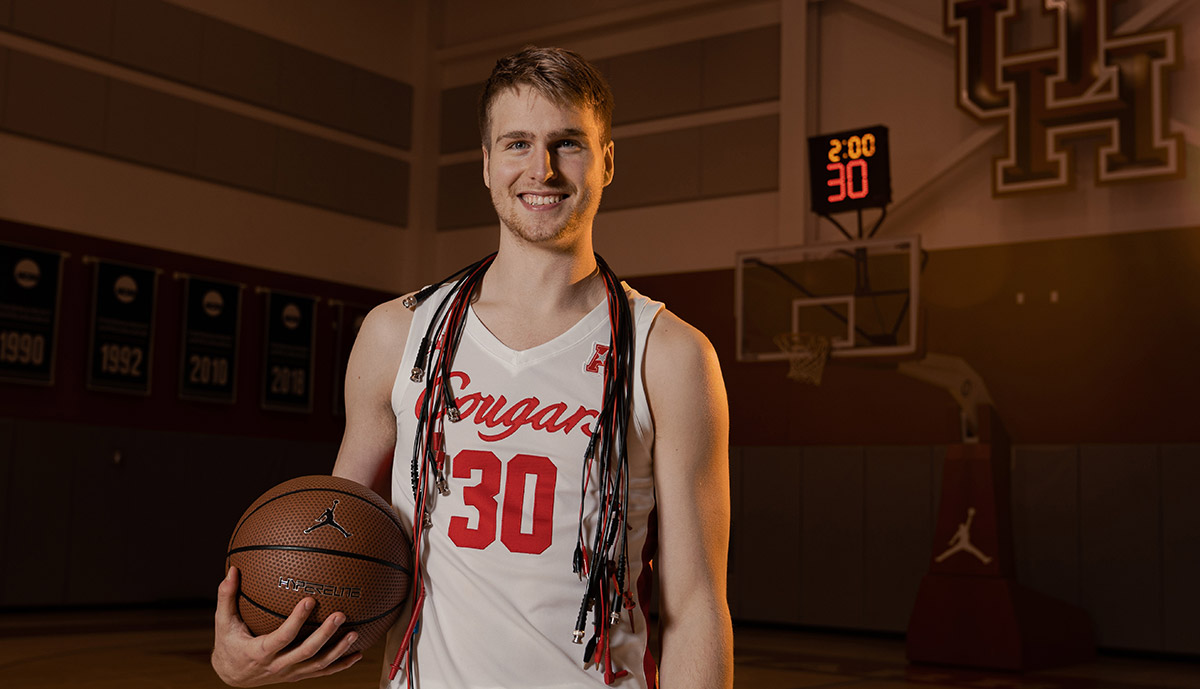 By Stephen Greenwell
As he progresses deeper into his collegiate career, University of Houston basketball walk-on and Cullen College of Engineering student Caleb Broodo only has one word to describe the experience — surreal.
Then again, few can match the at-times frantic journey that the redshirt junior has had. After not playing on his high school basketball team his freshmen and sophomore years, Broodo logged significant minutes as a junior and senior, and shot up close to his current 6'8" frame.
Broodo said he was recruited mostly by Division II schools and junior colleges for basketball, but he wanted to try playing at the Division I level while also pursuing an Electrical Engineering degree at a Tier 1 research school. He knew he had the chance to do both if he earned a spot as a walk-on at UH. He took a look at several Division I schools that also had high-quality engineering programs — Michigan State, Texas, Texas A&M — but his final decision came down to UH because of head coach Kelvin Sampson.
"Coach Sampson is very much a coach who is aware of talent, but values more than anything a player's character and heart when it comes to recruiting," Broodo said. "A player's heart is one of those intangible things that can only be demonstrated by rebounding and defense, as well as toughness and competitiveness, something that does not show up on the stat sheet. I had a strong gut feeling from watching Houston on TV that Coach Sampson and his coaching staff has the same attitude toward player evaluation. I don't really think I'm especially talented. I had a 6' 8" frame, I was good at rebounding, and I played hard, that's all I had going for me. I had to rely on that if I ever stood a chance to get recruited and hope that their coaching staff sees me and my heart when I try out. Coach Kellen [Kelvin Sampson's son] saw that and gave me a chance. And now, looking back, I am more than happy I made the decision to come here. I wouldn't want to have played for any other coach in this country."
Broodo was born in Missouri City and had family in the Houston metro area, which was also a draw to the university. His father Jack's work with Dow Chemical took Caleb, his mother Linda, and his older brothers Daniel and Michael to Canada and then Michigan. He graduated from Dow High School in Midland and knew he wanted to study Electrical Engineering.
I always had an insatiable curiosity about electronics and gadgets. We live in a modern society where you can take things apart, and you don't necessarily know how it works.Caleb Broodo
"I always had an insatiable curiosity about electronics and gadgets," he said. "We live in a modern society where you can take things apart, and you don't necessarily know how it works. Back in the day, in the 1940s, you could take apart a radio, and you would see a tuning capacitor or the crystal detector, but now you take apart radio, and you see some very small components attached to a printed circuit board. There's no visually intuitive understanding of how things work. As a kid, I was intrigued by this. 'How does that work?', I would ask myself."
Of course, Broodo was challenged in multiple ways almost immediately upon enrolling at UH. He enrolled in the Fall of 2017, but had to evacuate campus twice in August because of Hurricane Harvey. From there, he emerged from a 30-person tryout to grab a spot on Houston's roster.
As a result, he's been present for the resurgence of the Houston Cougars' basketball program. After an eight-year NCAA tournament drought, Kelvin Sampson brought UH back in the 2017-18 season. The Cougars advanced to the Sweet Sixteen in the 2018-19 season, and although the pandemic forced the cancellation of the 2020 tournament, Houston made the Final Four in 2021, its first appearance since 1984.
Broodo said that when he tried to think of the experience of being involved with the NCAA basketball tournament, he kept returning to the word "surreal."
"It's hard to describe in words," he said. "You know, there were 16,000 people in  attendance when we played Kentucky in the 2019 Sweet Sixteen. Obviously, there couldn't be as many people this year, but you could certainly feel the aura of all the people watching. It's the biggest spectacle in American sports, the only thing that rivals it being the Super Bowl."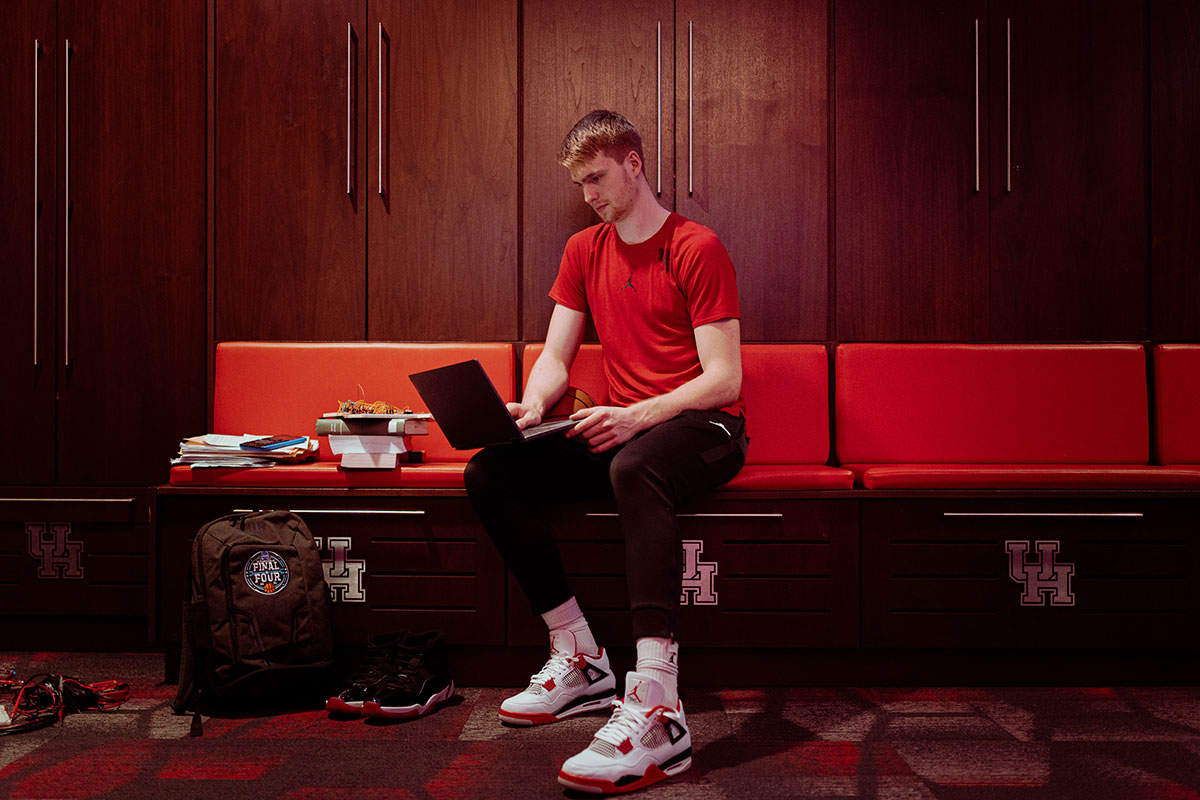 Caleb Broodo balances his love of basketball and engineering.
Broodo attributes his success to his work ethic, which developed first on the court, and then off of it. For the Cougars, he functions as a practice player and reserve, a role he's comfortable with. And as he's progressed from high school to college courses, Broodo admits that he's had to work hard on his organization and time management skills, especially after he failed Circuit Analysis I and Engineering Mathematics courses the first semester of his sophomore year.
A year later, Broodo said he connected with David P. Shattuck, Ph.D., an Associate Professor of Electrical and Computer Engineering. Shattuck was the professor he would take the subsequent Circuit Analysis II course with.
"He's one of the few professors that I looked forward to going into his class, not necessarily because of the subject matter, but because of the way he would lecture, his humor, and his personality. You could tell he loved what he did, and he had been doing it for a long time," Broodo said. "I would look forward to going to his office hours, and just talking with him. He really helped me when it came to those sorts of things. I had doubts about whether or not I could do basketball and electrical engineering. And he said, 'You know what, Caleb? It's been done before.' He pointed me to Kurt Ederhoff, a student he taught in the 90s that played basketball for UH, who then went on to earn his Ph.D. in Electrical Engineering and P.E."
Ironically, another professor that Broodo said has had a positive influence on him was the one that gave him a failing grade the first time he took Circuit Analysis I — Leonard P. Trombetta, Ph.D., the Associate Department Chair. However, Broodo said that thanks to Trombetta, he knew he needed to adjust his approach from high school as he transitioned into college.
"I realized the reason I failed classes is because I didn't give them the attention they deserved," he said. "With a lot of these engineering classes, it's not necessarily that you have to be super smart. But you have to give these classes your full attention. I had to fail in order to learn that, and I am grateful that I did fail, or else my life would not have changed."
Broodo also got a wake-up call about the kind of effort and energy he needed to put into his studies after completing an internship at Saber Power Services, an engineering and construction firm.
"The project manager who was supervising me told me that he had kids in his junior year," Broodo said. "And I was like, 'This guy graduated with a degree in electrical engineering, while raising children.' What I'm doing is really hard. But, you know, it can't possibly be as hard as that."
Broodo stays organized with a physical calendar on his desk, and by writing everything down. He admits with a laugh that if he had been this organized in high school, he would have had a 4.0 GPA.
"I stay incredibly organized, and I cannot procrastinate," he said. "Not because I don't want to procrastinate, just because I can't afford to, with homework, lab work, I have to get on it immediately. I have a calendar with all of my exams and assignment due dates written down. I need that visual aid. Without it, I live in blissful ignorance of my classes until the assignment is past due, and then my life isn't so bliss anymore."
He's appreciative for the professors he had this semester — Gulin Aksu, Ph.D., Stuart Long, Ph.D., and Ji Chen, Ph.D. Each professor met with Broodo in their own time to help him stay on track during March Madness.
In addition to his engineering studies, Broodo is also attracted to unraveling the mysteries of physics. In particular, he was studying quantum mechanics, signal processing and analysis of chirp signals with Donald J. Kouri, Ph.D.
Unfortunately, Kouri passed away from complications related to his heart in February 2021. However, Broodo said that Kouri was still inspiring his current studies and mindset.
"This weekend I am going to visit his lovely wife, Shirley, who says that Dr. Kouri had wanted me to pick up textbooks from his extensive library at home," Broodo said. "I find comfort in thinking he is still assigning me homework. I am reading and learning about what he did, the people across the world whose scientific careers were propelled by him and the scientific contributions he made, of which fascinates me."
Broodo added, "I hadn't realized until November of last year that he was going through all of these things related to his health while I was doing research with him. Despite dealing with that, he still found a way for me to come over his house, and to give lectures to me. That's the highest level of commitment an instructor could give, and it is something I can only wish to give to a student of mine someday."
Broodo is completing the research he and Kouri started with Gemunu Gunaratne, Ph.D., Moores Professor of Physics.
"Dr. Gunaratne is an excellent instructor," Broodo said. "I am incredibly grateful he was willing to continue mentoring me after Dr. Kouri's passing. I'm very much looking forward to the work he and I will be doing together."
"I can't emphasize enough how much of an impact Dr. Kouri made on my life, and how he essentially motivated me to pursue science at the highest level," Broodo said. "That's a feeling I hope I can cultivate in someone, not even necessarily about science, but to give them a sense of passion of their choosing."
As of now, Broodo is interested in research opportunities and possibly teaching, after he earns his advanced degrees.
"I don't know how good of a teacher I would be, but I certainly would be interested in giving to others what Dr. Kouri and other instructors had given to me," he said. "I think my principal interest right now is to do research related to gravity. I've always found gravity peculiar. It, like electricity, is an overwhelming force that somehow acts at a distance, a difficult proposition for some to accept. The contributions Newton made, somehow realizing that the force that made an apple fall to the ground was the same force that governed the motion of the planets, was brilliant. Einstein, who was a genius, took that a step forward by introducing general relativity, which incorporates the idea of the spacetime geometry. The more I learn about general relativity, such as how it demonstrates that gravity is illusionary, the more I get foaming at the mouth. Due to modern technology, we have a chance to live the implications and discoveries Einstein predicted a century ago, such as observing gravitational waves. It's mind-boggling how Newton and Einstein and several other scientists came up with their ideas. It makes you feel that the possibilities and imagination of the mind is absolutely unbounded. The human brain is pretty amazing."
Broodo spent the summer at a research opportunity. Prior, he was very much looking forward to it. "I am planning on conducting functional analysis of gravitational wave observations made at LIGO [Laser Interferometer Gravitational-Wave Observer] Laboratory this summer," he said. "This is a special opportunity for me because I get to continue Dr. Kouri's work, and I get to do something related to Einstein's predictions. Einstein was someone I revered my entire life. He's my hero, and he makes me proud to be Jewish."
With another laugh, Broodo apologized for the "massive information dump." 
"It's pretty obvious how much I enjoy talking about physics, isn't it?" he said.