Alumni and Support & Giving
Celebrating 80 Years — Forever Coog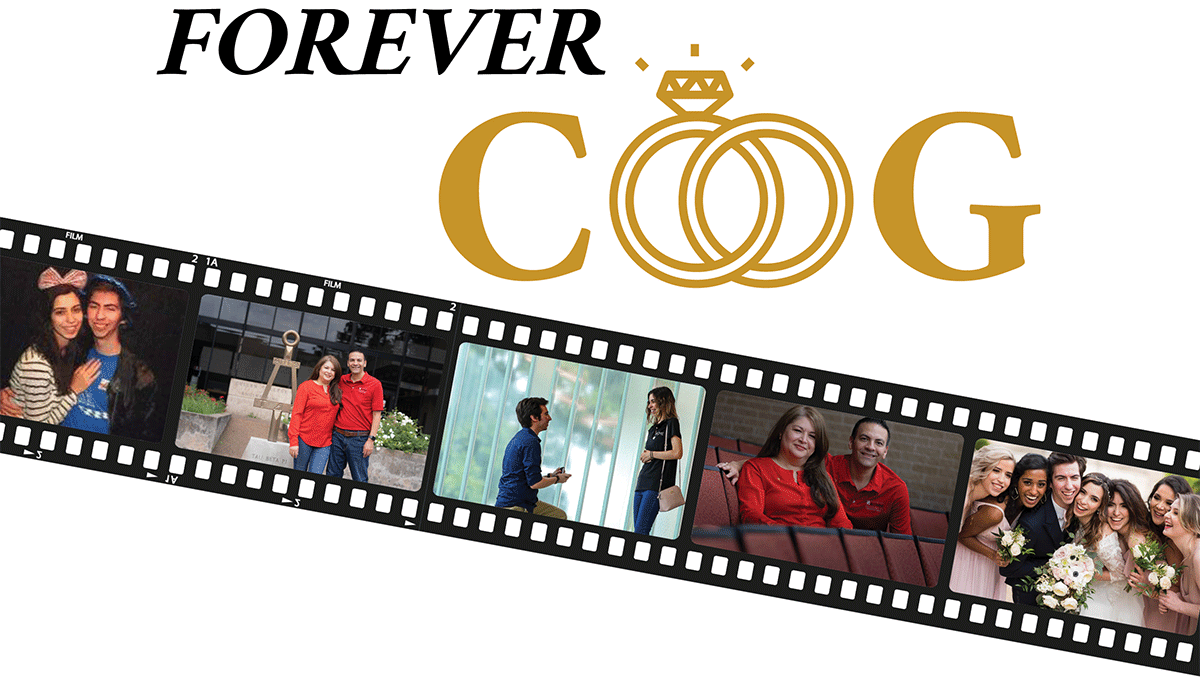 A look back through the Cullen College's history would be incomplete without the stories of its alumni. Students impact our history during their time at the college and beyond, going on to start revolutionary businesses and lead trailblazing careers, becoming astronauts, company CEOs, world class researchers and more.
While it may seem natural to look back and credit your alma mater for your career, others have even more to be thankful for. For some it's the lifelong friendships and connections made, and for others, it's the discovery of a soul mate.
---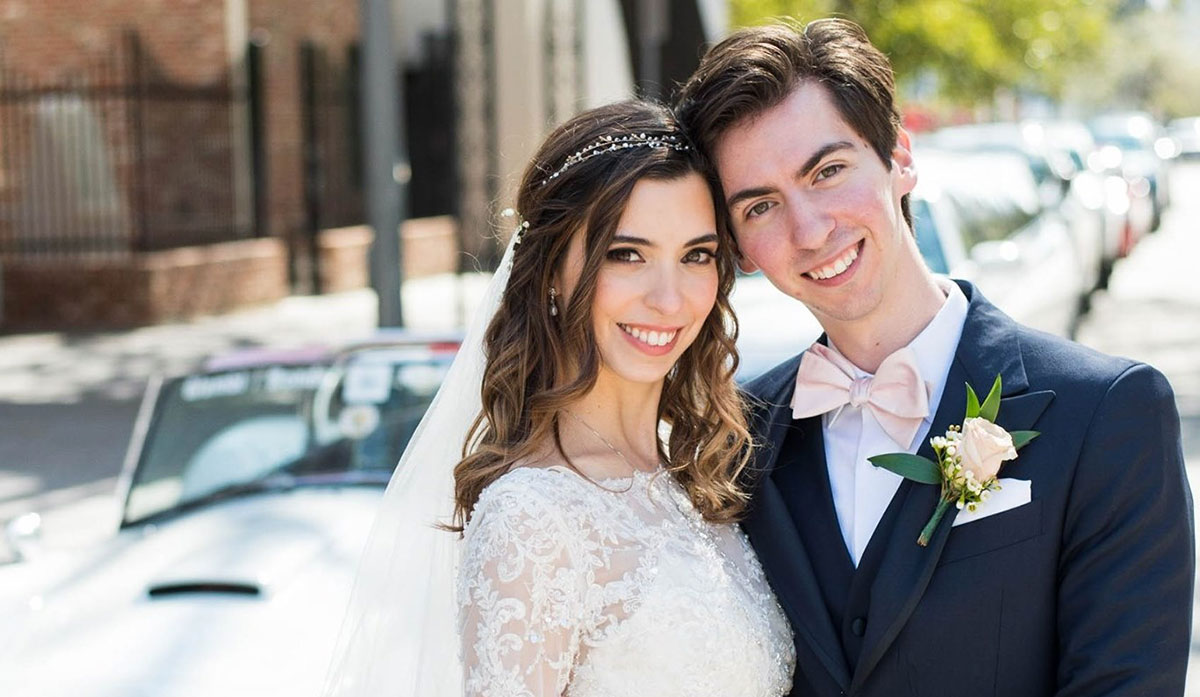 DIANA & ANDRES MARROQUIN
Unbeknownst to him, Jagannatha Rao – Associate Professor and Associate Chairman of the Mechanical Engineering Department, on a fall day in 2014, teaching an honors Intro to Engineering class — gave Andres Marroquin the perfect opportunity he had been waiting for when it came to approaching Diana Marin.
"Dr. Rao said, 'Okay, guys, get into teams. We're going to do a little class project. It was a friction car project," Diana said.
Andres said, "By this point in the semester, I had already noticed her, so I decided to sit right by her. And that was the day that we popped into teams. 'Oh, this is my chance,' I thought. And I'm pretty timid, so I didn't talk to her right away. I was in the corner. But I asked her before anyone else got a chance, 'Hey, hey, do you have a project partner?' Like I was trying to call dibs basically."
Of course, Diana didn't notice his initial effort.
"I tried to ask the guy next to me, but he had already turned around and looked at the guy next to him," she said, laughing. "So Andres and I became partners. And, well, we bombed that project. But we had a lot of fun. And we got to know each other, and found out we had the same sense of humor, and we realized we liked one another, and it just went from there."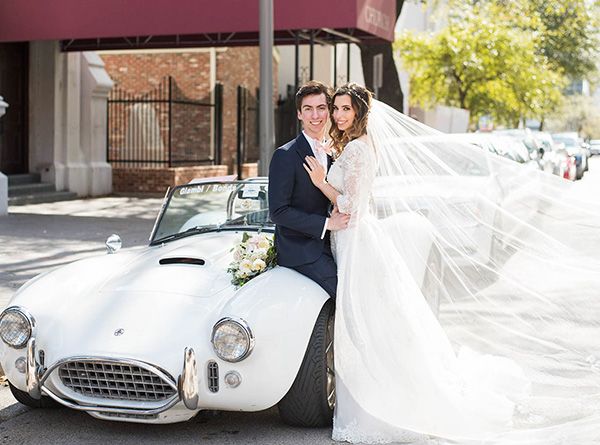 A photo from Diana and Andres' wedding reception
On February 22, 2020 — chosen for those numbers — Diana Marin became Diana Marroquin, after marrying Andres at Annunciation Catholic Church. The couple still lives in Houston, along with their dog, Croissant, a mini-poodle mix.
After two and a half years of high school at Lamar, Diana earned her diploma at the Incarnate Ward Academy. From there, she enrolled at the Cullen College of Engineering and earned her degree in Mechanical Engineering.
"To me, UH is super underrated," Diana said. "It's very affordable, and while it might not have the glamour of some other schools, it's a fraction of the cost. Both of my parents went to UH, so they also pushed it a lot."
There are connections to the University of Houston throughout Diana's family tree. Her mother, Carmen, earned her degree in Purchasing Materials and Management, and her father, Antonio, received his degree in Computer Science. They even had their wedding reception at the Hilton on campus.
Diana's uncle, John, also got his Art degree from UH. Her older brother, Michael, got his degree in Hotel Restaurant Management from UH in 2019, and her younger sister, Gabriela, earned her Computer Science degree in 2020.
Diana didn't initially know what she wanted to study at UH, but she received some helpful advice from her father based on her interests.
"In high school, I didn't even know what I wanted to study," she said. "I knew I liked math, and that was about it. My dad said, 'Well, you could always look into engineering.' Initially, I was in the petroleum engineering program, because it's Houston and there are plenty of jobs in that field. But as the oil industry had a downturn, I thought, maybe I can work in the oil field and work for a petroleum company without being a petroleum engineer. Mechanical was the next engineering field that was math-based, and I just went with it, and I liked it."
Diana identified Christiana Chang, Ph.D., an Instructional Associate Professor of Mechanical Engineering, as one faculty member that supported her development.
"Dr. Chang was always so available for me," Diana said. "She was very critical, but it was very constructive. You know, it wasn't like she was being harsh. It's like, okay, here's where you can improve, you know, and I see what you're trying to do. But let's try to make it a little better."
Andres also identified Chang as one of the professors that influenced him, although for a much more direct reason.
"She failed me," he said, laughing. "But the thing is, not only did she fail me, but whenever I went to her office hours, she was tremendously helpful. Going to her office hours kind of changed my whole approach to studying. After that, I was much more willing to see a professor after class, for any questions I ever had."
Diana noted that because of the pandemic, she's been forced to bounce around in different jobs after her graduation. However, she is now training as an operations support officer at NASA.
In contrast to Diana, Andres didn't really have a family connection to UH before attending. He grew up in Pasadena and graduated from East Early College High School in Houston with an Associates degree in Science. Initially though, he wasn't interested in UH because of engineering.
"I was actually not trying to be an engineer," he said, laughing. "In the beginning, I went to an engineering camp and I realized this isn't what I expected. I knew I liked engineering, but I thought that I actually wanted to design cars. You know, I'm super into cars. I wanted to draw them and design them."
Andres said that as he explored the industrial design program, he realized that it wasn't something he wanted to make a career of. At that point, he realized he was less interested in the design aspect, and more interested in the mechanics.
"I want to be able to utilize the science and math skills I have, and I want to be able to build a car and actually make it a reality in that sense more than just kind of design what it looks like," he said. "So, I went to mechanical engineering route, and I'm happy I did."
Since graduation, Andres has worked for JET Rubber, Inc., as a mechanical engineer. The company makes rubber products mostly for the gas industry, but he noted that they're diversifying into other industries as well. The company has established an internship program, and Andres oversees two other employees as a result.
"We have so much work we don't even know how to handle it right now," he said, laughing. "It's a good problem to have though."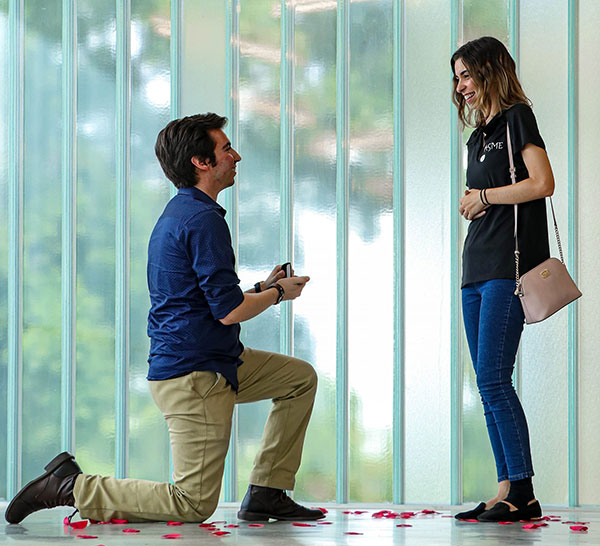 Andres proposing to Diana at the University of Houston's Blaffer Art Museum
When it came to their engagement, Andres proposed at the Blaffer Art Museum. Andres picked the location because it was a common date activity for the pair — they had visited four or five times while undergrads to see the new exhibits as they rotated through.
Andres heightened the drama in a way, too, by faking Diana out the previous week with visits to the Japanese gardens and other date nights, and then, not proposing. By the time Friday of that week rolled around, she didn't have expectations for what Andres described as a mellow night of visiting Blaffer and then going to Eighth Wonder for a few beers, unaware that Andres' brothers had staged an area of the art museum for the proposal.
At the time, there was a video exhibit at the museum, which exited into a hallway. A security guard in the room gave Andres the signal that his brothers had finished by coughing, and insisting that he and Diana keep moving, because the museum was going to close soon. But as they moved into the hallway, there were rose petals on the ground, and pictures of Diana and Andres hanging on the walls.
"She said, 'What's going on?'" Andres said, laughing. "And I just said, 'Yeah, this is happening. That's us.' And I kept walking, and she didn't realize what was happening until I got on one knee."
"Yeah, I was just like, okay, there are photos of us on the wall," Diana said. "Right. Cool. And then here and his younger brothers playing music. And I'm thinking, 'I don't remember them playing Canon in D this whole time.' But I think I think that's a product of us having dated for so long. Getting engaged just seemed so natural."
"I got down on one knee, and I told her, 'You know, we've been on a lot of adventures and I want to do that for the rest of my life. How about you?" Andres said. "She said yes, and I said in that case, will you marry me? And she said yes." 
---

MACKRENA & MICHAEL RAMOS
It was thanks to PROMES that Michael and Mackrena Ramos met on the very first day of college, in their English class in August of 1994, at 8 a.m., and then saw one another throughout their first week of college. Michael was new to Houston, and he didn't know the campus or anyone on it yet.
"Having finally found my classroom, I was just looking to find a seat, but not in the front row," he said. "I noticed Mackrena almost right away. She was — and still is! — beautiful. As the English class time ended, I navigated to my next class, which was a recitation session for Chemistry I, and who do I see there again... Mackrena!"  
For her part, Mackrena said she was initially just looking for peers for a study group.
Mackrena and Michael Ramos at Moody Towers in 1996.
"I recall looking at all the students on that first day and wondering who I would study with, since my high school counselors all advised me to find a study group," she said. "I remember that he had a friendly face and made eye contact easily. He sat in the back of the class and I was typically in the front, but once we became friends, we always sat in the same group together." 
Michael noted that he had to work to get Mackrena's attention.
"I quickly figured out that we were in a lot of the same courses due to us both being in PROMES," he said. "This made for a very awkward stage of just trying to get her to notice me, which for me was a series of sometimes successful attempts to make her laugh. This kind of went on for about a year and a half, and through that time I found out that scholastically, she was on a very different level than I was — she was very smart!"
However, Michael said that thanks to their similar class schedule and the fact that they were both staying in the Towers meant that they became friends first, with the relationship blossoming over time.
"We fell into a routine around campus with classes and studying, but the best thing that happened during that time was that we became best friends. This really helped lay the foundation of our relationship — understanding each other's families, our goals, and our dreams for building our life. Things come much easier when your goals align, for both near and long term. 
I didn't pursue being anything more than friends until the end of 1995. I took a leap and laid all of my feelings for her on the line."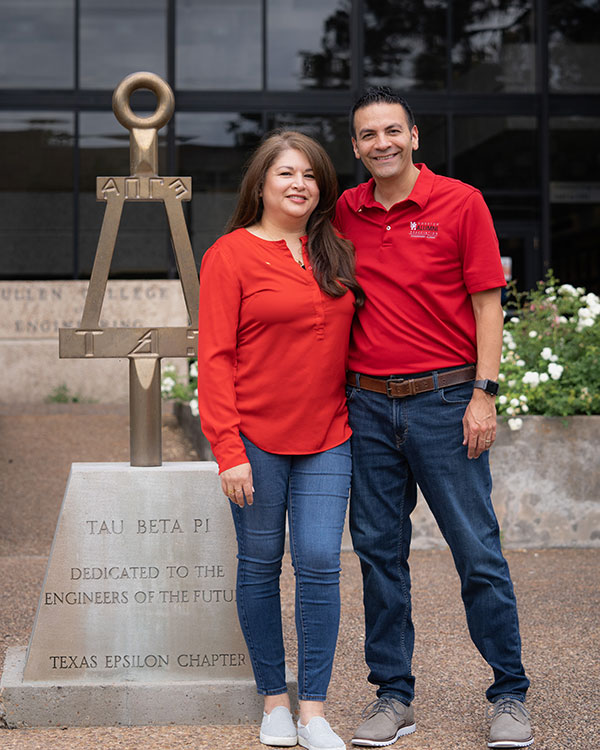 On campus, they spent time together at the Towers, the engineering buildings and the Y-Building. 
"In the Y-Building, she would study at the ASCE area and I would be at the ASME area, and we would meet up for meals or for breaks when we needed them," Michael said. "Some of the places off campus that we liked were Mai's, Taquiria La Jaliscience, the IHOP off Kirby and 59, and Empire Cafe. In my freshman and sophomore years, I spent a lot of time in the UC Satellite during the day honing my pool and air hockey skills and then the UC during the weekend playing in the arcade."
For Mackrena, "Anything with late hours was a hit with our group of friends." She added, "PROMES was a lifeline to success and graduation for us; it provided a like-minded group of determined students, a proven path to graduation mixed with great lectures and study sessions. It really provided the foundation for us to thrive as first generation university students."
The couple continued to date as they finished college — Mackrena in the Spring of 1999, and Michael in 2000. Because they had talked about their goals, they said they wanted to have their degrees and their initial jobs before getting married. Mackrena landed a full-time position with the Civil Engineering firm — Lockwood, Andrews and Newnam – out of college.
"This added a new dynamic to our relationship, because she had a real income now," Michael said, laughing. "So, our dinner dates got significantly upgraded. But it was great to have a partner that understood the workload and time that finishing a degree needed."
After his graduation, Michael was hired by Schlumberger. After paying off some of his loans and credit card balances he had "earned" in college, he bought a ring for Mackrena and proposed in November 2001. The couple married a year later.
"It was very important to us to get settled into our careers and accomplish our goals," Mackrena said. "It did take us a bit, but it all worked out, and we'll celebrate our 20 year anniversary in 2022!"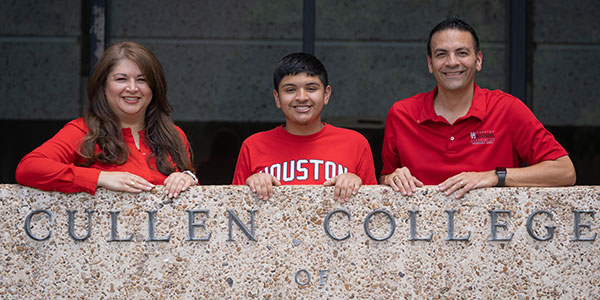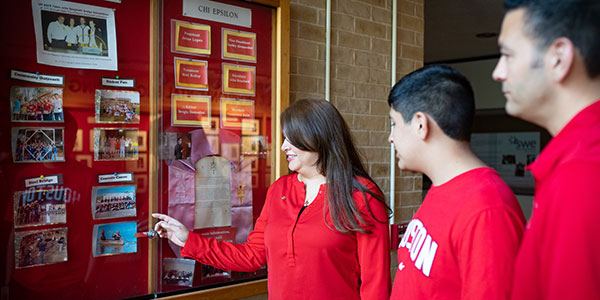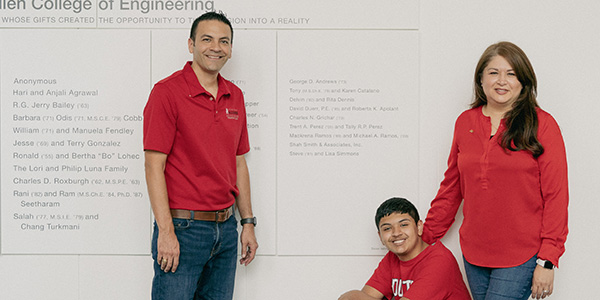 The Ramos family spends some time reminiscing and looking around campus.
Both have given back to the Cullen College of Engineering at various points. Both have been board members of the Engineering Alumni Association, and they have season tickets for football, in addition to attending basketball and baseball games regularly. Michael is still active on several boards, and volunteers with the Engineering Career Center to review resumes and conduct mock interviews.
"I currently serve as a committee chair for the EAA Tailgate committee and as the committee chair for the EAA Gala Awards, which is our most prestigious event. We would love to have as many Alumni in attendance as possible!"
Professionally, Mackrena continues to practice as a civil engineer.
"I started as an intern during my last semester of study and now, with a 22 year career with them, I am the Vice President of our Water Conveyance group at Lockwood, Andrews & Newnam," she said. "I'm also the Program Manager for the City of Houston's Surface Water Transmission Program. LAN has been the program manager and technical advisor since 1985."
Michael worked in the oil and gas industry for 20 years at Schlumberger. After an economic downturn combined with the pandemic, he has transitioned into using his analysis skills on the stock market.
"A lot of the lessons I was given during my time at UH have served me well over the years, and continuing that learning was something that I was excited to do at Schlumberger," he said. "For me, UH gave me an opportunity to pursue a Mechanical Engineering degree, and while in pursuit of that I was able to meet Mackrena. Having achieved the goal of obtaining my degree, that gave me an opportunity to prove myself in industry. One begets another, begets another... If opportunity is there, I am not one to waste it. All of those choices, including meeting and pursuing Mackrena, have all led me to where I am today — a happy husband, an active father and a proud University of Houston Alum."
Michael adds, "As of today, we still reside in the Houston area and visit the campus fairly regularly. We bring our fourteen year old son, Miguel, to as many events on campus as we can to help instill in him just how important the campus and the University is to our story. And as a family, we will continue to support the University of Houston as it has given us so much and we are forever grateful!"