Cullen College Adds 2 New NAE Members To Faculty Ranks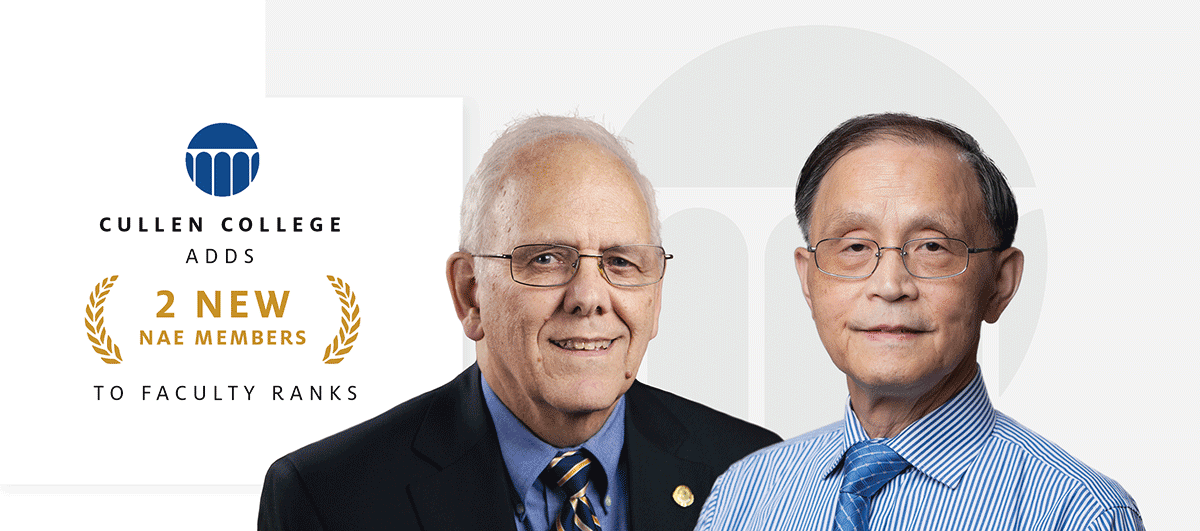 By Stephen Greenwell
Don Wilton
Donald R. Wilton, a professor emeritus of the Electrical and Computer Engineering Department at the University of Houston's Cullen College of Engineering, has added another impressive honor to his career of distinction with his election to the 2021 Class of the National Academy of Engineering.
Wilton joined the university's faculty in 1983, and served as a professor of electrical engineering for 29 years, retiring in 2012. Wilton earned his B.S., master's and doctorate degrees from the University of Illinois at Urbana-Champaign in 1964, 1966 and 1970.
Wilton's primary research interest is on the application of mathematical and numerical methods for solutions of antenna, guided wave and electromagnetic scattering problems. Regarded as one of the leading authorities in the field of computational electromagnetics, he is perhaps best known for establishing a framework for using computer modeling to study electromagnetic scattering by irregular surfaces, such as the curved wing of an airplane. A 1982 paper on the subject has been cited more than 3,700 times.
In 2014, Wilton was the recipient of the inaugural Harrington-Mittra Award in Computational Electromagnetics from the Institute of Electrical and Electronics Engineers Antennas and Propagation Society. The next year, he was selected as a Technical Field Award winner. He also received the IEEE Third Millennium Medal in 2000, and he is a Life Fellow of the organization, at times serving as an associate editor for their publications and a distinguished lecturer.
Wilton received the inaugural Computational Electronics Award from the Applied Computational Electromagnetics Society in 2013. In 2009, Wilton won a Cullen College Outstanding Teaching Award.
Election to the academy is one of the highest marks of distinction in the field. The total United States membership for the academy is 2,355, with another 298 international members. Wilton was elected "for contributions to computational electromagnetics of highly complex structures," according to the organization.
Hao Huang
An aviation industry veteran with more than 30 years of experience at General Electric and 80 patents to his name has joined the Cullen College of Engineering's Computer and Electrical Engineering Department as a Distinguished Adjunct Professor, to teach a new generation of students.
Hao Huang, Ph.D., started at the University of Houston in July 2021. He retired from the position of Technology Chief of G.E. Aviation – Electrical Power in 2020 after 33 years of serving in various aviation and land vehicle electrification industries. He was responsible for generating technical directions, innovation strategies and multi-generation product roadmaps, and contributing innovations and inventions of aircraft electrical power technologies.
"I had 80 U.S. patents and pending in electrification" he said. "In February of this year, I was elected as a member of the National Academy of Engineering (NAE) with citation 'for contributions to advances in electric machines and power electronics technologies for aerospace electrical systems.' Election to NAE membership is one of the highest professional honors given to an engineer."
In addition to NAE membership, Huang is a Fellow of the Institute of Electrical and Electronics Engineers (IEEE) as of 2013, and a Fellow of the Society of Automotive and Aerospace Engineers (SAE) as of 2014. He was also the winner of 2019 IEEE Transportation Technologies Award.
After retirement, Huang thought about what he wanted to do next, and the field of education appealed to him.
"After my retirement from GE and the election to the NAE, I thought a lot about what I should do for society in the rest of my retirement life," he said. "Helping engineering education was the idea that jumped to the top of my list. When I was in industry, particularly at GE Aviation and Smiths Aerospace, I saw the great needs to fill some gaps to accelerate young and just-graduated engineers from universities to perform their jobs, to accelerate their industrial learning, and to grow their capabilities to serve companies. I realize that if I am helping with teaching as well as research in one or two universities, I may be able to help  
the universities and industries to effectively narrow these gaps due to my experience, knowledge and vision in field."
Huang said he shared his post-GE goals with Kaushik Rajashekara, a Distinguished Professor of Engineering in the Electrical and Computer Engineering Department, who is also a member of the NAE, IEEE and SAE.
"He has been a member of the NAE for years, and he also came from the aerospace industry, although he came in at much younger age. He understood my desire and was very supportive, and he introduced me to the department chair Professor Badri Roysam," Huang said. "I then had an opportunity to meet the Dean of the engineering school, Dr. Joseph Tedesco, and then I was offered this position."
Huang said he was excited to help students through the next transition phase of the aerospace industry.
"Aerospace is experiencing a major advancement or revolution — electrification, including more electrical aircraft (MEA) and hybrid electrical propulsion (HEP), and addressing the challenges of energy conservation and environmental challenges, such as pollution, noise and greenhouse issues," he said. "Regarding what is electrification, long story short, MEA refers to electrifying the aircraft systems – hydraulic systems and pneumatic systems — while HEP is a big step further — electrifying the engine that provides the aircraft propulsion. This whole electrification is and will be opening up huge opportunities for the young engineering generations in next few decades to come. Renewable energy is one of the aspects in MEA and HEP."
Huang's first course offering will be ECE5388, Renewable and Efficient Electric Power Systems.
"Although aerospace is not a focus in this course, the concepts utilizing renewable energies will be very adaptive to aerospace," he said. "Utilization of renewable energy is a big trend, and learning about it is important for the generations to come. Obviously new engineering generations need to be ready for this mega trend and challenge."
Huang is also working on a new book that can be used by this generation of students.
"One of my goals is to co-author a new book and start a new course, Electrical Power Systems and Components for Modern Aircraft Electrification, after the book is ready," he said. "The purpose of these is in line with my primary motivation — helping young engineers who just came into the aerospace field and the electrical power industries that will accelerate their learning curves and maximize their abilities."
Huang received his doctorate in electrical engineering from the University of Colorado at Boulder. He received his M.S. in electrical engineering from Hohai University in Nanjing, China, and his B.S. in electrical engineering from Tsinghua University in Beijing, China.
When it came to his professional accomplishments, Huang pointed to the citation he received from the NAE "for contributions to advances in electric machines and power electronics technologies for aerospace electrical systems." His team at GE also had a list of accomplishments that he was particularly proud of:
The world's first aircraft main engine starter and generator (S/G) (250kW) with regenerative and sensorless commutation capabilities for Aerospace.
The world's first aerospace 1 MW dual spool electrical power extraction (250kW from the high spool and 750kW from the low spool) from a GE F110 engine.
The U.S.'s first Silicon Carbide (SiC) based aircraft electric power system, including all subsystems having been utilized in the two new U.S. air vehicles developed by a major U.S. aircraft manufacturer.
The aerospace industry's first +/-270V DC aircraft electrical system and subsystems for next generation narrow body aircraft funded by the FAA.
The aerospace industry's first ADDITIVE manufacturing technology based aircraft synchronous electric generator (120kVA).
The world's first MW power, kV voltage, high altitude electric motor utilized to drive an aircraft propulsive propeller.
The world's most advanced electrical power integrated systems center (EPISCenter) in GE Aviation in Dayton, Ohio.
"I am very pleased that for almost all of these I was able to conceive the concepts, invent the ideas, provide the technical leadership, and closely work with the team to work through the critical issues to achieve success," he said. "I will share my experiences of these things in the courses that I will teach at the UH whenever appropriate."