Alumni and Support & Giving
Celebrating 80 Years — A Family Tradition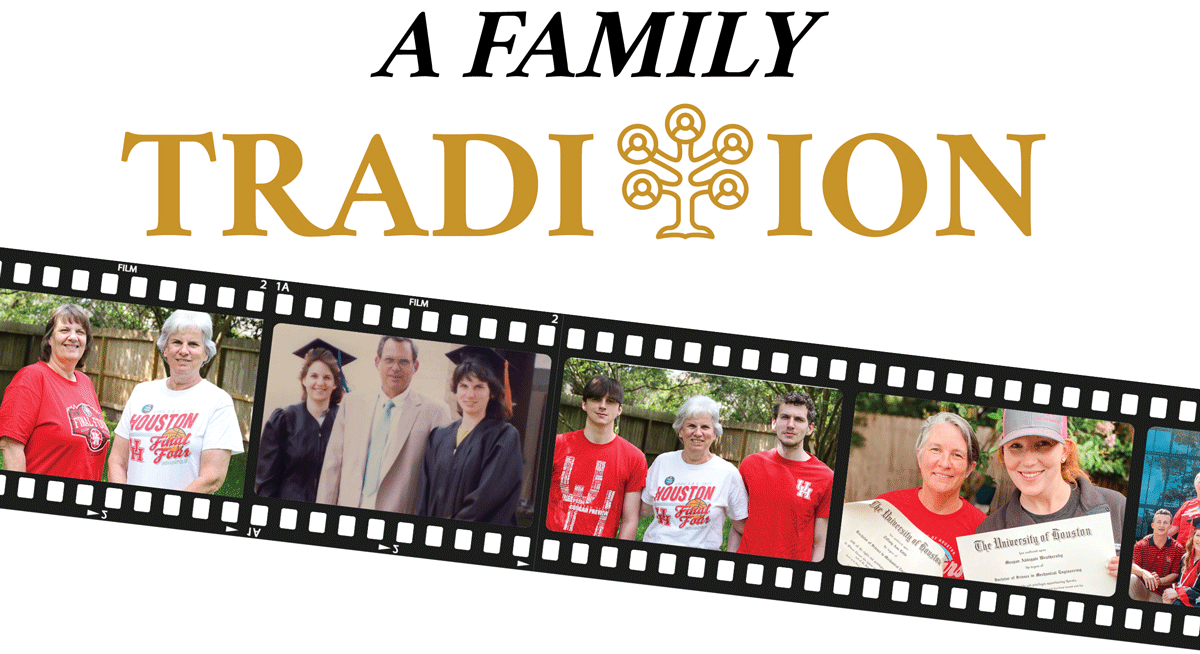 Cougar pride is something any alum knows all too well, but for some, it has become a family tradition.
Past graduates are now the proud parents and family members of a new generation of Cougar Engineers. We caught up with some of our multi-generational Cougars, and asked them to reflect on their time and describe what it means to be alumni of the Cullen College.
---
The Hood Family
Laura Hood experienced firsthand how important it was to feel like she belonged, or that she could fit in, when it came to a workplace, although when most people are shadowing their parents at work, it isn't necessarily at NASA.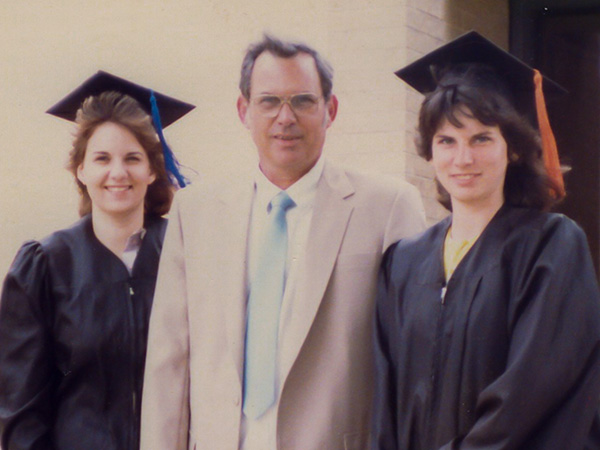 Laura Hood (right) at her college graduation, pictured with her father, Ben Hood (middle), and sister, Leslie (left)
That's where her father Ben, a Cullen College of Engineering graduate, worked from 1963 to 1986. He started on communications systems for Apollo, before moving on to avionics systems for the Space Shuttle as the years passed and the technology changed.
"It was February 1981 during my senior year of high school, and the second to last simulation before the Space Shuttle's first launch in April 1981," she said. "This was way before 'Take Your Daughter To Work,' but he thought it was important for me to see what engineers do before starting college. I had been to the office with him before, but this was the first time I shadowed him for a whole day seeing what he did. He was the Avionics manager in the Mission Evaluation Room (MER). The Mission Control Center handles all of the real time decisions when issues come up during a mission." 
"My father gave me a headset to listen to the voice loops and I was sitting at the Avionics console. The headsets have very long cords, and he went to the console behind us so I was by myself at the desk. Someone came up to me and started asking me an Avionics question. My father saw and came to my rescue, but it was cool to me that someone had asked me a question thinking I looked someone that could answer their question. I knew then that I could be an engineer."
Laura went on to study engineering at UH, just like her father had. He was a founding member of the Theta Tau engineering fraternity chapter, a member of the IEEE and graduated with honors in 1961. After graduation, he worked with Bell Labs, before moving back to Houston and taking a job with NASA.
"He and my mother, Kathleen, wanted my sister Leslie and I to be strong and independent women, and they wanted to make sure that we got degrees that would allow us to support ourselves," Laura said. "He encouraged Cougar spirit by taking us to U of H football and basketball games when we were young. We were too young, but he and his father attended the Game of the Century in the Astrodome. We saw some great teams growing up, but we were also fortunate to be at UH during the Phi Slamma Jamma days, and I can't remember missing any basketball games during that time."
Laura initially wanted to get into a different field from her father, but advances in technology caused her interests to merge in some ways.
"It was interesting that sometimes I did some of the same things that he did, because he was advising me, but sometimes I would purposely try to do different things," she said. "I originally wanted to be a computer programmer, but he saw how much I liked math and encouraged me to try for Electrical Engineering, and I could do as much as I wanted with computers from that field. UH started a computer engineering option on its Electrical Engineering degree some time before I started in 1981, so I thought that was perfect. My father's specialization was communications systems so I felt like it was different."
She completed the computer engineering option of her degree, but the technology was changing so quickly that she realized her knowledge was becoming outdated. As a result, she looked to expand her knowledge base.
"I took an elective class in Control Systems with Dr. Leang-San Shieh and loved the math that was in that class," she said. "I ended up taking all of my EE electives in Control Systems with Dr. Shieh and Dr. Gene Denman, except for one class in communication systems with Dr. Wallace Anderson. I had Dr. Anderson for both of the Engineering Math classes also."
Her father also stressed that she should meet with two other professors — William Leach, a drafting professor in the Civil Engineering Department, and Thomas Whitaker of Electrical and Computer Engineering.
"Professor Leach was very gracious in meeting with me, and he remembered my father even though it was 20 years later. He recommended to me that I join the IEEE, and I did that soon afterwards.  It was great advice and I met a lot of people through the IEEE."
Laura managed to take a course with Whitaker, which she enjoyed. He had also taught her father.
"My father really respected Dr. Whitaker," she said. "Dr. Whitaker was the one that encouraged him to take a job with Bell Labs. My father was a home body and I know that he didn't want to leave Texas, but Dr. Whitaker told him that he shouldn't pass up that opportunity. It was a great experience for him and he learned a lot in the short time he was there. I remember him telling me that he couldn't believe that Dr. Bode was walking the halls of the Bell Labs at the same time as him. I was learning about Bode plots at the time, and I was a little star struck at that news."
After graduation, Laura started working at McDonnell Douglas doing Space Shuttle ascent flight control system analysis. When the company lost their NASA contract in that area two years later, she tried getting a job with NASA, but the organization wasn't hiring in her field at the time. She instead worked at Lockheed Martin for a year, while working on a Master's degree. When there was an opening at NASA, it was in a division known to the Hood family.
"I ended up taking the offer from the division where my father had started in NASA, which was Tracking and Communications," she said. "It was kind of weird that about half of the people in the division had worked with my father in the past, but the other half were young like me at the time and had no idea about my connection. The change in job caused me to change my master's specialization from Control Systems to Communications Systems, but I had liked taking the communications class as an undergrad so I was ready for the change."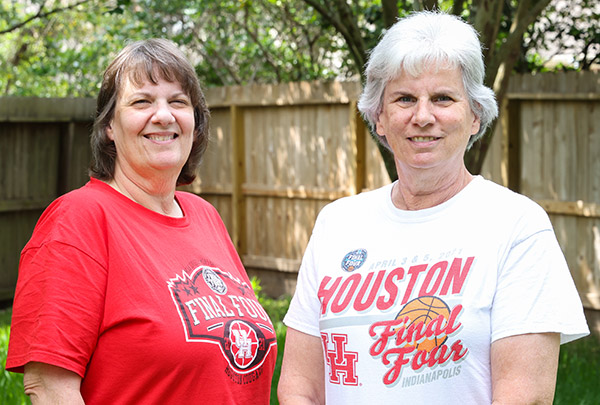 Leslie and Laura Hood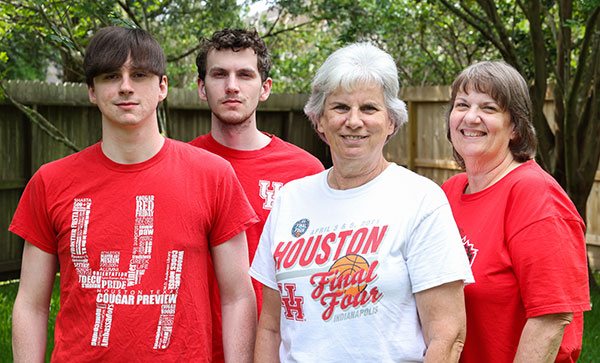 Laura, her sister Leslie, and her two sons, Sean Benjamin Lovstuen and Kyle Alton Lovstuen
Laura didn't think it was the family connection that got her the job, though — It was the hard work she was doing at UH, in pursuit of her master's degree.
"There was a NASA person from the Tracking and Communication Division taking that communications class at the start of his pursuit of a graduate degree," she said. "He knew my father but he saw me in that class, so I think that helped me get the job at the NASA. I wasn't just a NASA person's kid. I was someone that did well in a class related to what he was doing."
Laura's sister Leslie also graduated from UH, with a Bachelor's degree in Business Administration in Accounting in 1985. However, she was also drawn into NASA, thanks to the expansion of the organization in the 1980s.
Leslie worked for NASA contractor Bendix from 1986 to 1997. She started in payroll, but moved into a computer programming related job for their business department. From there, she was hired by Compaq — and later Hewlett Packard — from 1997 to 2009 in the database programming for business department.
"I know my father would have been surprised that Leslie ended up in a more technical field than the degree that she got at U of H," Laura said. "I remember my father and I trying to help her learn Cobol at U of H, and being so thankful that I was learning Fortran. She did much better with other computer languages after graduation."
Laura now lives in Pearland with her husband Gary Lovstuen. Laura's sons also went to UH schools, although they did not pursue engineering like their mother and grandfather did. Sean Benjamin Lovstuen graduated from Clear Lake in December 2020 with his B.S. in Information Technology, with a minor in Cybersecurity. Kyle Alton Lovstuen is scheduled to graduate from the UH College of Technology in December 2021 with a B.S. in Supply Chain and Logistics Technology.
Now, Laura servers as a mentor for high school students in FIRST Robotics Competitions. She uses her own experiences as an engineering, and before, when talking to and guiding students.
"I know how important it is for young women to see women engineers, so they know that it really is a field that they can go into," she said. "Just a couple of years ago, one of our brightest young women was at an engineering conference and a man at a conference table gave her a hard time about picking up a packet on his table. He thought it was funny to tell her that there was no makeup in the packet, like she had no business picking up engineering information. Fortunately, she ignored him and she's doing very well majoring in engineering at Rice. But that is a reminder to make sure that young women know that engineers look like them, and it is a career that is possible for them.  I was very fortunate that my experience as a high school senior was different from hers, especially at a time when there were very few women engineers." 
---
All In The Family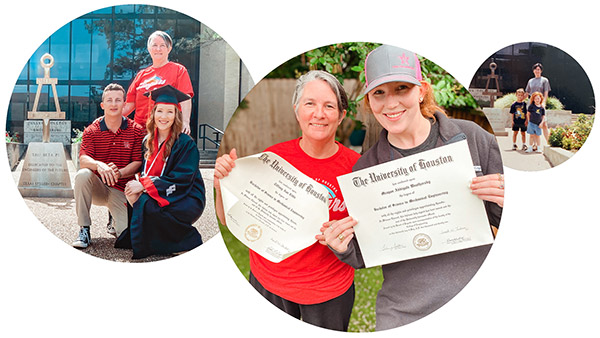 Tiffany Little (BSME '00) & Meagan Weathersby (BSME '21)
(Aunt & Niece)
According to Tiffany Little, "I enjoyed my time at UH; met many great people and learned a lot. My degree has enhanced my job experience over the years by applying the technical knowledge acquired at the university. I'm honored that my niece chose to follow in my footsteps to also accomplish becoming a Mechanical Engineer at the Cullen college of engineering. Go Coogs!" 
Her niece, Meagan Weathersby had an equally positive experience: "I enjoyed my time at The Cullen College of Engineering. I made life long friends while preparing for my future career. After graduation, I accepted an offer with M&S Engineering in The Woodlands Texas as an Electric Distribution Engineer. I am enjoying it so far and cannot wait to see how much I grow in the company!"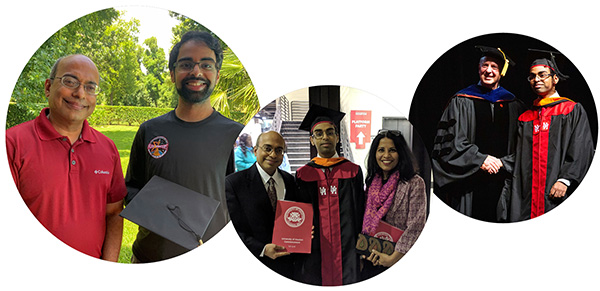 Badri & Tejas Roysam (MSEE '18)
(Father & Son)
While Badri Roysam may only be an honorary Cougar, serving as the Hugh Roy and Lillie Cranz Cullen University Professor and Chair of Electrical and Computer Engineering, his pride for the University of Houston runs deep. His son, Tejas Roysam, received his master's in Electrical Engineering, with a focus on computer engineering, machine learning, cybersecurity, and embedded computing. His primary interests are in data science and machine learning methods applied to security, and embedded wireless communication systems. 
Today, Tejas is a member of the Human Interface branch (EV3) in NASA's engineering directorate, working as the component owner for the xEMU helmet camera system, which is the high-definition camera that will sit on each crewmember's shoulder in the new exploration space suits to be used on ISS, Lunar Gateway, and Lunar Lander missions. Tejas also contributes to other life support and data handling systems onboard the suit, mostly contributing to audio and video processing, embedded control software, and electronic design and analysis. His other experience involves working in the Flight Operations Directorate and the Software, Simulations and Robotics branch.