Innovation & Entrepreneurship
Haleh Ardebili Brings Lab-to-Market Experience to Her Leadership of Innovation and Entrepreneurship Initiative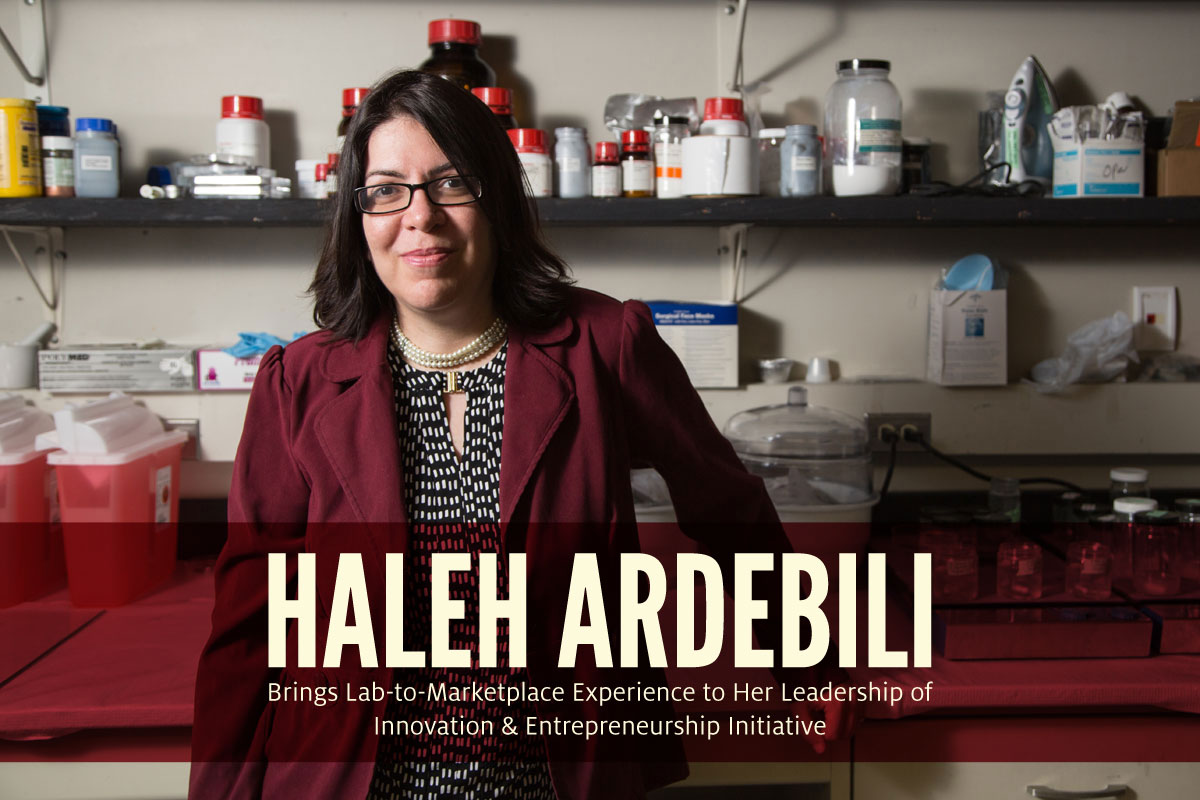 Haleh Ardebili, director since June 2018 of the Innovation and Entrepreneurship Initiative, is bringing a spotlight to promising technologies being developed in Cullen College laboratories — especially those discoveries with potential to benefit the world.
Her first goal is to introduce entrepreneurship programs and cultivate a culture of innovation within the UH engineering community.
"Over the next few years, we will establish an engineering technology incubator at the College. Its purpose will be to support students and faculty as they generate intellectual property and form start-up companies that can bring their innovations to the public," said Ardebili, the Bill D. Cook associate professor of mechanical engineering.
Ardebili is familiar with the road an innovator travels to bring a complex product from the research laboratory to the consumer marketplace. With her research team, she developed a new kind of battery — flexible, stretchable and roughly the size of a business card — that is so promising it ranked among top-10 finalists in the NASA iTech Cycle 3 competition.
The NASA iTech program encourages inventors at universities and small companies to develop tools that not only address challenges NASA encounters deep in space but also solve problems here on earth. Ardebili's batteries, for example, may some day soon show up in astronauts' spacesuits, as well as in earthbound things such as smart military uniforms and underwater vehicles. She has two pending patents for her stretchable batteries, and her research in energy storage has received funding from the National Science Foundation, the Air Force Office of Scientific Research, U.S. Army NATICK, NASA and the Subsea Systems Institute.
Ardebili's research in flexible and stretchable batteries earned her the National Science Foundation's CAREER Award (2013-2018), the Texas Space Grant Consortium's New Investigator Award for 2014-2015, and the Texas Center for Superconductivity at UH Award (2010-present).
Ardebili is also devoted to teaching and supporting her students' careers. She serves as director of the NSF-funded Research Experience for Undergraduates, a 10-week summer program that allows undergrads from around the country to work in her lab creating new, sustainable materials for manufacturing and energy.
Last year she received the W.T. Kittinger Teaching Excellence Award, the highest teaching honor awarded by the Cullen College.