Ayoola John-Muyiwa on Life, Luck and Accomplishments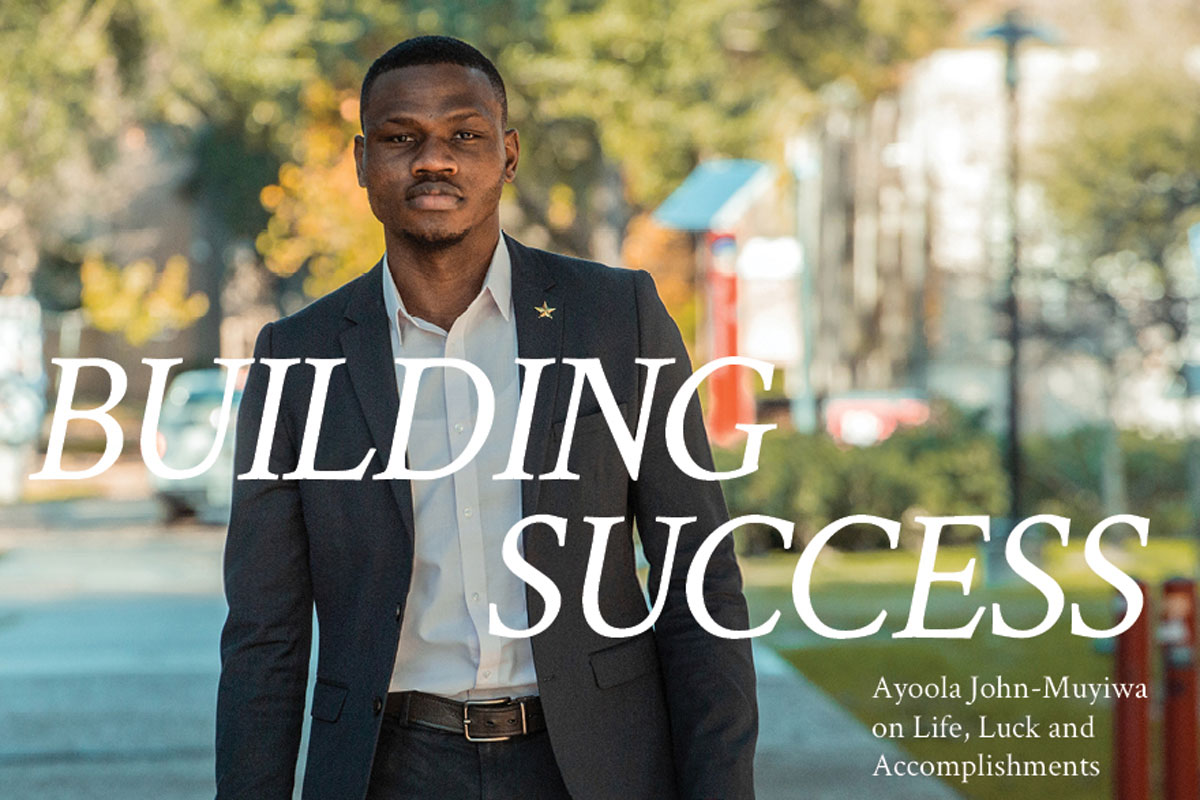 By Rashda Khan
At the age of 22, UH student Ayoola John-Muyiwa — popularly known as AJ — has an impressive collection of experiences and accomplishments.
John-Muyiwa graduated in May with a bachelor's degree in petroleum engineering from the UH Cullen College of Engineering. He also earned a certificate in corporate entrepreneurship from the Cyvia and Melvyn Wolff Center for Entrepreneurship at UH and attended the Summer Venture in Management Program at Harvard Business School.
His resume is already full of great experiences, such as participating in the BP STEP Leadership Development Track and interning as a Google Developer Scholar. He has also served as a production engineering intern at Exxon Mobil, an energy trading analytics intern and a structured products intern at BP and a drilling and production trainee at Shell among others.
Last year, John-Muyiwa and his partners soft-launched their business, a social enterprise, called "Blademy," which seeks to provide an e-learning platform to help Black millennials "around the world to teach and learn anything." 
Not surprisingly, he was a 2018 Forbes 'Under 30 Scholar' and attended the Forbes Under 30 Summit in Boston as an honoree. The event brought together more than 7,000 young entrepreneurs, visionaries and social innovators for an immersive experience featuring more than 200 world-class speakers including investors, celebrities, musicians, sports stars, cultural icons, as well as political and business leaders.
"The Forbes 30 Under 30 list has emerged as the way that the world discovers the next generation of entrepreneurs and game-changers," stated Randall Lane, editor of Forbes magazine and creator of the Forbes 'Under 30' franchise in a news release. "This is the ultimate club: the people that will reinvent every field over the next century."
John-Muyiwa, with a smile that lights up his whole face, credits his accomplishments to God, his mother's support and being "very, very lucky."
The road to UH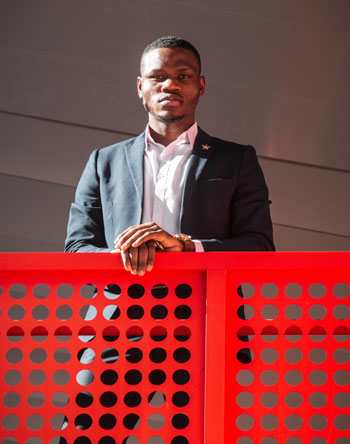 John-Muyiwa was born in Nigeria. He remembers walking miles to fetch water and returning home with a pot balanced on his head. He also recalls the fluctuating and fleeting nature of electricity in their home town.
"Whenever the lights would come on [the kids] would run out onto the street and celebrate, and then the lights would go out again," he said. "Honestly, back then I was happy. That was just the norm, what I knew."
Around the age of 13, John-Muyiwa moved to America with his mother. He grew up in southwest Houston. "I didn't really have the best opportunities growing up and the opportunities I did have, I kind of figured things out by luck," he said.
He took the SAT without really understanding what the college entrance exam was all about. Prior to that, his high school counselor had advised him to apply to a two-year college.
Fortunately, he scored high enough to catch the interest of a number of colleges and ended up getting a full scholarship to UH. He participated in the UH Scholar Enrichment Program, and later served as a workshop facilitator and lead mentor. He is also involved in the Cullen College's Program for Mastery in Engineering Studies (PROMES), which is dedicated to increasing engineering students' success in their studies, personal lives and careers.
Reflecting on his early-life experiences and his years in Houston, led John-Muyiwa to choose petroleum engineering as a major. "I wanted to work in energy so I could impact people's lives and help my community," he said. "Something as basic as having reliable power can influence quality of life and how much can be achieved in a day or days, a lifetime."
John-Muyiwa's hard work and drive has led him to win numerous awards and scholarships during his academic career. He also has an active campus life and is involved with several clubs and organizations (often serving in leadership roles), including the Nigerian Student Association and the National Society of Black Engineers.
"UH has been really awesome for me, I definitely made the best decision to come here," he said. "I have learned so much here and it's opened up doors to so many other opportunities."
Building on experiences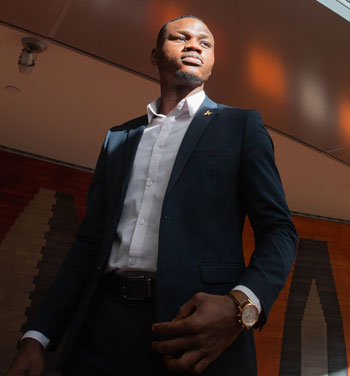 John-Muyiwa acknowledged that his life could easily have had a very different trajectory and said he didn't want others to miss out on success due to a lack of knowledge and resources.
"It's really important for me to take the knowledge I have gained and curate knowledge from other people who have found success in different places and bring it all back to help younger people in my community," he said.
Being an engineer, he looks at data, analyzes situations and likes to fix problems. He shared some statistics from "The Road to Zero Wealth" report published by the Institute for Policy Studies and the non-profit Prosperity Now: "The African-American spending power in the U.S. is about $1.2 trillion annually, the median wealth of the African-American family today is $11,000. By 2053 the median wealth of African-American families in this country is projected to be zero."
John-Muyiwa understands finances and economics. In addition to academic knowledge, he worked as a business development intern at Course Hero and as a securities analyst intern at the prestigious investment banking entity Goldman Sachs.
"The wealth gap is actually widening. This is bad," John-Muyiwa said. "For me it's really coming in and solving a social problem that exists and needs to be addressed."
His goal is to one day earn a master's in business administration from Harvard. He has already been offered numerous full-time positions with BP, ExxonMobil and Chevron.
But for right now, John-Muyiwa is busy building Blademy, with the goal of bridging "the increasing wealth and economic opportunity gaps that exist between Black millennials and millennials belonging to other racial and ethnic groups." He is putting all his skills — a unique blend of engineering, networking and business acumen — behind the effort. The official launch is scheduled for fall 2019.
The motto for Blademy is "Collectively we can learn anything."
Earlier this year, Blademy was named an official partner of HBCU@SXSW — a program of the South by Southwest Conference and Festivals, which is the world's largest technology conference and a venue to celebrate music and other arts — alongside companies like Facebook, Microsoft, Viacom, and BET.
HBCU@SXSW was established by Rodney Sampson, the founder of Opportunity Hub (OHUB). The program sponsors minority students from historically Black colleges and universities, Hispanic-serving institutions and predominantly White institutions to attend the conference, according to the program's website. Each year, major corporations, tech companies, startups, and foundations sponsor HBCU@SXSW so the selected students can gain exposure, learning opportunities and direct access to paid internships or permanent jobs in the innovation economy.
Things are looking good and John-Muyiwa is hopeful. If Blademy takes off as he hopes, his life may change directions again. "I'm 22, if I don't take risks now when am I going to take them?" he said, grinning.