Cullen College Grads Share Stories of Passion, Innovation & Success
By Rashda Khan
Pursuing an engineering degree, either undergraduate or graduate, is not for the faint of heart. It involves tough classes, hard work, creativity, perseverance and discipline.
Yet year after year, the Cullen College of Engineering attracts students from all over the greater Houston metropolitan area, from all across the U.S. and from around the globe.
They work with professors who are renowned in their fields and can take advantage of opportunities in Houston's thriving medical, energy, aerospace, data and manufacturing industries. They are involved in cutting-edge research, gaining invaluable experience and exploring the possibilities of entrepreneurship.
Each year the Cullen College of Engineering faculty and staff watch proudly as graduate after graduate walks across the commencement stage and into the real world, ready to impact the future.
Here we feature some of the many talented Cullen College graduates. Armed with the knowledge and experience they gained at UH, they are making a difference on a daily basis.
Nikunj Bhagat (Ph.D. EE '17)
Electrical engineer at Northwell Health, The Feinstein Institute for Medical Research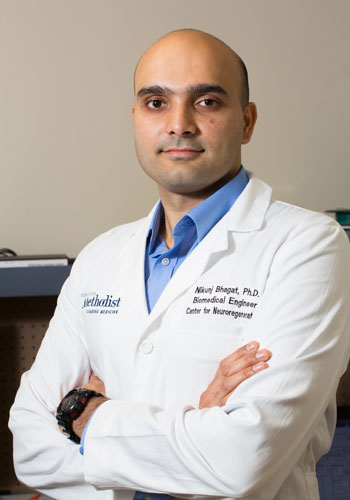 My interest in medical devices started about 10 years back when I was an undergraduate engineering student at the University of Mumbai in India. I was on my way home from college, when I saw a person who was missing all four of his limbs. He was basically lying on the ground and begging.
I started wondering about how we could use technology to benefit people in such situations.
That incident inspired me to do my master's on control systems. Then I worked as a researcher in South Korea where I was looking into robotic surgery and trying to develop technology to assist with such surgeries.
During that time, I got interested in brain-machine interface (BMI) and understanding its potential to help people with paralysis, amputations and spinal cord injuries. I looked up all the researchers in the U.S. and in Europe working in that field. Dr. Jose Luis "Pepe" Contreras-Vidal was one of the most prominent researchers doing extensive work in non-invasive BMI projects using electroencephalogram (EEG) readings of brain activity. I got in touch with Pepe and, fortunately, he had a position for a Ph.D. candidate at that time.
I worked for five years in Pepe's lab at the Cullen College of Engineering while pursuing my Ph.D. in electrical engineering. As part of my studies, I collaborated with physicians from UT Health and TIRR Memorial Hermann and a professor at Rice University to evaluate the efficacy of the brain-machine interfaces for rehabilitation of stroke survivors.
While at UH, I co-invented two neurotechnologies (one patent has been granted and the other is pending) focused on EEG-based BMI and neuromuscular stimulation. I also had the opportunity to demonstrate our BMI controlled exoskeleton technology to a live audience at the 2016 Congressional Robotics Caucus held in Washington DC.
After graduating, I joined Houston Methodist Research Institute in January 2018, where I worked on a novel vagus nerve stimulator designed to treat stroke patients.
Vagus nerve stimulation has been around for decades and helps in treating epilepsy, depression and, recent studies show, it could help with diabetes, rheumatoid arthritis and other diseases. Traditionally, they make an incision in the patient's neck and then implant electrodes around the nerve…that way you can directly stimulate the nerve.
We want to deliver this treatment using a new type of stimulator that is effective, non-invasive and can be deployed rapidly to help with stroke recovery.
As soon as someone has a stroke, there are a lot of procedures done on the patient to help stabilize the situation and time is essential. In the non-invasive approach, we can directly apply the stimulation with minimum assistance and start delivering the treatment. This could be something that is deployed in an ambulance by a paramedic.
Houston Methodist had already patented this idea before I joined them, my role was to actually make this device, test it clinically and show proof of its impact. Eventually, we want to get the new device approved by the Food and Drug Administration (FDA) and bring it to the market.
I started my job in April at The Feinstein Institute for Medical Research, the research arm of Northwell Health, New York's largest healthcare provider. In this position, I will continue to work on brain-machine interfaces and neuromuscular stimulation, which was the focus of my Ph.D., but on a much broader scale.
For instance, in my doctoral work I demonstrated that it is possible to autonomously control the force generated during electrical stimulation of a paralyzed hand. Now, I will be working on expanding this technology to control not only force but also position, which will allow patients with spinal cord injury and stroke to perform dexterous hand movements that weren't possible before.
I will also be working with a team of clinicians, engineers and scientists — in Feinstein's Institute of Bioelectronic Medicine — to develop an implantable, bidirectional brain-machine interface that will allow patients with tetraplegia to control their hands using stimulation, as well as be able to feel the objects that they are trying to manipulate.
I feel a huge sense of pride and purpose, working with my colleagues and other researchers in the field, to push the frontiers of technology and develop solutions that will eventually benefit patients. At the end of the day, the knowledge that my work can have a meaningful impact on people's lives is very rewarding.
Eric Rodriguez (BSEE '06)
Product manager for the Internet of Things group at Intel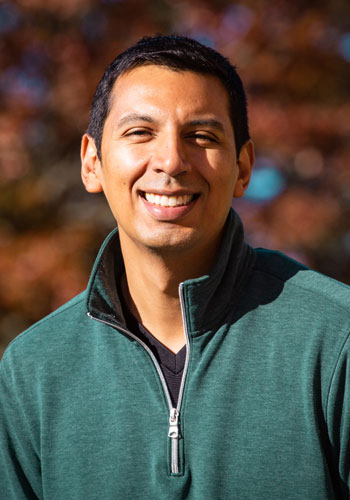 At the age of 11, I moved with my family from Houston to Guayaquil, Ecuador. That was a complete culture shock for me. It was the first time I saw poverty right in front of me. I learned quickly about inequality and the impact education can have in closing the poverty gap in developing countries.
My life completely changed again when I was in the seventh grade at El Colegio Javier in Ecuador. The school got its first computer lab and we were the first students to take a class in it. Within minutes I was able to go online and read about what was going on around the world, especially my hometown of Houston. From that day on, I knew I wanted to do something in technology.
In 1998, the Ecuadorian economy began to collapse. I had two more years before college so my family decided to move back to Houston.
That experience in Ecuador is what drives me today to ensure we continue to use technology for good and help every kid, regardless of where they are from, to be part of the digital 21st century.
My curiosity about how technology works led me to engineering.
The University of Houston Cullen College of Engineering has a great program that brings engineering and computer science together. The professors gave us plenty of opportunities to test and build things, which is a key skill I use today.
I have been working at Intel for eight years now, in a variety of groups from control systems, operations and real estate to education initiatives. At Intel we are always working on how we can make the world more connected and smarter.
In my current role, I am responsible for the product strategy and development of the next generation of control systems for smart manufacturing. I get to learn something new every day.
The BIG question I am trying to answer is: What does the education of the future look like? At Intel, I am in the forefront of building the future our kids will inherit. How are we preparing students for these new technologies or the notions that their jobs have not even been created yet? How do we empower teachers, parents and communities to strive in the middle of constant change?
UH provided me an opportunity to meet and work with students from around the world, to learn about their stories, passions, interests and challenges.
Our University also introduced me to my wife Lorena ('05) and several of our friends. It allowed me to be an example for the next generation, which included my brother Kevin (BSChE '10).
Technology impacts everyone in some form or fashion. Therefore, as a product manager I need to understand how the complex piece of technology we are creating will impact the lives of others. I will be forever grateful to UH for expanding my world view through the experiences I had every day.
What gets me excited is that I am learning about the future of work and how it will impact students that are in school today. I am learning about the disruptions of tomorrow and I want to help people get ahead of them. My job is to plant the seeds of innovation now, so that the next generation will make sure they flourish to their full potential.
Peter J. Rayna, P.E.(MSIE '97)
Supervisory mechanical engineer
Headquarters, U.S. Army Corps of Engineers (USACE)
Fort Belvoir, Virginia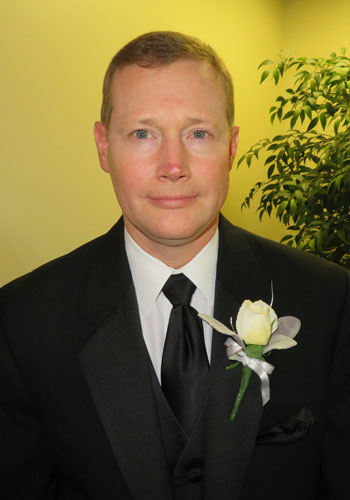 Currently I am a supervisory mechanical engineer with Headquarters, U.S. Army Corps of Engineers. I have been working in this job since late February 2011.
This is a civilian job, not to be confused with my service in uniform. I retired this past summer as Colonel, Corps of Engineers, United States Army Reserve, having completed 30 years of combined active and reserve service.
In my civilian job I work as a program manager, overseeing efforts to conduct emergency restoration of critical infrastructure if damaged unexpectedly. I also perform all necessary coordination for the program with other agencies within the National Capital Region.
Managing this program is like running my own small business. The program is very small in terms of both annual budget and assigned personnel. I often joke with people that I do everything from taking out the trash to briefing four-star generals, and literally everything in between.
My father was the town engineer where I grew up (Enfield, Connecticut) so it was probably inevitable that I, too, would become an engineer. He was a civil engineer, and he suggested that I look into other engineering disciplines as well.
The opportunity to attend West Point as an undergraduate — I got a bachelor's degree in mechanical engineering — was a significant influence, in terms of both engineering and public service. West Point was founded in 1802 as the nation's first engineering school, and cadets are taught to pursue "a lifetime of service to the nation."
Significant reductions in U.S. military forces with the end of the Cold War led me to Houston. I left active military service after Operation Desert Storm and went to work in private industry.
During that time, I enrolled at UH to get my master's degree in industrial engineering. I had the opportunity to meet and work with students and professors with interests and experiences much different than my own.
Most of the classes I attended were in the evening, with a mix of full-time and part-time students working in industries other than mine. I completed 30 hours in [industrial engineering] and 12 hours in the business school. This, and attending many interesting guest lectures, helped me broaden my horizons.
I completed several courses in Human Factors Engineering, which is really foundational — you're always interacting as part of a larger system. You need to understand your role, or the role of the operator, with respect to the purpose of the system to be successful. I also completed Organizational Power, Politics and Culture with Dr. Abigail Hubbard [UH Bauer College of Business] which has helped me through all these years.
Despite many years and positive experiences in Houston — meeting my wife, passing the professional engineer exam and completing my master's degree at UH — I missed the strong camaraderie and sense of mission of the military. So I took the opportunity to move to the National Capital Region where I have worked for the U.S. Department of Defense as a civil servant for the last 20 years.
Since I recently retired from uniformed service and will become eligible for civil service retirement in a little less than five years, a time of transition is coming for me. I expect to keep working for probably 10 more years. I'm not quite sure yet what the next chapter looks like.
Matthew Hogan (Ph.D. BME '15)
Postdoctoral fellow at the Center for Neuro-regeneration
Houston Methodist Research Institute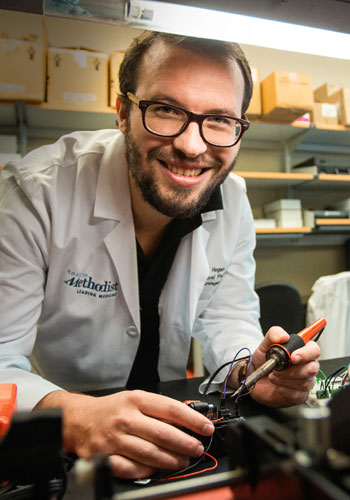 When I was 11, my father passed away from lung cancer.
He was a mechanical engineer, and before he passed he instilled in me a love for mathematics and science. I'm a hands-on person and practical minded. I love to build things, to tweak and repair. Engineering seemed like a natural fit, but I didn't want to build bridges or cell phones.
Because I've seen first-hand how a disease can affect a family, I wanted to help people and ease their suffering. Biomedical engineering seemed to be the best of both worlds. While I was working on my Ph.D. at the Cullen College of Engineering, my research applied tissue engineering to manipulate tissues and materials designed to encourage the healing process.
I took a ton of great classes and was exposed to all sorts of different, useful subjects. I studied principles of drug delivery, electrophysiology, in silica modeling and more. My diverse background has helped me bring unique solutions to research questions. In science, a broad knowledge can bridge gaps between different fields of research. I am truly grateful for the knowledge and opportunities I discovered during my time at UH.
Now I am a postdoctoral fellow at the Houston Methodist Research Institute working on methods to improve outcomes after central nervous system injuries, in particular spinal cord injuries and strokes. I joined the Horner lab at Methodist in the fall of 2015 where I began my fellowship focusing on mechanisms of neuroregeneration and how neural activity influences the ways neurons behave and recover after injury.
Life as a researcher is challenging and rewarding. It requires me to wear many hats and so I am always doing something different every day.
In neuroregeneration, I can use principles of engineering, biology and science to seek new clinical opportunities. I have a ton of interesting projects, including using virtual reality to analyze 3-D medical and scientific data, building new spinal stimulators and manipulating neural activity patterns with flashing lights. I am excited to come into work every day to face a new problem and apply unique solutions.
My main focus now is on exploring how neural activity patterns can affect the way nerves behave after injury. Spinal cord injury is especially problematic because nerves in the brain and the spinal cord don't typically regrow after an injury. We are leveraging next generation tools to manipulate how specific nerves work.
We have already demonstrated that spinal stimulation can improve outcomes after injury, but we don't know exactly which nerves need to be stimulated and which patterns of stimulation are most important. We are excited to find the answers so that we can better understand how to improve outcomes after injury.
Working in a position where I can use my passion to explore solutions to ease human suffering is a dream job.
Cynthia Oliver Coleman, P.E. (BSChE '71)
Retired ExxonMobil chemical engineer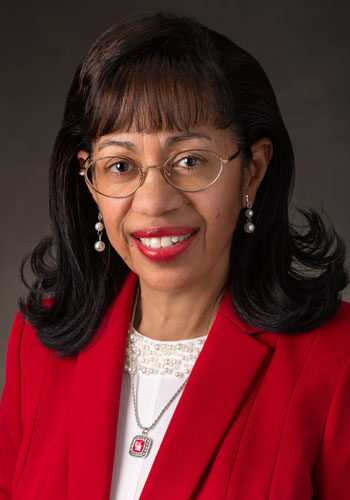 I am a first-generation college graduate, and I am proud to say it because it reminds me of the dream my parents had for me.
My story started in the Cuney Homes, located in the historic Third Ward. It's the first development opened by the Housing Authority in 1938. I lived [there] with my wonderful parents who did not have college degrees but were very determined to help me get mine.
They knew a college degree would enable me to get a good job that would be so much better than the low-paying jobs they had. So they encouraged me all through K-12 to study hard and make good grades in school so I could get a scholarship for college.
The turning point occurred during my junior year in high school when my chemistry professor chartered a Junior Engineering Technical Society (JETS) chapter. That was the first time I had heard of engineering. Even though I was told engineering was not for girls, I took a huge leap of faith to pursue it when I got a [college] scholarship. In 1967, I enrolled at UH as a chemical engineering freshman. To my surprise, I was not only the only girl in my class, but also the only Black student.
Both my studies and experiences at UH significantly helped me with my career. The Cullen College of Engineering's chemical engineering department had a high national ranking, and I had the toughest advisor on campus who helped me excel in more ways than I thought possible. In 1971 when I graduated magna cum laude and started my career at ExxonMobil (then Humble Oil), I was prepared to be in a competitive work environment. Also, since I was one of the first two women to receive a chemical engineering degree from UH, I was surprised but prepared to be the first woman engineer in Exxon's large East Texas Division.
After I retired from ExxonMobil, ending a 33-year career in 2004, I wanted to increase my volunteerism up a few notches so I could give back in a major way.
I am proud to be a Coog because there are so many important parts of my life that are a result of UH. I am forever grateful for UH being a university where I could achieve more than I ever expected possible.
My UH engineering degree changed the entire trajectory of my life from what it would have been. It enabled me to realize my parents' dream for me. It enabled me to help my younger sister, Patrice O. Yarbough ('80, Ph.D. '85), pursue her dreams at UH. It enabled my husband, Leonard J. Coleman ('70), and me to help our daughter, Kelly Coleman, M.D. ('98), pursue her dreams at UH. It enabled me to be in a position to give back in a big way to help others.
I am very passionate about supporting women and minority engineering students at UH. I remember how it would have been so very helpful to connect with other women in engineering on my journey to graduation.
As a result, I have devoted much of my time, talent and treasure to support UH, UH Engineering and the UH Alumni Association. As a passionate Engineering Volunteer Leader, I will continue to support the UH engineering students … by giving what I wished was available when I was a UH engineering student.
Lorenzo Xavier Cano (BSIE '04)
Operation Excellence Lead for CareAllies,
A subsidiary of Cigna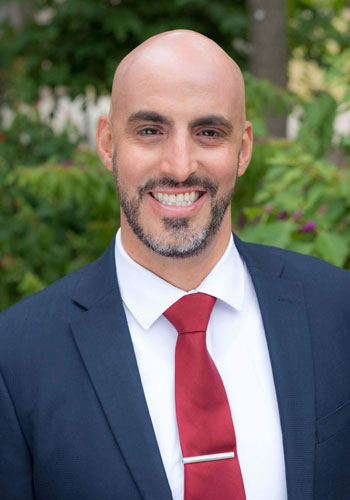 I have to admit that I did not know what I wanted to major in when I started college.
The Program for Mastery of Engineering Studies (PROMES) exposed me to the different types of engineering disciplines. Industrial engineering is focused on making systems, products and processes more efficient by reducing waste, improving quality, increasing productivity and lowering costs. I have always enjoyed solving puzzles and finding more efficient ways to do things. So naturally, industrial engineering was perfect for me, and I am grateful for the resources I received at the University of Houston's Cullen College of Engineering that allowed me to come to this realization.
The industrial engineering curriculum allowed me to take a lot of great classes that prepared me for my first job. These classes allowed me to get exposure to everyday challenges that many companies face. More importantly, I learned how to come up with creative solutions to overcome challenges and create value for companies.
As an engineering student, I was also involved in many extracurricular activities and served in many leadership roles while in college. The organizations included The Hispanic Student Association, Sigma Lambda Beta National Fraternity, La Comunidad and Omicron Delta Kappa National Leadership Honor Society, among others. This experience allowed me to hone my leadership skills, which proved handy when starting my first job out of college.
My involvement in student organizations also enabled me to meet a lot of amazing individuals and make lifelong friends. We organized a lot of great events on campus and performed community service that changed the lives of many people.
I still remember leading a community event one Thanksgiving season where we worked with local grocery stores to donate over 100 turkeys to lower-income families living near the UH community. This event changed my life and taught me the importance of helping others in need while at the same time showing gratitude for the positive things that I have in my life.
For the last 12 years I have been working predominantly in process improvement, change management and project management roles leveraging Six Sigma and Lean Concepts at Dell, Bank of America and in my current role at Cigna. I have a Black Belt in Six Sigma and am a certified Project Management Professional. In 2010, I earned my MBA from The University of Texas at Austin. In 2014, I published a book called "Resumes That Stand Out" and then began presenting professional development workshops around the country.
I encourage all students to get involved with some type of leadership role. In fact, my wife and I started an annual scholarship for UH Cullen College industrial engineering students who have not only succeeded academically, but have also found time to serve in leadership roles.
Education and service is important to me and my family. I have volunteered for many years with a nonprofit called Prospanica: The Association of Hispanic Professionals to raise scholarships for students and organize professional development workshops for those interested in accomplishing their academic dreams and improving their careers. I was pleased to have won a $25,000 grant last year that has allowed me to give out a greater number of scholarships to students.
Jamila C. Johnson, P.E., C.F.M. (MSCE '00)
Infrastructure policy manager
Governmental Relations Office
Houston Public Works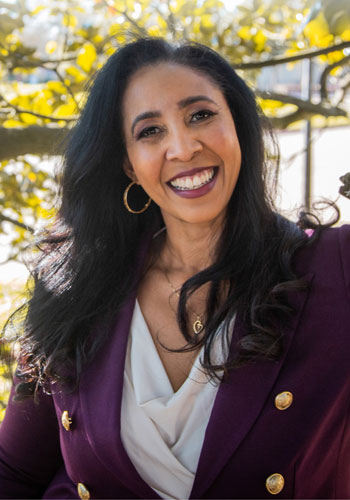 I am in the first generation of my family to be able to have my choice of colleges. Segregation and discrimination limited the college and career choices of my parents and grandparents. It is my understanding that UH did not admit its first African-American student until the 1960s. However, because of the achievements of the civil rights movement, my choices were unlimited.
Originally from Detroit, Michigan, I grew up seeing the struggles of that city and it made me want a career focused on solving big city problems.
Detroit's struggles, which continue today, are a result of the decline of the automotive industry and the social problems that led to race riots and White flight to the surrounding suburbs. Declining population and tax base cripple the city's ability to maintain its infrastructure and further deteriorate quality of life for those who remain. Efforts at urban renewal and revitalization have been largely unsuccessful there.
I chose civil engineering because of its focus on people's basic needs — like clean water, shelter and transportation. I wanted to use my problem-solving and planning skills to help people.
After undergraduate school, I chose to move to Houston to pursue my master's in civil engineering because I would have the opportunity to study at UH. I was excited to do my graduate studies in such a diverse environment with so many innovative professors from all of over the world.
The Cullen College of Engineering civil master's program was challenging, but it prepared me to continue to learn in the variety of roles that I have had in my career so far.
I am the infrastructure policy manager for Houston Public Works. I received this assignment in May 2018, after working as the city of Houston's floodplain manager for nine years.
As floodplain manager, I was responsible for leading one of the nation's largest local floodplain management programs. The Floodplain Management Office is responsible for permitting and inspecting all construction activity in the city's floodplain, maintaining records pertaining to the city's floodplain, enforcing the city's floodplain ordinance, providing floodplain information to the citizens of Houston, developing applications for mitigation projects, assisting with flood disaster response and recovery activities and coordinating with FEMA, Texas Water Development Board and the Harris County Flood Control District.
In my new role, I'm responsible for developing policies related to the city's infrastructure, acting as a liaison between Houston Public Works and local, state and national agencies and governmental entities and participating on the city's Harvey Recovery Leadership Team. I have to learn about all the areas of our operations so that I can help develop policy and communicate with the citizens, city leadership and other stakeholders.
Houston has been my home for over 20 years now and I want to help make it a better place for my fellow Houstonians to live and work in. For me this means fighting flooding by developing policy and enhancing regulations in ways that continue to make Houston a vibrant environment for development and redevelopment. This is more important than ever after seeing the devastation that Hurricane Harvey and other recent storms have caused.
While my role covers all infrastructure policy, the big question for me continues to be how best to leverage all of the partnerships and tools available to the city to fight flooding.
I want to help shape a more resilient future for Houston.