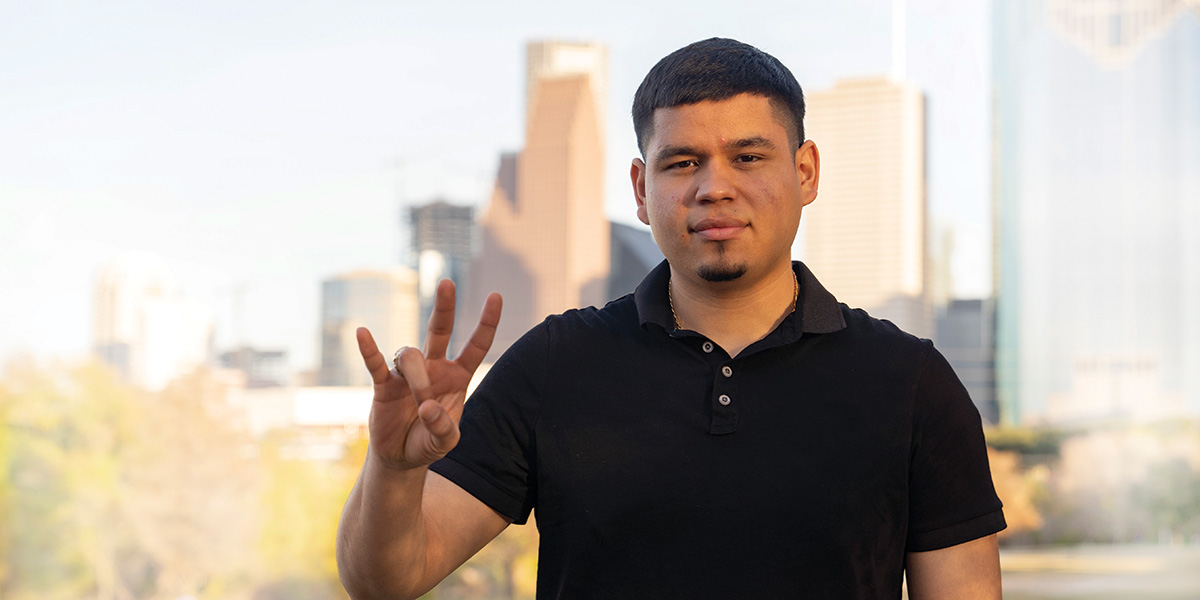 By Stephen Greenwell
Since January, undergraduate Yonatan Mascorro of the Cullen College of Engineering's mechanical engineering program has started a new morning regime — push-ups.
"Well, I started this 25 push-up routine while working as an R&D Design Engineering Co-op at Toyota North America," he said. "I found myself still feeling sleepy and lazy when getting out of bed in the morning. I decided to start doing 25 push-ups to shake off that laziness and get the blood flowing, and I've continued with this routine ever since. I find myself more alert and ready for the day after doing this simple routine. It sets the tone for it to be a successful productive day."
That sort of attention to detail and work ethic is a reflection of other parts of his life and studies as well. Mascorro was selected as this year's Outstanding Junior at the Cullen College of Engineering and also honored by Houston mayor Sylvester Turner with the 2020 Mayor's Hispanic Heritage Youth Activist Award.
Mascorro identified Mechanical Engineering Department Director of Undergraduate Studies Dr. Holley Love and Dr. Xuemei Chen, an Instructional Assistant Professor of Mechanical Engineering, as significant influences in his educational career so far.
"They not only were great professors to me, but also continue to help me after completing their courses by giving me advice and writing recommendation letters for internships, scholarships, and even for my Tau Beta Pi initiation," he said. "Professors like them are important to any college and key to students' success."
My plan has always been to dedicate my engineering career to a profession that will make a meaningful impact on the world, for the better.Yonatan Mascorro
He was nominated for the mayor's award by Fely Aguilar — the Academic Achievers Program Director at UH — and she called him to let him know he had won.
"She has been key to my academic and professional growth," Mascorro said. "When I told my parents, Monica and Isidoro, and my sister Michel that I had won the award, they congratulated me and emphasized how proud they are of me. My family is what motivates me to continuously strive for greatness."
Aguilar said she was happy to provide the nomination for Mascorro's award.
"One of the best qualities Yonatan possesses is his natural delight in helping people," she said. "He is always kind, always generous, consistently engaging. Yonatan's academic record and involvement at UH demonstrate his drive and commitment to his education. I anticipate that he will continue to excel as an outstanding leader and professional in our community."
According to a statement from the mayor's office, "During his first three years of college, he was a program mentor for the Academic Achievers Program, where he mentored and encouraged 25 students to excel in their calculus, physics and chemistry courses. Within a two-year time frame, he was able to guide low-performing students to the top 10 percent of their graduating class."
As of now, Mascorro intends to graduate in December 2021, and he's keeping his options open for his career.
"My plan has always been to dedicate my engineering career to a profession that will make a meaningful impact on the world, for the better," he said.