UH IE Grad Students Honored for Operation Room Efficiency
By Stephen Greenwell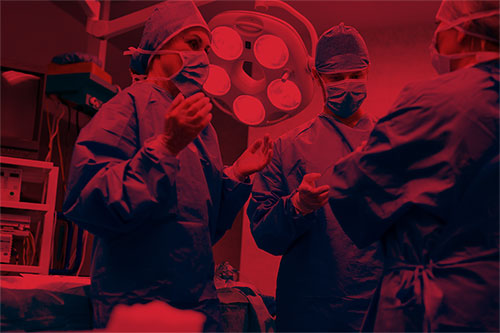 A pair of University of Houston graduate students earned a third-place finish for their model to handle operation room cases at the annual Healthcare Systems Process Improvement Conference, presented by the Society of Health Systems in Savannah, Georgia, in February 2020.
Moaz Ahmed and Muhammad Zia-ul-Haq Hussain took the honors home for the university. The process started with the distribution of a case study and spreadsheet in September 2019. Ahmed said that after discussing the problem with Hussain, they took guidance from Dr. Jiming Peng, an associate professor of industrial engineering at UH.
"Instead of the conventional approach which most teams used, we treated this situation as a linear optimization scheduling problem and took guidance from Professor Jiming Peng," Ahmed said. "He advised me clearly and I still remember that, 'For this problem linear optimization is the primary tool then comes in simulation.'"
According to Ahmed, in simple terms a conventional approach is to run multiple scenarios in a dynamic simulation, then use the data to achieve the best result. However, this can be time consuming and not necessarily optimal.
When linear optimization is used with well-defined constraints — as he and Hussain did for the case study — an optimal result is produced. Then, a dynamic simulation can be used to assess and make necessary improvements.
"I am glad that I took his word and successfully created a linear optimization model that incorporated all constraints regarding patient arrival time, operating hours, patient type and case type," Ahmed said.
Their results qualified them from more than 30 teams competing worldwide to present at the conference. They received a sponsored trip and registration for the conference, and finished third, behind two teams made up of doctoral students.
"Our work was greatly admired by everyone and we were youngest team competing," Ahmed said. "We were able to secure third place, $1,000 prize money and gained lots of experience." Ahmed said he's always been interested in improving efficiency, and after spending two years in industry with Toyota, he decided to pursue a master's degree. He wants to help avoid past cycles of hiring runs followed by layoffs with better efficiency.
"Instead of eliminating unnecessary expenditure and effective utilization of capacity, many companies often end up hiring more people to increase capacity. Later, under recession, they end up firing people," he said. "I intend to help industries in implementing these improvements, but first I need to master them. 
The master's program offered at U of H is a complete program covering all these elements. This program is very well structured with major focus on operations and statistics. Moreover, the variety of international students creates a very stimulating learning environment."