Students Prove Mettle Via Challenging Capstone Class
By Sara Strong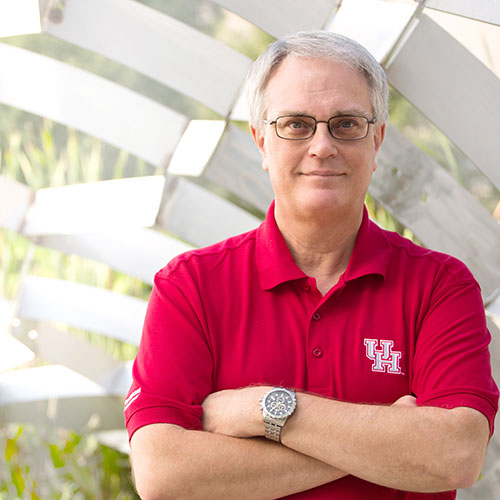 Randal Sitton
It happens in the spring of every academic year.
Teams of Cullen College industrial engineering students, most of them seniors about to graduate, work to polish final details of the biggest assignment of their undergraduate years. This is their chance to demonstrate the theory and skills they have acquired since the day they walked into their first freshman-year engineering class.
It is the well-known Engineering Systems Design course, also known as the capstone class.
"This is the hardest class you're ever going to take." It is with those words that Instructional Associate Professor Randal Sitton ('85, M.S.I.E. '88, Ph.D. '92) welcomes students on day one.
Every student is assigned a team, and the team is paired with a strategic partner that has a problem. Each of those partners — some of Houston's leading corporations, hospitals, city departments and other players in the local economy — has identified a complex issue that keeps their systems from running at peak efficiency.
With the teams assigned and challenges identified, Sitton steps out of his role as a professor. From that point forward, he may oversee and occasionally advise but will never direct.
Each student team examines every aspect of the challenge, using the same inquiry process a team of experienced engineers would use. By the end of the semester, their task is to propose a remedy that is feasible and affordable, and — most importantly — effectively addresses the problem.
For the student teams, the goal is to emerge as star problem solvers ready to launch professional engineering careers. After a few class meetings to define expectations, this course has no further classroom time, no lectures and no other non-project assignments. In the end, it is the students' performance that counts.
"The project is the class," is how Sitton describes it.
Sitton has led the class for the past five years. He is an industrial engineer who built successful careers with USPS and Houston METRO, before returning to his alma mater to teach. While an undergraduate at Cullen College of Engineering, he completed two capstone projects, one for each of his double majors. (He still calls it his "year of hell.")
For industrial engineering, he and his team compared costs and practicality of various material choices for a packed column, which is an apparatus used in chemical plants to separate substances. His chemical engineering team set out to design and budget construction of an ammonia-producing plant, only to conclude that new ammonia plants, even meticulously designed ones, were not financially practical at that time.
Why allow students to trudge through the frustration? Because professional engineers have to work through what they don't know, just as the students did, and many of their promising concepts turn out the same way. The early, real-world lesson inspires Sitton today in his approach with his Engineering Design Systems classes.
High expectations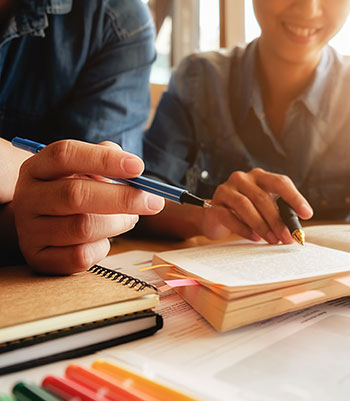 He teaches his students to "hit the ground running," he said, as they take on the roles of professional engineers. "I expect them to function at that level."
If the road got bumpy for 2016 graduate Rosie Ortiz, the tough memories have faded. Ortiz and her fellow team members successfully streamlined an internal data entry system for METRO, which operates Houston's vast bus and light rail system. Her team's work decreased by two-thirds the time needed to process data  for transportation software and contractor data reports.
"For this course, we applied all the fundamentals we learned in previous classes," Ortiz said. "We weren't ever shown what to do. We had to work that out for ourselves." She now enjoys a busy career as a warehouse supervisor for Cameron, a Schlumberger company that provides equipment and services for oil and gas drilling operations around the world.
As one of about 200 students who have proven themselves in Sitton's capstone classes, Ortiz now reverses the roles by welcoming her former professor's current students. She lets them learn the ropes under her watch at Cameron's facility in Katy, to the west of Houston. This semester she has a team of five Engineering Systems Design students from UH.
"It is a great feeling to be able to help out other Cougars, and I am very proud of seeing them interact with my (Cameron) team, learning and applying their skills like the engineers they all are," Ortiz said.
As they grapple with solving real-life problems in the warehouse, the students apply Lean Six Sigma manufacturing management principles, collect data, generate AutoCAD drawings and study cost-data analyses.
"They ask questions when they need a bit of guidance, but I am allowing them to let their ideas and imagination roam, allowing them to interact with the shipping and receiving warehouse staff and do hands-on tasks," Ortiz said.
Sitton calls the strategic partnerships a "win-win situation" for both sides. The experience provides the students with learning experience and recommendations for internships, graduate schools and post-graduation jobs. Clients, too, have much to gain from the collaboration, including a new point of view.
"By looking with a fresh set of eyes, the students are more likely to ask why something is the way it is, while the existing staff too often accepts the current situation as just the way the job gets done," Sitton said.
The collaboration also introduces corporate clients to the university's state-of-the-art resources, such as visual simulation, 3-D modeling and fly-through simulations, which may not be available at their own work site.
"So far, we have had very, very good feedback," Sitton said.
For work with Siemens, one of the program's frequent strategic partners, the UH capstone collaboration earned recognition as one of two finalists for the Siemens Matters category of the company's US Excellence Award.
Getting started
Long before the journey begins, Sitton recruits the strategic partners and identifies potential projects. With the help of the client, he draws up a one-page project overview statement that defines the problem and its background.
"Next comes what I call the P.O.M.P., for Project Overview and Management Plan," Sitton said. "It's the road map from the students. The who, what, when, where, why and how of getting the project done."
From there, the students dive into the thorough process of the actual engineering. Throughout the problem-solving process, the team brainstorms potential solutions and sets accurate budgets to fund the changes they decide to propose. Weekly meetings with clients and their professor keep all parties informed.
"In late April, the students make a final report and presentation," Sitton said. A final written report, an oral report and a project poster complete class requirements. Because the process can be intense, some students decrease the rest of their course load.
"We had to manage our own time," Ortiz said, remembering her Systems Design team's project in 2016, which required working through spring break. "We found the time for the team to meet, including on weekends and holidays."
Large class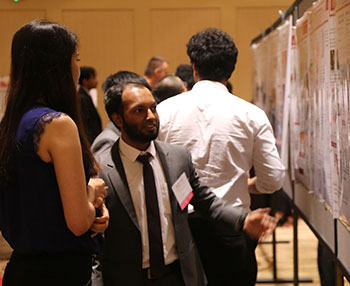 This spring, 45 students were divided into nine teams. "This was one of the biggest classes we've had," Sitton said.
Two of the teams were hosted by Hewlett Packard Enterprises. Each of the other seven strategic partners — Cameron, Cintas, HCA Healthcare, H-E-B, M.D. Anderson Cancer Center, Siemens and TechnipFMC — hosted one team.
"I see my 2016 self," Ortiz says about the students she mentored. "Remembering when I was in their shoes, excited in learning and being at an actual facility, wearing a hardhat and steel toes, feeling like a real engineer."
Sitton is proud of his Engineering Systems Design students. Many keep in touch about their new careers or return to visit on career days.
"This class will help them succeed in their career," he said. "Some of the things that I had to learn in my career by trial of fire, I can teach them, so they won't have to learn the hard way.".