Faculty Excellence At The Cullen College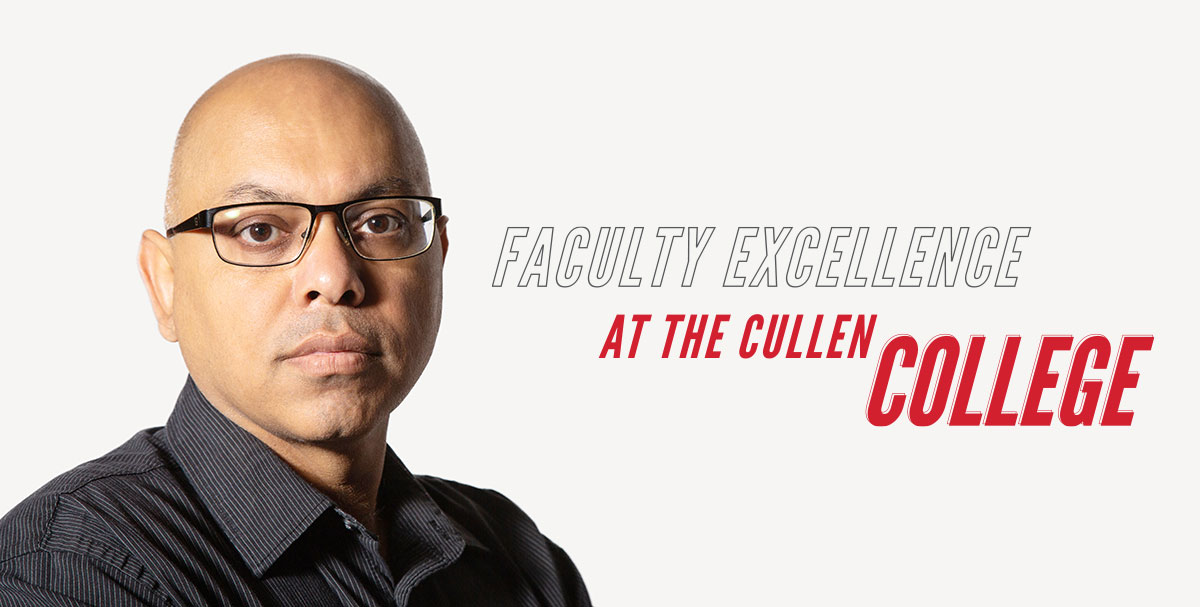 Pradeep Sharma: Guggenheim Fellowship winner
DESPITE THE CHALLENGES BROUGHT ON BY THE NOVEL CORONAVIRUS, THE FACULTY AT THE CULLEN COLLEGE HAVE BEEN HARD AT WORK STRIVING FOR EXCELLENCE IN RESEARCH AND ACADEMIA. THREE MEMBERS OF THE FACULTY WON PRESTIGIOUS AWARDS IN RECENT MONTHS, AND THE COLLEGE IS DELIGHTED TO HIGHLIGHT THEIR ACHIEVEMENTS. READ ON TO LEARN MORE ABOUT HOW OUR FACULTY ARE ENGINEERING EXCELLENCE IN HOUSTON AND BEYOND.
PRADEEP SHARMA: GUGGENHEIM FELLOWSHIP WINNER
By Jeannie Kever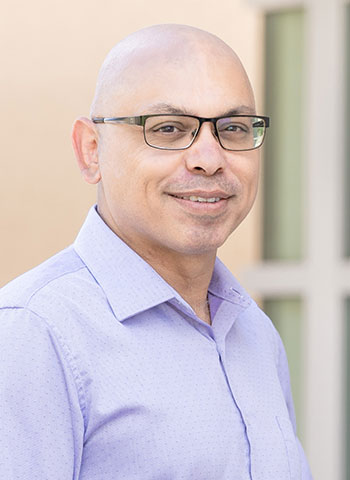 Pradeep Sharma
Pradeep Sharma, a mechanical engineer at the University of Houston, was selected for a Guggenheim Fellowship, this year's only recipient in the engineering category.
Sharma, M.D. Anderson Chair Professor of mechanical engineering and chairman of the department, uses mathematical and computational approaches to understand physical phenomena across a number of disciplines, from materials science to biology. In announcing the new fellows, the John Simon Guggenheim Memorial Foundation cited his work in explaining why some people are able to instantly reproduce a piece of music they just heard, while others — even those who are serious about music — cannot.
The fellowship honors artists, writers, scholars and scientific researchers, who are chosen based on their previous accomplishments and what foundation officials describe as their "exceptional promise."
Sharma's work has long been nationally recognized; he received the 2019 James R. Rice Medal from the Society of Engineering Science for "creative contributions to understanding the science underpinning flexoelectricity and its applications to engineered and biological systems." He previously has been recognized with a Fulbright fellowship and the American Society of Mechanical Engineers Melville medal, among other honors.
The Guggenheim Fellowship, however, came as a surprise. "They are so competitive, I really didn't expect it," Sharma said.
The Guggenheim Foundation has granted more than $375 million in fellowships to over 18,000 individuals since they began in 1925. Recipients include Nobel laureates, Fields Medalists, poets laureate, members of the national academies and winners of the Pulitzer Prize, Bancroft Prize, Turing Award and National Book Awards, among other honors
This year's fellowships recognize 173 people, selected from an initial field of 3,000, with Sharma the only engineer to chosen.
The foundation purposely seeks out artists, scientists and others whose work encompasses the full spectrum of society. Foundation president Edward Hirsch said that is perhaps even more important this year.
"It's exceptionally encouraging to be able to share such positive news at this terribly challenging time," he said. "The artists, writers, scholars and scientific researchers supported by the fellowship will help us understand and learn from what we are enduring individually and collectively."
Sharma said he will use the award to further his work on a question that has puzzled him for years: Why are some people, even those not trained as musicians, able to hear a piece of music and immediately reproduce the melody on a piano or other instrument, while others cannot. His wife, it turns out, is one of those who can. Sharma, despite being "very passionate about music," could not. He devoted himself to the study of music for almost a decade, training himself to translate what he heard into notes he could play.
"Part of it is the brain, but the question I want to ask is, is there something structurally different in her ears that she can hear music better? I am looking for a physics explanation for her ability."
Scientists have a good understanding of how the hearing mechanism works as sound waves enter the ear and move against the tiny hair cells inside. Those hair cells change the vibrations generated by the sound waves into electrical signals that are sent to the brain for decoding.
Sharma said he will investigate to see if certain physical characteristics of those hair cells — geometry, physical properties and even electrical activity around the cells — play a role in how people understand and interpret music.
Paula Myrick Short, UH senior vice president for academic affairs and provost, said she was pleased to see Sharma's groundbreaking work recognized by the Guggenheim Foundation.
"Dr. Sharma's body of work crosses disciplines to tell us more about the world in which we live," Short said. "He has impressive accomplishments in fields ranging from material science to biophysics, and this award will allow him to push into additional frontiers."
DAVID MAYERICH: NSF CAREER AWARD WINNER
By Laurie Fickman
David Mayerich
Researchers at the University of Houston last year reported a new imaging method capable of producing fast and inexpensive three-dimensional images, offering the potential to more easily track the progress of conditions such as Alzheimer's disease and cancer at the cellular level.
David Mayerich, an assistant professor of electrical and computer engineering at UH and corresponding author for a paper describing this work in Scientific Reports, is now at work on Part 2: a software platform to produce searchable digital atlases of whole organs at the cellular level. 
He has received a $500,000, five-year CAREER award from the National Science Foundation to pursue the project. The original imaging method grew out of his work with the BRAIN Center, an NSF-supported collaboration between UH and Arizona State University to design, develop and test novel neurotechnologies.
Mayerich describes the project as a Google Maps-style platform, offering both searchability and context for high-resolution 3-D images of whole organs. This platform would allow researchers — and ultimately, clinicians, students and others — to easily search normal and diseased organs to track change over time in animal models and determine how widespread a disease might be at the subcellular level.
"We had a lot of preliminary data from our work at the BRAIN Center, but there wasn't any software for working with these very large datasets," he said. "We wanted a platform for doing just that: analyzing massive tissue datasets and making them browsable."
"We've developed this ability to collect massive amounts of data. Now we have to provide the software to make it accessible."
He said the potential for publicly available whole-organ atlases to affect biomedical research and education is terrific, and routine generation of tissue maps will allow researchers to build detailed models of complex diseases, opening the door to new precision treatments and scalable drug discovery.
Ultimately it could be of use to clinicians and diagnosticians, allowing complete visualization of tissue biopsies instead of more traditional two-dimensional histological slices.
CAREER awards also support educational components, and Mayerich said that in addition to proving useful in educating the next generation of biomedical professionals, he will be working with St. Mary's, a nearby pre-kindergarten through sixth grade school, to design and test a browsable atlas that can be used for K-12 programs by integrating a virtual reality platform for visualization.
ROSE FAGHIH: NSF CAREER AWARD WINNER
By Laurie Fickman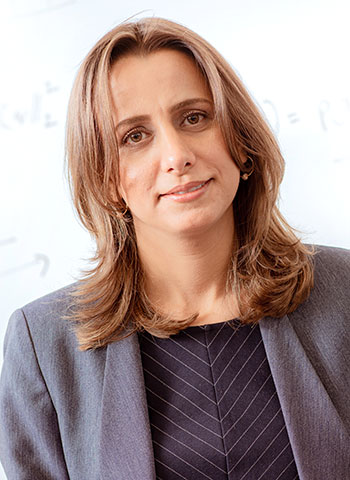 Rose Faghih
As schools and universities around the globe pivot to online teaching, and millions of students stare at screens during their school day, it is hard to imagine a personalized learning experience. But UH assistant professor of electrical and computer engineering, Rose Faghih, sees it differently, and it all starts with students wearing smartwatches that deliver information about their emotional and cognitive states.
"Say a student has been watching an online video for eight minutes and has become disengaged; if we can track that, we could automatically pause the video for that student and give them a short quiz to make sure they're keeping engaged," said Faghih. The ability to react individually to a student in that manner will be made possible through closed loop brain-aware wearable architecture, currently lacking in common smartwatches.
For her proposal to create algorithms that deliver that kind of information about brain states, Faghih earned one of the most prestigious awards given by the National Science Foundation, the Faculty Early Career Development (CAREER) Award. It supports faculty early in their career who the NSF believes will eventually serve as academic role models in research and education, and lead advances in their fields. The five-year award, worth $525,000, was given to Faghih for her project called MINDWATCH, an acronym for Multimodal Intelligent Noninvasive brain state Decoder for Wearable AdapTive Closed-loop arcHitectures.
Faghih's signal processing and control algorithms, or infrastructure, for a wearable device delivers information on three types of brain states — stress, cognitive engagement (or boredom) and cognitive learning, based on multiple signals from the wearer including sweat response, respiration, cardiac function and temperature. 
Faghih calls it a navigation system for the brain. "It overcomes the barriers to achieving brain-aware wearables by pioneering a transformative system-theoretic computational toolset for noninvasive closed-loop wearable architectures that monitor and modulate brain function without needing neural recordings," said Faghih. In other words, judging brain states has never been so easy; not needed is electroencephalogram (EEG) testing and monitoring, in which electrodes are attached to the scalp or a cap to measure brain activity.
The potential applications for the closed loop technology are endless.
"Another application can be for the elderly. If they are home alone, and they are not engaged, or they are depressed, the algorithm can detect it in a smart home setting and then change the frequency or color of light in their home, or start playing music in the background so they become engaged again," said Faghih, who will be testing the smart light and music system in her lab. 
Success for Faghih seems to have no end in sight, as she has continued to pull in accolades since her CAREER award was granted. Faghih was recognized by the Institute of Electrical and Electronics Engineers' Women in Engineering Magazine, with a feature in its June issue. The article, "Women to Watch — The New Face of Engineering: Faghih Is Applying Her Research to Make an Impact on People's Lives," is available on the IEEE Xplore website. 
Most recently, Faghih was named to MIT Technology Review's prestigious annual list of Innovators Under 35, in the category of visionary.