The Story Of UH's First Black Woman Chemical Engineer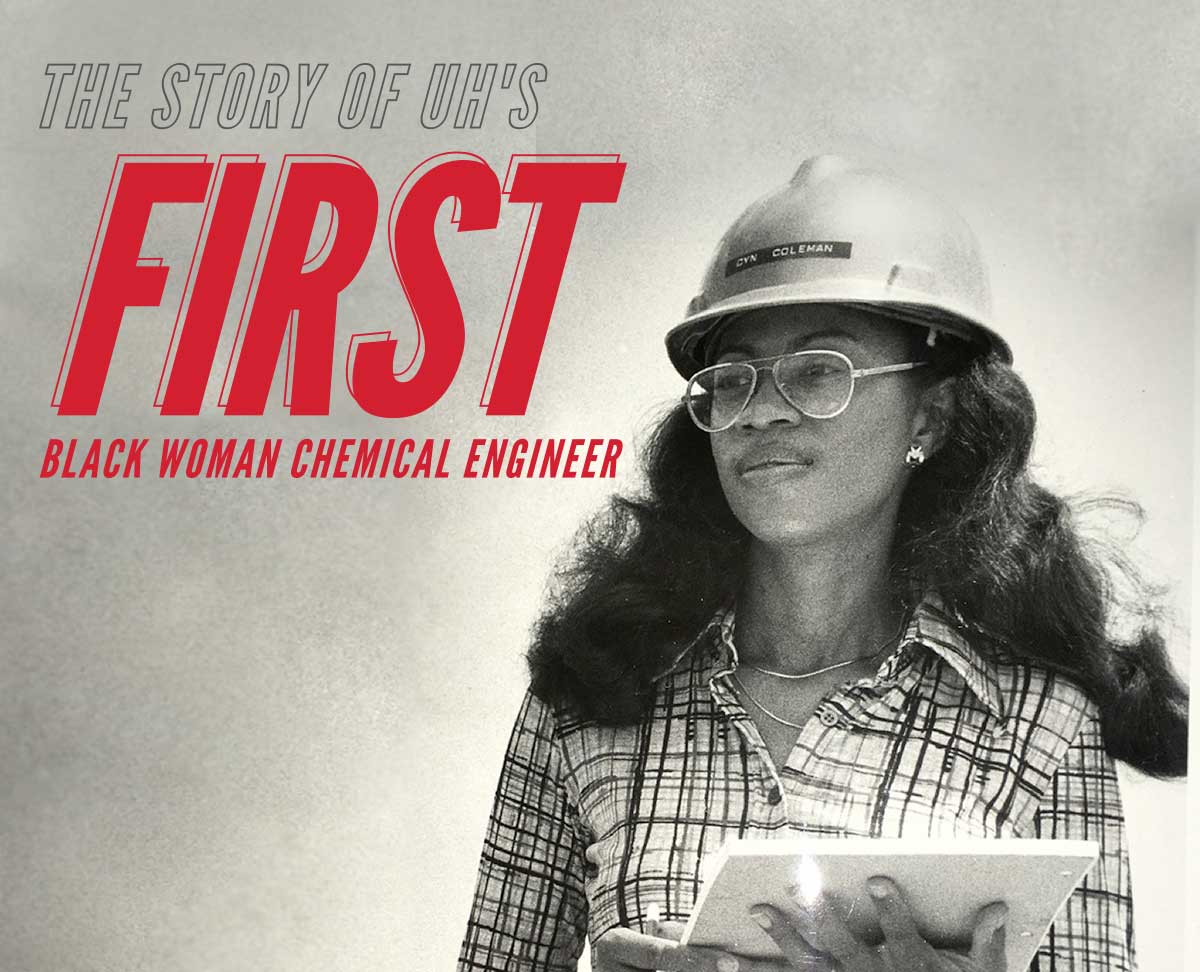 By Stephen Greenwell
SINCE HER EARLIEST DAYS GROWING UP IN HOUSTON'S THIRD WARD, CYNTHIA OLIVER COLEMAN, P.E., SAID HER PARENTS TOLD HER THE DREAM THEY HAD FOR HER, AND THAT SHE NEEDED TO STUDY HARD TO MAKE GOOD GRADES SO SHE COULD GET A SCHOLARSHIP FOR COLLEGE.
"My parents were never able to attend college, and they always had low-paying jobs," she said. "So the DREAM was for me to obtain a college degree that would enable me to secure a high-paying job."
In high school, Coleman excelled. She was a member of the National Honor Society, Student Council and the Charmettes Social Club; the first girl in the Junior Engineering Technological Society; the recipient of two science fair trophies; the captain of the Archery Team; and a finalist in the National Achievement Scholarship Program.
"UPON GRADUATION, I WAS AWARDED THE SCHOOL BOARD PLAQUE FOR OUTSTANDING SENIOR GIRL, RECOGNIZED AS VALEDICTORIAN OF MY CLASS OF 1967, AND I WAS AWARDED TWO SCHOLARSHIPS — THE FOUR YEAR WORTHING SCHOLARSHIP, AND THE FIVE YEAR LADIES AUXILIARY OF TEXAS SOCIETY OF PROFESSIONAL ENGINEERS SCHOLARSHIP," SHE SAID.
But when she was first considering her post-secondary education options, her choices seemed limited if she wanted to pursue chemical engineering, despite her stellar academic record and extracurriculars.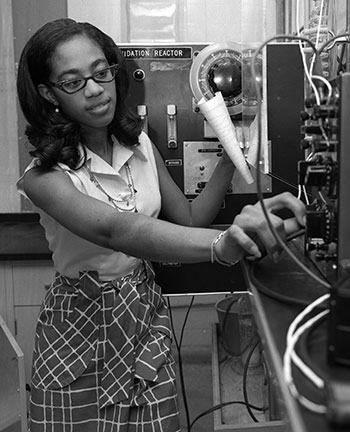 Coleman working on a chemical engineering experiment. Photo originally taken in 1971. Courtesy of Houston Public Library.
"As I was growing up, Texas Southern University was the only college I knew I could attend because it was the only Black college in the Third Ward," she said. "In my junior year in high school, I just happened to hear about engineering. When I realized I could not obtain a chemical engineering degree from Texas Southern University, I started looking for another college."
The University of Houston was a private school until 1963, at which point it also started to desegregate. Coleman started at the school in 1967, and later became the first Black woman chemical engineering graduate in 1971. She and another woman were also the first two women to graduate with chemical engineering degrees.
"I TOOK A HUGE LEAP OF FAITH TO PURSUE CHEMICAL ENGINEERING AT UH BECAUSE IT WAS A WHITE UNIVERSITY THAT HAD RECENTLY INTEGRATED IN 1963," SHE SAID. "I WAS NOT SURE HOW I WOULD BE TREATED WHEN I STARTED AT UH IN 1967, BUT THE ATMOSPHERE WAS OKAY AND BETTER THAN THAT OF SEVERAL OTHER SOUTHERN UNIVERSITIES THAT WERE SHOWN ON TV DURING THIS TIME."
Coleman added that there was another cultural pressure at the time beyond race.
"When I was at UH, I was a young Black woman pursuing chemical engineering during a time when women were discouraged from pursuing the male-dominated engineering profession, because nobody would hire a woman as an engineer, especially not a Black woman," she said.
Coleman said initially, her engineering classmates were "civil but not welcoming," so she felt isolated at times. However, the ability to go home to her parents helped.
"I was a commuter student with no car, so my parents drove me to UH early in the morning and picked me up in the evening with the one car my family had," she said. "My parents understood how hard I had to work so they made sure that our home was a quiet and loving place for me to study very long hours."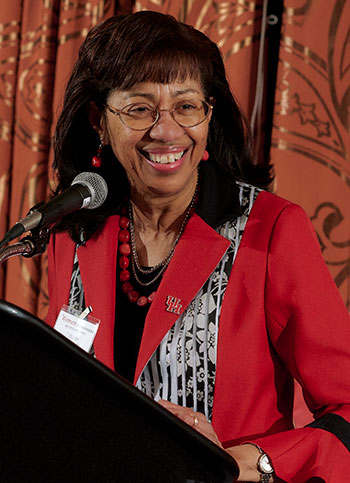 Coleman speaking at the 2019 annual 'Women in Red' networking event hosted through the Cullen College of Engineering.
The hard work paid off though, as Coleman racked up a string of accolades, including being on the Dean's List for five consecutive semesters. She was a member of the National Honor Society for Freshman Women students, as well as the National Honor Society for Chemistry Women. Her sophomore year, she received the American Institute of Chemical Engineers Scholarship, and she was awarded the American Institute of Chemical Engineers Award, for being the outstanding sophomore with the highest overall GPA. In her junior year, she received the Atlantic Richfield Scholarship.
Socially and academically, Coleman pointed at two Greek organizations as being key in her development.
"In 1969, I became the second woman to be initiated in UH's chapter of Tau Beta Pi, the prestigious National Honor Society for engineering students," she said. "Later, I became the first woman to hold an office. For many decades, women were not able to join the prestigious Tau Beta Pi, but later its constitution was amended to permit women who qualified to join. Later, I was elected Secretary of UH's chapter of American Institute of Chemical Engineers. Some of my fondest memories of being at UH were meeting my future husband and being initiated in Alpha Kappa Alpha Sorority, Inc., which was the first Black sorority on campus."
Coleman said her engineering professors were equally as tough and supportive with her as any other student. Coleman noted that one of the professors later became her advisor, and that he challenged her to excel in her engineering studies.
"He was the best advisor for me," Coleman said. "His name was Dr. Frank Worley, and he was undoubtedly the toughest advisor on campus, but he helped me to overcome my doubts about engineering. He also helped me realize how resilient I was and that I could achieve more than I ever thought possible. I graduated Magna Cum Laude with a B.S. in chemical engineering."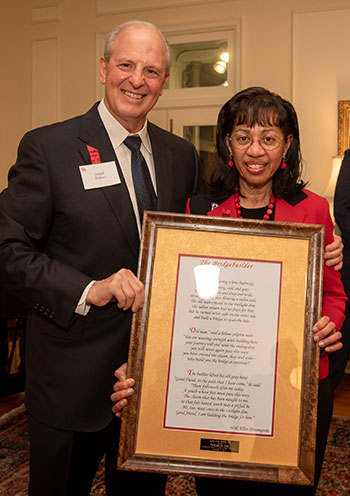 Coleman receiving her Bridgebuilder Award from Dean Tedesco
DESPITE HER ACADEMIC SUCCESS THOUGH, COLEMAN SAID SHE AND HER PARENTS WERE ALWAYS WORRIED ABOUT WHETHER COMPANIES WOULD HIRE A WOMAN ENGINEER. AS A RESULT, SHE WORKED HARD TO SECURE MULTIPLE INTERNSHIPS.
"Due to the uncertainty about women being able to get a job as an engineer, my parents insisted that I prove to myself that at least one engineering company would hire me," she said. "In addition to studying so hard, I searched for a summer internship by calling almost every engineering company in Houston to secure my first work experience. Brown and Root Construction Company hired me as a process engineer, and everyday my parents would drive me there and pick me up."
The next summer, she completed an internship as a reservoir engineer at the Shell Oil Company. She was still worried about landing a job after college, but she was pleasantly surprised when Exxon — known as Humble Oil at the time — Shell and other companies all extended offers to her.
"Exxon's offer was the overall best, and it also enabled me to work in downtown Houston, not far from the Third Ward where I grew up," she said, adding that it capped off a slew of 'firsts' for her and her family.
"On 1971 graduation day, my parents' DREAM for me that later became my DREAM for myself was fulfilled better than any of us could have imagined! I had achieved both the college degree and secured a high-paying job! Additionally I became the first Black woman as well as one of the first two women ever to receive a chemical engineering degree from UH. Also, I became first in my family to graduate from college. Then, I bought my first car and started my chemical engineering career at Exxon, where I was surprised to learn that I was Exxon's first and only woman engineer."
Since her graduation, and during and after a 33-year career at Exxon, Coleman has been an important supporter of University of Houston programs. In 2019, she was inducted into the Cullen College of Engineering Bridgebuilder Society. The society recognizes and honors individuals who have made impactful gifts to the college. It is the highest honor the college bestows upon a donor.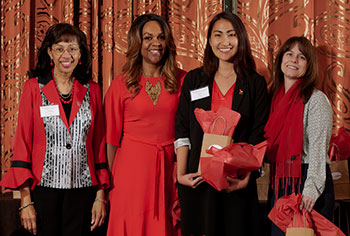 Coleman at the 2019 Women in Red event
Coleman has remained involved with efforts to recruit and to support first-generation college students at the university. She is a frequent contributor to the yearly Women in Engineering celebration, the Women in Red Movement, and an award named in her honor is given to the top graduating female senior student. She said her experience as being the 'first' in many ways — first from her family to graduate college, first Black woman chemical engineering graduate from UH, first woman engineer at Exxon — inspires her to continue giving back.
"BECAUSE MY DREAM CAME TRUE ON GRADUATION DAY, I IMMEDIATELY STARTED MY LIFELONG MISSION TO HELP OTHER WOMEN AND MINORITIES TO PURSUE ENGINEERING," SHE SAID. "NOW ALMOST 50 YEARS LATER I AM STILL ON THAT MISSION TODAY."