Alumni and Support & Giving
Wong Endowed Professorship to Support Vipulanandan
By Stephen Greenwell
Dr. Joseph W. Tedesco, Elizabeth D. Rockwell Dean of the UH Cullen College of Engineering, announced on May 29 that Dr. Cumaraswamy Vipulanandan was selected as the recipient of the newly-established Honorable Daniel Wong Endowed Professorship.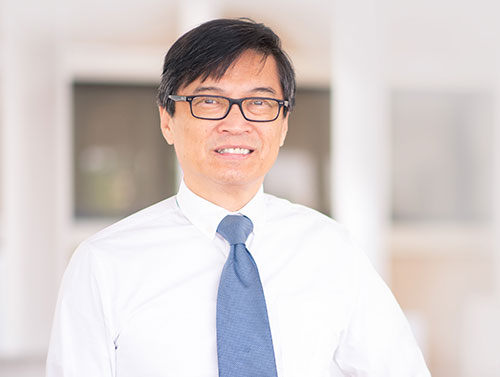 The Honorable Daniel Wong
Wong is a distinguished graduate of the University of Houston, earning his Bachelor of Science in Civil Engineering in 1983. This was followed by a Master of Science in Civil Engineering in 1985. He finished his Doctor of Philosophy degree in 1988, which had an emphasison geotechnical engineering.
He was recognized as the Distinguished Engineering Alumnus by the Cullen College of Engineering in 2009 and inducted into the Academy of Distinguished Civil & Environmental Engineering Department in 2010. Wong still serves as a senior lecturer for the department and hopes his gift will spur further giving.
"My goal of this gift is to serve as encouragement for other UH alumni to join in giving to the Civil and Environmental Engineering Department in the form of an endowment," he said.
Dr. Roberto Ballarini, the Thomas and Laura Hsu Professor and Department Chair of UH Civil and Environmental Engineering, noted that Wong has been a strong ally for the department.
"Dr. Wong has always demonstrated unflinching support of the Civil and Environmental Engineering Department and unbridled enthusiasm for the achievements of its students and faculty," Ballarini said.
In 1993, Wong co-founded Tolunay-Wong Engineers, Inc., and he currently serves as the company's president and CEO. The firm now employs more than 370 engineers, scientists and other professionals, and consults on a variety of projects in the Gulf Coast region. The company's corporate headquarters is located in Houston and has 11 offices throughout Texas and Louisiana.
In addition to his professional success, Wong has also been a committed public servant. He served as an elected, At-Large City Councilman for the City of Sugar Land from 2002 through 2008. He was also a former Board member of the Houston-Galveston Area Council; and the Texas Board of Professional Engineers from 2006 through 2012, serving six years as its chairman.
His civic involvement consists of former board membership of the Fort Bend YMCA, the American Heart Association and the Literary Council. He is currently a trustee of the Fort Bend Economic Development Council.
The endowed professorship will support the research work of Vipulanandan, which focuses on geotechnical, materials and geoenvironmental engineering. He has been Principal Investigator or Co-Principal Investigator for more than 56 funded projects since 1984, amounting to more than $5.8 million. Previous projects he has worked on include a $300,000 study on the maintenance of transportation and storm sewer facilities for the Texas Department of Transportation and a $150,000 study of the long-term performance of water pipelines for the City of Houston.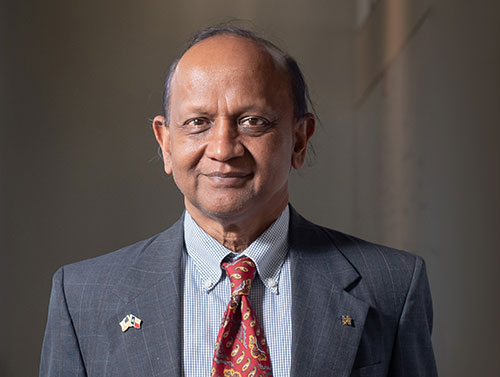 Dr. Cumaraswamy Vipulanandan
Vipulanandan joined the University of Houston as an assistant professor in 1984. He was elevated to an associate professor in 1990 and a full professor in 1995, and he served as the department's chairman from 2001 through 2009. Since 1994, he has served as the director of the Center for Innovative Grouting Materials and Technology (CIGMAT) at the Cullen College of Engineering. Vipulanandan earned his B.Sc. in Civil Engineering at the University of Moratuwa in Sri Lanka in 1980, followed by a master's and doctorate at Northwestern in 1981  and 1984, respectively.
In 2005, Vipulanandan received the Fluor Daniel Faculty Excellence Award, the highest award given by the Cullen College of Engineering. Previously, he earned the Senior Faculty Research Excellence Award in 2002, as well as a research award from the Texas Department of Transportation in 2000 for his project on auger cast-in-place. He has also been a member or on a committee for 18 professional organizations, including the American Society of Civil Engineering, Sigma Xi and Chi Epsilon — the National Civil Engineering Honor Society.
Wong said he is friends with Dr. Vipulanadan, commonly known as "Dr. Vipu," and considered it a great usage of his gift. 
"I was in the graduate program at UH when the department hired Vipu as the assistant professor in the Geotechnical program," he said. "My adviser, Dr. [Michael] O'Neill, hired him at that time and moved me to be Dr. Vipu's first Ph.D. student, and later on his first Ph.D. graduate. After graduation, I have been involved in supporting Dr. Vipu's CIGMAT and Hurricane Center since their inception. I graduated from UH in the Geotechnical Engineering program and currently Dr. Vipu is the only faculty in the Geotechnical program. It is an honor for me to have Dr. Vipu be the first holder of the Honorable Daniel Wong Endowed Professorship."
Tedesco thanked Wong for his continued support to the college. 
"I would again like to thank Dr. Wong for his generous gift to the university, one that will strengthen our pursuit of knowledge and provide even more stability to the Cullen College of Engineering," he said. "I look forward to Dr. Vipulanadan's contributions and future successes in elevating our College's research goals."