Rubbery Circuits Lead to First Place for Biomed's Ershad
By Stephen Greenwell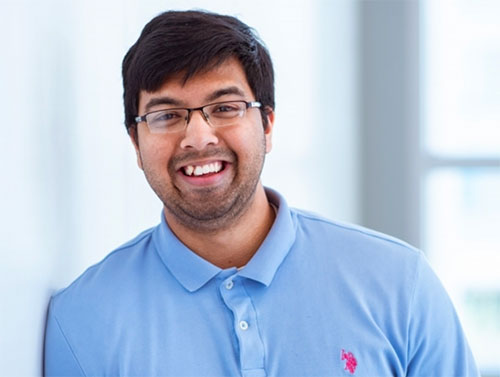 Faheem Ershad
When Faheem Ershad first came to the University of Houston as a biomedical engineering undergraduate student in 2014, he had some interest in teaching in the future, but that interest has only increased as he has served as a teaching assistant and pursued a doctorate in the field.
That passion for education and teaching has also come across in his research and professional presentations, as Ershad earned a first-place finish in the graduate student poster competition at the NASA 2020 Human Research Program Investigators' Workshop in January 2020.
Ershad's poster, "Fully Rubbery Circuits, Sensors, and Smart Skins," describes potential applications for rubber-like "stretchable" materials and their electronics. The ability to use these electronics as robotic sensing "skins," wearable or implantable sensors for the human body, or in other applications where conventional electronics are not suitable, would provide obvious benefits.
"A lot of the technologies that you might find in a clinic or wearables used for sensing heart rate, pulse, and other vitals of that nature usually have rigid form factors," he said. "When patients wear them, they feel uncomfortable because there's a huge mechanical mismatch between those devices and the human body."
Ershad said that by detecting the strain from rubbery strain sensors placed on the joints of a robotic hand, they've been able translate the gestures of the robotic hand into sign language and demonstrate how these soft sensors could be useful for possible human-machine communication.
In addition, these rubbery electronics can made into multiplexed tactile skins, enabling the robots to "feel" touch on different areas of the sensing "skin." There are also implications for health and heart-related research.
Ershad said this was the second time he had presented in this particular poster competition. The technology and methods used have attracted attention from NASA, as well as private industry.
However, Ershad said that for now, he hopes to pursue a faculty position after completing his doctorate and post-doctorate careers. A graduate of Cinco Ranch High School in Katy, he first got interested in teaching his senior year, when a friend got him a job at Mathnasium.
"You get a wide range of students there," he said. "You'd get to work with kindergartners in some instances, and in others, you'd work with college students studying university physics."
Throughout his undergrad, Ershad was also active in the classroom as a teaching assistant and as a workshop facilitator with the Scholar Enrichment Program. He said he was particularly challenged — in a good way — by a non-traditional student who also happened to be a veteran.
"I felt that through that experience, I really grew as both a student and an aspiring teacher," he said. "I was able to interact with someone that was so much more experienced in life, and they had ways of asking questions that I hadn't thought of, and that made me a much better individual."
Ershad, currently a second year PhD student, anticipates finishing his doctorate degree in 2023. In April 2019, he was one of three Cullen College students to receive National Science Foundation (NSF) graduate research fellowships.
"I have the next few years funded through the NSF, and I aim to finish my graduate career with that funding," he said. "I hope to continue disseminating my research and actively engaging in teaching and mentoring opportunities to open as many doors as possible for my future career."