Willson Earns Esther Farfel Award; Four Others Tabbed for Faculty, Staff Honors
By Stephen Greenwell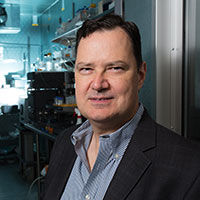 Richard Willson
Several members of the Cullen College of Engineering were recognized earlier this year by the Office of the Provost's 2020 Faculty and Staff Awards, headlined by Dr. Richard Willson of biochemical and biophysical sciences earning the Esther Farfel Award, the highest honor given yearly.
The award, a symbol of overall career excellence, carries a cash prize of $10,000. Nominees must be tenured faculty members who have held a full-time, continuous faculty appointment for at least five academic years prior, and demonstrate excellence in all areas of faculty responsibility. The selection committee considers 1) the significance and national/international impact of the candidate's research or creative activity; 2) evidence of outstanding teaching ability; and 3) distinctive and exemplary service to the university, the profession and the community.
Willson is the Huffington-Woestemeyer Professor of Chemical and Biomolecular Engineering at the university. His research focuses on biomolecular recognition and its applications in separations and molecular diagnostics. He has more than 50 academic publications to his credit.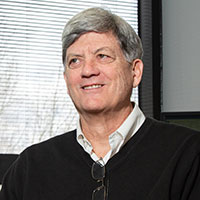 Stuart Long
The Moores Professorship — which lasts for five-years and is renewable — was awarded to four professors at the university. Included among them was Dr. Stuart Long, a professor in the Electrical and Computer Engineering Department. His research interests include applied electromagnetics, an array of antenna-related pursuits, and engineering education, outreach, retention and recruiting.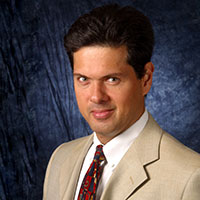 Karolos Grigoriadis
The Career Award, given to faculty who have demonstrated excellence in teaching over the course of their career at the University of Houston, was bestowed upon Dr. Karolos Grigoriadis of mechanical engineering. He is also the director of the aerospace engineering program, and his research interests include dynamic systems and controls — feedback control systems analysis and design, linear and nonlinear systems theory, robust and fault-tolerant control, model reduction, filtering and system optimization.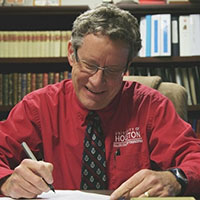 David Shattuck
Dr. David Shattuck, of electrical and computer engineering, received an award for Distinguished Leadership in Teaching Excellence. The award is given in recognition of faculty who have made sustained and significant contributions to education within the context of their responsibilities as a full-time faculty member.
Shattuck has worked on the development of computer-based tools, programs and textbooks for effective instruction in circuit analysis and electronics. He has also contributed to the fourth edition of the textbook Electric Circuits by James Nilsson. He has also served as a reviewer for several journals and textbook publishers.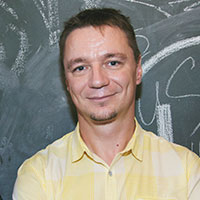 Lars Grabow
Dr. Lars Grabow, of chemical and biomolecular engineering, was one of three winners of the Undergraduate Research Mentoring Award. The award recognizes the mentorship efforts of faculty at all stages of their careers and acknowledges faculty who have made a significant impact in their field by supporting and mentoring undergraduate students in research and scholarship endeavors for at least five years.
Grabow's group uses computational methods to understand and predict chemical processes that occur on solid-gas and solid-liquid interfaces. In particular, the group's work focuses on heterogeneously catalyzed reactions relevant for energy production, energy storage, photocatalysis, pollution mitigation and the production of useful chemicals.
Rodrigues, Palmer Honored with UH Awards for Excellence
Two faculty members at the Cullen College of Engineering were recognized as recipients of the University of Houston's Awards for Excellence in Research, Scholarship and Creative Activity for the 2019–20 academic year.
The award recipients were evaluated by the Excellence in Research, Scholarship and Creativity subcommittee, and honored by the office of Amr Elnashai, Vice President for Research and Technology Transfer. The awards recognize faculty at the levels of Assistant Professor, Associate Professor and Professor.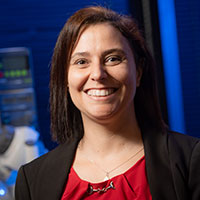 Debora F. Rodrigues
Dr. Debora F. Rodrigues, of civil and environmental engineering, was recognized in the Associate Professor category. The award recognizes faculty who have established a growing record of outstanding research, scholarship and creative contributions, and who are emerging leaders in their field.
Rodrigues joined the department in 2010. The central topic of her research is water quality and sustainability, which focuses on a better understanding of the aquatic system and its microbial ecology, investigation of the effects of nanomaterials on the environment through application of molecular biology and nanotoxicological tools, and development of new nanotechonologies and biotechnologies to keep the aquatic system safe and remove unwanted contaminants.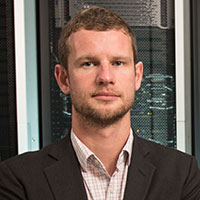 Jeremy Palmer
Dr. Jeremy Palmer, of Chemical & Biomolecular Engineering, was recognized in the Assistant Professor category. The award recognizes faculty who have demonstrated great potential in research, scholarship and creative endeavors by virtue of the exceptional quality of their early contributions.
Palmer is the Ernest J. and Barbara M. Henley Assistant Professor of chemical and biomolecular engineering. Some of his research areas include materials by design, soft and complex media, and glasses and metastable liquids.