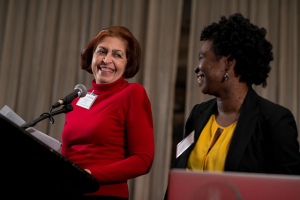 Mission
The mission of the Women in Engineering Program at the UH Cullen College of Engineering is to establish a support system for female engineering students, faculty and alumnae, giving them the opportunity to meet fellow peers and to interact with women currently working in the field of engineering.
History
The Women in Engineering Program, originally known as the Women in Engineering Learning Community for Maximizing Excellence (WELCOME), was established in 2005 at the Cullen College. Supported by a grant from the Texas Engineering and Technical Consortium (TETC), the vision for the program is to serve as a forum for women to network on both social and professional levels.
The Women in Engineering Program also offers professional and academic development workshops, student-to-student and professional-to-student mentoring programs, and a series of seminars geared toward providing insight for women at every stage of their academic careers.