New Generation of Research
A look inside the REU program

By Rashda Khan
Undergraduates from all across the nation spent 10 weeks this summer at the Cullen College of Engineering and the BRAIN Center at the University of Houston gaining research experience, learning valuable lessons and building their academic careers.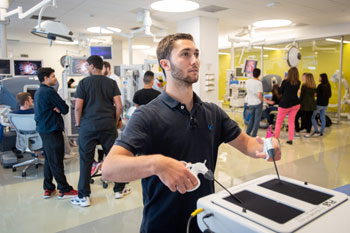 The Cullen College currently has two Research Experience for Undergraduates (REU) programs funded by the National Science Foundation. It awarded UH researchers $790,000 for three years to reach students early in their college careers. The two REU programs are: Materials for Sustainability in Energy and Manufacturing, now in its final year, and the Neurotechnologies to Help the Body Move, Heal and Feel Again, which is in its second year.
The Cullen College summer REUs opened new doorways for many of the 26 participating undergraduates.
"Entering the program, I was unsure if research was right for me or if I would enjoy industry more. Essentially, I was using this experience to determine the right path for me," said Jackson Levine, a senior at Tulane University double majoring in biomedical engineering and neuroscience with a minor in music.
"I learned that research is my passion and I can confidently say that, after this REU, I plan to pursue a Ph.D. in the field of neurotechnology," said Levine, who worked on a research project investigating the use of vibrations to improve the gait of people suffering from Parkinson's disease, spinal cord injuries and other similar chronic conditions.
He was excited about contributing to his first research paper. "I actually got to click the button to submit the paper. This [is] the first of hopefully many papers, so I will remember that moment," Levine said.
The programs introduced students to the realities of research work, which can often be long-drawn-out and laborious, and do not always turn out as expected.
"Research requires determination to discover and adapt to challenges presented along the way," said Rebecca Barry, an engineering sophomore at Providence College who worked with Alamgir Karim, Dow Chair and Welch Foundation Professor in chemical and biomolecular engineering, in the REU focusing on sustainable materials.
She was surprised by how much she learned despite starting with minimal information about graduate work, research or polymers. By working "in a polymer-based lab and with Ph.D. students, I not only understood the challenges in the specific field of research, but also the realities of a Ph.D. program," she said. "I have gained insights … for both industry and academia."
Barry spent the summer in Karim's lab patterning thin films and observing their structure. She got to operate equipment, collect and analyze data, present her research and more.
"Presenting my research in a lab meeting was exciting because it reinforced the communication skills which were emphasized throughout this program," Barry said. "The professor and Ph.D. students all commented on my work and I was able to learn from them. I have gained valuable research experience and communication skills this summer."
Other students knew what they wanted to do and attending a UH Cullen College REU was a strategic choice.
"Although I applied to dozens of summer programs and internships, UH's program stuck out to me due to its specificity in the field of neurotechnology," said Abigail Turcheck, a biomedical engineering sophomore at Arizona State University (ASU). "I would like to work in neural engineering after graduating, so I thought this would be the perfect program to prepare me for research in this field. Additionally, UH has a partnership with ASU with the BRAIN Center, which opens me to networking opportunities with professors and industries involved in neurotechnology upon my return to ASU."
Turcheck had the opportunity to work with Jose Luis Contreras-Vidal, who is a professor of electrical and computer engineering and the director of the Building Reliable Advancements in Neurotechnology (BRAIN) Center at UH. The BRAIN Center, a collaboration among Arizona State University, the University of Houston and industry members, was officially funded in 2017 with a $1.5 million grant from the National Science Foundation. Its mission is to develop safe, effective and affordable personalized neurotechnologies.
"After graduation, I hope to pursue a Ph.D. in neural engineering … [and then] work in the field of industrial research and development in neurotechnologies," she said. "This program has solidified my interest in research for a long-term career."
The UH engineers leading the two programs include Haleh Ardebili, Bill D. Cook Associate Professor of mechanical engineering, and Jacinta C. Conrad, Frank M. Tiller Associate Professor of chemical and biomolecular engineering, for the Materials REU; Contreras-Vidal, Cullen Distinguished Professor of electrical and computer engineering, and Stuart Long, professor of electrical and computer engineering and associate dean of the Honors College and Undergraduate Research for the Neurotechnologies REU. Maria Modelska with the Cullen College facilitated and managed both programs.
Spearheading the REU programs is their way of nurturing a new generation of researchers.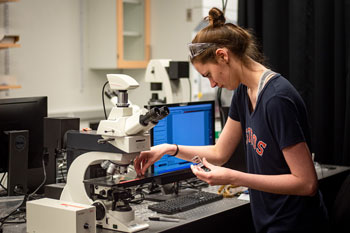 "Nationwide there is a critical objective to increase the number of students pursuing careers in the STEM fields," said Ardebili. "I hope participating in the REU program will inspire students to continue in the science, technology, engineering and mathematics (STEM) fields."
Conrad said analysis of data collected from post-program surveys indicates that research experience at the UH Cullen College is having a positive effect.
"The REU program is especially valuable for undergraduates from universities without graduate programs or high levels of research," she said. "The exposure such students receive to cutting-edge research at UH propels them to apply to graduate schools, and their lab experience helps them gain admission. In the end, this training enables these students to pursue rewarding careers in engineering."
Contreras-Vidal agreed. "At the end of the experience students will understand the role of an engineer in society and be aware of the different opportunities available to help them build a meaningful career," he said.
The visiting students shared some advice encouraging Cullen College Coogs to consider summer REU programs offered around the nation:
Do your research. Find a lab investigating a subject that deeply interests you. But more importantly, love the research environment and the people around you. This is an opportunity to learn and make incredible connections.
Stay open to new opportunities in research, even if they don't align with your current interests. Venturing into a new field can open you up to a new passion.
Participate in an REU program even if you are not considering academic research as a career. It can help hone your technical skills in the field and your ability to be self-sufficient in a work setting.