Fostering New Generations of Innovation & Entrepreneurship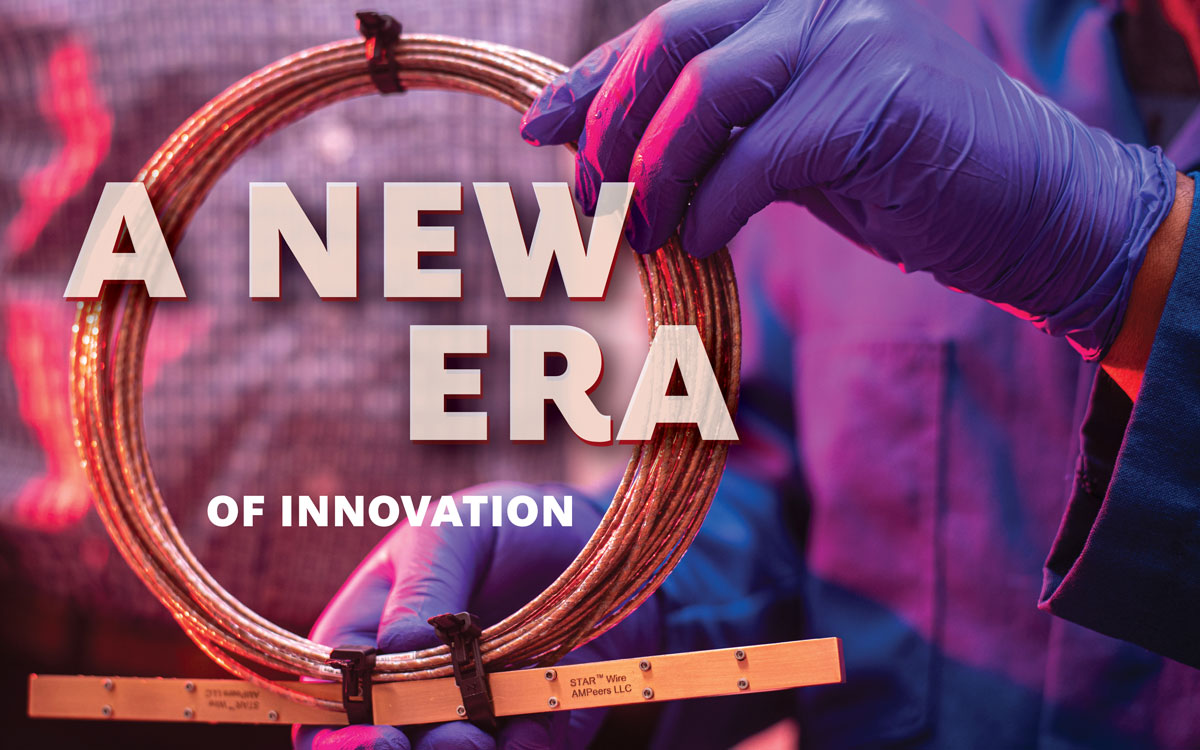 By Rashda Khan
As breath is an integral part of life, innovation is an integral part of engineering.
Fueled by human ingenuity, the spirit of innovation drives transformative advances across all areas of life. It has led to things like electricity, heart transplants and rockets, and it will continue to birth new generations of discoveries and creations.
Being innovative means being creative.
"Serendipitous discoveries in science comes out of this idea of being creative," says Jeffrey Rimer, Abraham E. Dukler Professor of chemical and biomolecular engineering at the UH Cullen College of Engineering, who is known for his groundbreaking research in crystallization. His work has led to the development of novel drugs for kidney stones – marking the first advance in kidney stone therapy in a span of 30 years – and malaria.
"With anything we do there is serendipity because the outcomes are never predetermined and things happen that simply cannot be foreseen," he says. "That's what makes it fun."
In the last few years, the Cullen College has put several initiatives in place to support student success and nurture the culture of innovation and entrepreneurship, building on past successes and pushing into new frontiers.
"We're building a culture of innovation, collaboration and entrepreneurship at the Cullen College to help find solutions to the world's most pressing problems," says Joseph W. Tedesco, Elizabeth D. Rockwell Dean of the UH Cullen College. "We dare to pursue ambitious possibilities and engineer them into reality."
The college is filled with examples of faculty and students making a difference in the world.
Cumaraswamy "Vipu" Vipulanandan, professor of civil and enviromental engineering and director of the Center for Innovative Grouting Materials and Technology (CIGMAT), believes innovation should be disruptive, "a major shift from the current operations, and it should make an impact all around the world."
As the inventor of "smart" cement, Vipulanandan knows what he's talking about. Cement is the most commonly manufactured material globally, and his research is revolutionizing construction to make it safer.
"It's a warning material that gives feedback," Vipulanandan says.
Smart cement is an innovative 3D highly sensing chemo-thermo-piezoresistive material used as an additive to cement or concrete to make construction safer by enabling monitoring and real-time data collection. Less than eight ounces of the additive is needed to produce 1,000 pounds of smart cement, which can detect earthquakes, gas leaks, cracks and curing among other things.
Vipulanandan also developed the real-time monitoring system for smart cement users.
Smart cement has broad applicability and can be used in oil, gas and water wells; pipelines; highways; bridges; buildings; and more. The sensing ability lasts the lifetime of the structures.
His work was inspired by the 2010 Deepwater Horizon explosion, which killed 11 people and spilled almost 5 million barrels of oil into the Gulf of Mexico. Vipulanandan began working on the smart cement in 2012 with a $2.6 million grant from the U.S. Department of Energy and additional funding from Baker Hughes, an oilfield services company.
"I have been researching how to make materials with sensing properties for a long time, and it's evolved over more than 15 years," he says. "It's not a simple process. I tried things, learned, developed new things, published and kept on improving it until now, when it's a paradigm shift."
He also developed a new Vipulanandan rheological model to characterize the behavior of all types of fluids, including smart cement slurries and drilling fluids. This model, which is a mathematical framework, is used around the world by different industries.
Twenty-first century engineering involves innovative thinking, perseverance, new technologies and strategic partnerships across disciplines for global impact.
Building a better future together
Located in Houston – the energy capital of the world, Space City and home to the world's largest medical center – the UH Cullen College is in a unique position to recognize opportunities and address needs involving the Greater Houston area and beyond. Faculty, researchers and students collaborate with partners from the Texas Medical Center, the Energy Corridor, NASA and more to engineer solutions to real world problems.
As a result, the college – established in 1941 – is a hive of innovative ideas and cutting-edge research. Work ranges from data science to robotics, from algorithm design to human-machine interfaces, from energy storage to smart cement.
Nuri Ince, associate professor of biomedical engineering and director of the Clinical Neural Engineering Lab at the college, believes collaboration is key to fighting diseases like Parkinson's, epilepsy or brain tumors.
"If you have collaborators who can spend time together, discuss, make their work environment available to each other ...then you have success," he says.
He takes advantage of the close proximity of the Texas Medical Center and its medical personnel and facilities to create an optimum learning environment for his students at UH and to further his research.
Collaborating with neurosurgeons, Ince's research team places electrodes on the cortical surface and deep inside the brain during surgeries, using the recorded brain activity to understand the pathological neural activity of the brain in Parkinson's disease and epilepsy.
In addition to determining neuromarkers associated with many cognitive and movement disorders, Ince's lab uses data collected during surgeries to develop neural decoding algorithms and visual interfaces for developing neuroprosthetics.
Ince is one of many Cullen College faculty making use of the partnership opportunities in Houston.
innovator spotlight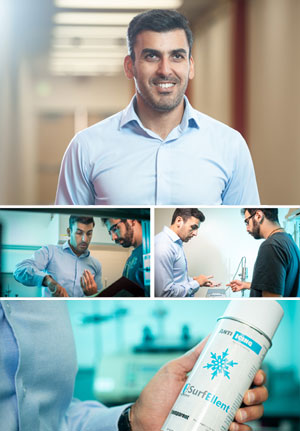 Hadi Ghasemi
Hadi Ghasemi, Bill D. Cook associate professor of mechanical engineering at the Cullen College, and his NanoTherm Research Group are world-renowned for their cutting-edge research involving surface physics, nanotechnology, biomimetic engineering and small-scale energy systems.
At the University of Houston, Ghasemi has launched a research program focused on icing and developing durable anti-icing coatings. His group was able to innovate a new bio-inspired durable anti-icing coating based on North American wood frogs that can tolerate freezing up to 65 percent of their total body water and still survive in the winter.
NASA chose Ghasemi's project from entries submitted by over 130 organizations across the U.S. for its potential to broadly impact human life on earth and the future of space travel.
Once Ghasemi had plenty proof of concept for his novel material, he partnered with students in his NanoTherm lab to launch the startup SurfEllent and begin marketing innovative durable anti-icing coating technologies to consumers.
Earlier this year, SurfEllent won the second place award and its accompanying $35,000 check at the Texas A&M New Ventures Competition (TNVC). It also won the Texas A&M Engineering Extension (TEEX) Product Development Center Prize of $10,000. Most recently, SurfEllent received a round of Seed Funding of $350,000 and two SBIR and STTR grants.
Ghasemi is actively involved in training the next generation of innovators. One of his doctoral students, Peyman Irajizad, received the best dissertation award among all the Ph.D. graduates in mechanical engineering and is the co-founder of SurfEllent. Furthermore, the students in NanoTherm research group under his supervision have filed a range of patents and received numerous awards.
Working on a larger scale
Another big advantage is the ability to work with national and state-level research centers. Such partnerships make greater funding and resources available, as well as allow collaborations on a much larger scale.
One such institution is the Building Reliable Advancements in Neurotechnology (BRAIN) Center, an Industry–University Cooperative Research Center (IUCRC) dedicated to bringing new neurotechnologies and treatments to market. The BRAIN Center – a collaboration among the University of Houston, Arizona State University and industry members – was launched in 2017 with a $1.5 million grant from the National Science Foundation.
"It's a catalyzer for faculty, students and industry to come together and develop the next neurotechnologies to improve the human condition. We're thinking about the next 10, 20, 40 years from now," says Jose Luis Contreras-Vidal, Cullen distinguished professor of electrical and computer engineering and the director of the BRAIN Center at UH. "We have an environment that has been optimized for discovery. We work on innovation that we know is industry-relevant because industry partners are involved and have a say in what's funded."
The BRAIN Center's members come from all over and since all the stakeholders are in place, "we can cut red tape," Contreras-Vidal says. "There's less time wasted in writing proposals, on logistics, making connections because we have optimized the networking of the center through our own experience and through the experience of this type of program funded by the NSF."
In addition, the center has a process for protecting intellectual property through patents, engages in outreach and publicity, and trains students to work on emerging technologies, thus building a highly skilled workforce. The BRAIN Center is partnering with IEEE Brain and the University of Pittsburgh to organize the Neurotech Entrepreneurs Workshop in December to inspire, empower and connect aspiring entrepreneurs in neural engineering.
In his roles at the college and at the BRAIN Center, Contreras-Vidal – one of the world's leading researchers in the field of noninvasive brain-machine interfaces – warns that technology is the byproduct. "We're in the business of training people. We train them to do STEAM research, develop new ideas and technologies and create opportunities to invent the future," he says. "I'm not an expert in everything. I'm happy to help with what I know. When I don't know, I look for somebody else, a collaborator I can bring in to fill in the gap."
Other centers affiliated with UH that regularly partner with the Cullen College include: the National Center for Airborne Laser Mapping (NCALM), the Hewlett Packard Enterprise Data Science Institute, Texas Hurricane Center for Innovative Technology (TCH-IT), the Hurricane Resilience Research Center and the Texas Center for Superconductivity.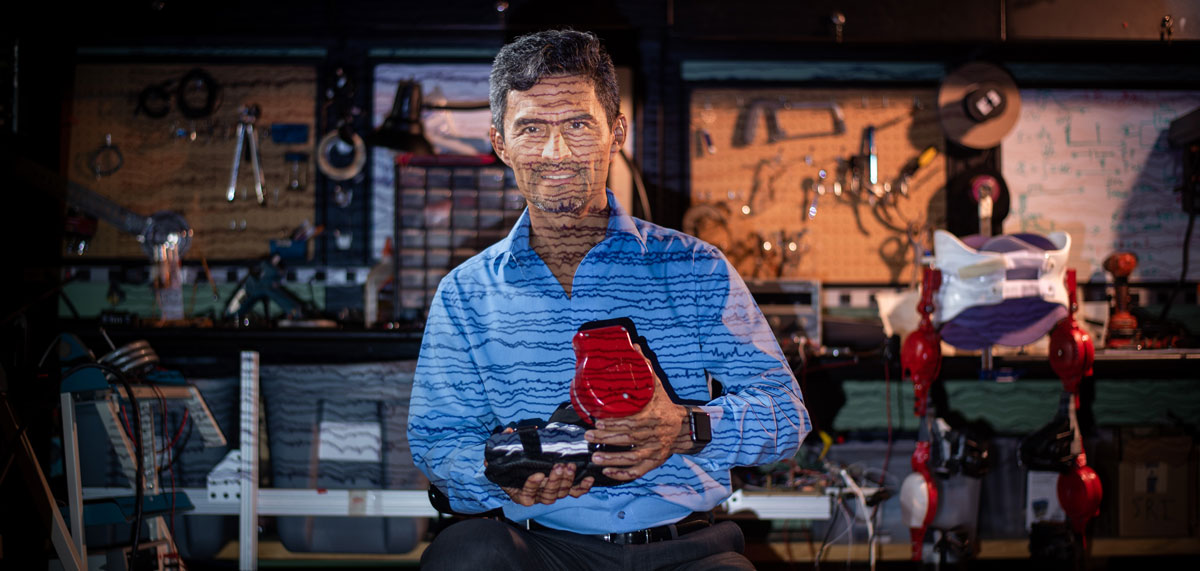 Leveraging UH resources
If innovation drives all of humanity's advances, then it's the entrepreneurial spirit that brings these advances to the people who can use it the most.
Several Cullen College faculty members and students work with other entities at the University of Houston, such as the Office of Intellectual Property Management, the Wolff Center for Entrepreneurship and UH RED Labs – a shared workspace, startup accelerator and technology entrepreneurship program – for training and assistance in getting their research into the market.
Contreras-Vidal has been featured in national and international media for his thought-controlled robotic exoskeleton, which can help paralyzed patients regain their mobility. At present he's working to develop a pediatric version for young patients who are still growing.
He also developed a groundbreaking robotic rehabilitation system. Funded by a $750,000 grant from the NSF's Partnerships for Innovation program (PFI), the goal is to build a system that can be approved by the U.S. Food and Drug Administration and is sturdy, simple and inexpensive enough for stroke patients to use at home.
Both his products are on the verge of leaving the research lab, but it's been a long journey requiring the research team to learn the intricacies of the business world.
"We have been supported by the Office of Intellectual Property Management and the Office of Technology Transfer and Innovation at UH and also the workshops at UH RED Labs," Contreras-Vidal says. "I wish everyone would make use of them."
Today, Vipulanandan is an advisor to Sensytec, a UH startup that is bringing his smart cement and two-probe monitoring system to the commercial market.  
The company – established in 2015 – is run by Ody de La Paz, a UH graduate with bachelor's degrees in accounting and entrepreneurship, and Sai Anudeep Reddy Maddi, who is working on his Ph.D. in civil and environmental engineering at the Cullen College. Maddi also earned his master's in structural engineering at UH in 2016.
"They took the patent and commercialized it and that benefits everyone, including the university," Vipulanandan says.
Earlier this year, the company was chosen as one of three local winners of the inaugural Houston MassChallenge program, won a $40,000 investment prize from the Houston Angel Network and was named one of 10 most promising companies by the Rice Alliance for Technology and Entrepreneurship.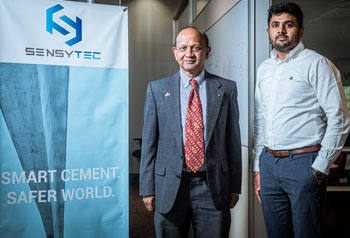 Sensytec, which has previously won funds from the NSF, the U.S. Department of Defense and the Techstars Accelerator, is also part of the Smart Cities Ion Accelerator Program in partnership with Microsoft, Intel and the City of Houston. The UH startup tops the list of 10 companies selected for the inaugural cohort of the accelerator
Sensytec is housed at the UH Technology Bridge, a 74-acre park on the Gulf Freeway, just a few miles from the UH campus, with office and laboratory space for startups. About 25 companies are currently based there.
"We are proud to be a part of a grand vision to push boundaries, impact the community and embrace innovation," says the Sensytec team.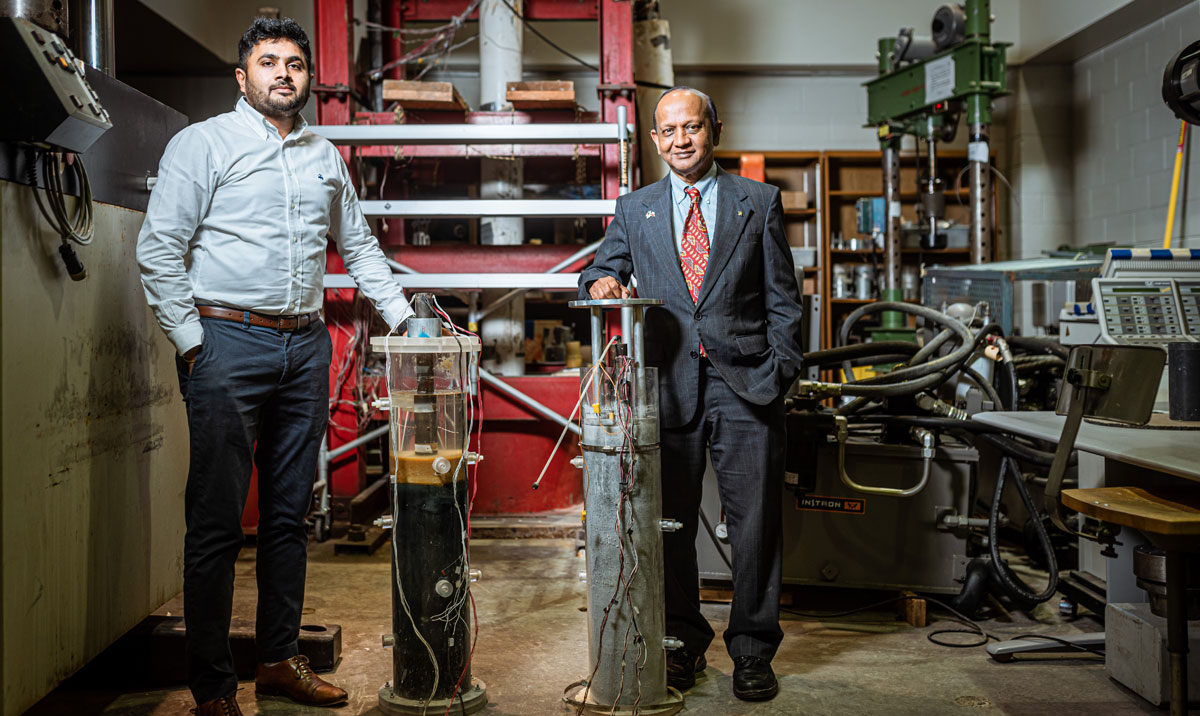 Investing in a new era of innovation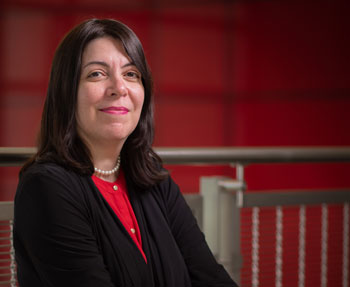 Haleh Ardebili, Bill D. Cook Associate Professor of mechanical engineering, was appointed director of the Innovation and Entrepreneurship initiative at the UH Cullen College in 2018.
"Instead of innovative and valuable research findings being left on journal pages and in books, why not turn it into a product and get it into the hands of the people who need it?" she says, adding that commercialization is the essential next step to consider in taking research from the abstract to real-world application and benefits.
Her goal over the next few years includes establishing an engineering technology incubator at the college to support increased student and faculty IP generation and start-ups, she says.
An accomplished researcher and inventor, Ardebili is no stranger to taking innovative ideas out of the laboratory and into the marketplace. Her research focuses on energy storage, with a variety of projects aimed at developing flexible, stretchable batteries capable of powering everything from spacesuits to submarines. Two patents are pending for her stretchable batteries, while her research has received funding from the National Science Foundation, Army Research Lab, the Office of Naval Research, the Air Force Office of Scientific Research, the Subsea Systems Institute and others.
"The more people who have access to the end results, the greater the longevity of the research and the more advances are made in all sectors, whether it be in medicine, space exploration, renewable energy or another area," she adds.
Other new additions include the Research Computing Division at the college, created to encourage student engagement in design activities with data, computing and e-media; the recently hired industrial relations and intellectual property manager at the college; and the recent appointment of Dan Burleson as the UH Cullen College of Engineering's first Director for Engineering Student Innovation and Design Experience (ESIDE).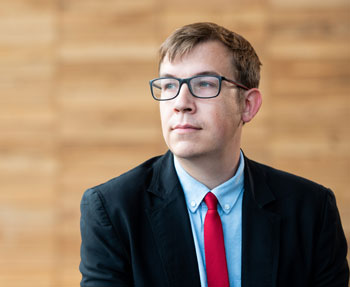 Burleson will work to transform the Cullen College Engineering Design Experience for graduating juniors and seniors to encourage student innovation and success in developing unique multidisciplinary projects addressing critical societal challenges.
"Ultimately, I'd love for design and student innovation to be a culture piece of the entire undergraduate program at the Cullen College," he says. "It's a conversation and something students can engage in all the way from the freshman level to their senior year."
To achieve this goal, Burleson will build engagement and relationships across Cullen College departments and faculty, as well with industry partners and professional organizations. He envisions leveraging existing resources and working with Ardebili, the HPE Data Science Institute and others for maximum benefit to Cullen College undergraduates.
"I think it's a great time to be trying out these different things, and it's only going to end up providing many more opportunities for our students," Burleson says. "There's clearly a strategic plan that connects all of these different things together. The best thing we can do is leverage each of these components and create partnerships that are mutually beneficial."
innovator spotlight

The Inaugural innovator awards
The winners of the 2019 UH Cullen College of Engineering Innovator Awards showcase the amazing things happening at different levels of the college. Haleh Ardebili, director of the Innovation and Entrepreneurship initiative at the college, created the awards to recognize and encourage the spirit of innovation and entrepreneurship among faculty and students.
"Even if engineering faculty and students choose not to pursue entrepreneurship, if they're entrepreneurial in thinking – aware of how businesses work, understand all the factors going into commercialization – they have an edge in the market," Ardebili said. "Their individual success reflects and adds to the University's success and it benefits society as a whole."
Meet the recipients of the inaugural 2019 Innovator Awards:
Venkat Selvamanickam
Career Innovator Award
This award, which carries an honorarium of $4,000, recognizes full professors with a track record in innovation, entrepreneurship and mentorship during their career at UH.
Wei-Chuan Shih
Rising Innovator Award
This award recognizes efforts by a tenured associate professor in innovation and entrepreneurship at UH. The award comes with an honorarium of $3,000.
Hadi Ghasemi
Early Innovator Award
This award, with an honorarium of $2,000, recognizes efforts by the tenure-track assistant professor in innovation at UH.
Jay Adolacion
Young Innovator Award
This award, with a prize of $1,000, recognizes efforts by Cullen College students or postdocs in innovation and entrepreneurship at UH.
Creating an impact
A robust culture of innovation, creativity and opportunity has a domino effect and leads to more ideas, projects and new frontiers.
Juan Carlos Mier, a senior majoring in chemical engineering and computer science, and his half-brother Mauricio Andrade started Aeolika, an urban wind turbine business in 2018. The technology – a magnet driven motor – was developed by John Harms, a HPE retiree, but the brothers saw an opportunity to take it further.
"We realized the motor could be used in an environmentally friendly, highly efficient wind turbine that would be perfect for cities," Mier says. "Our idea is to recycle energy wasted in HVAC systems and reduce electricity costs to our customers by about 20 percent, which is a significant saving. We do it by installing these wind turbines on roofs of buildings that have centralized air and generating electricity."
Both engineers, the brothers worked with UH RED Labs to develop the idea into a startup and network with others to gain business insights.
Mier is also president and co-founder of the Houston Innovation Ventures and Enterprise. HIVE is a UH student organization that brings together students from different fields who are interested in working together to solve real-world problems with new ideas and venture into entrepreneurship. The focus tends to be on tech startups.
Last year, HIVE partnered with the Cullen College, UH RED Lab and the City of Houston's Office of Innovation to host its first campus-wide student innovation competition. It had 60 participants divided into 14 teams. Called "The Community Innovation Challenge," the competition involved student teams developing an idea to address a real-world problem in Houston and pitching it to a panel of judges over the course of a weekend.
"What I'm really proud of is that the Mayor actually reached out to us and expressed interest in implementing the idea of the first-place team," Mier says. "We helped make that connection."
Mier, who also works at ConocoPhillips as part of the Cullen College's co-op program, credits his successes to his educational environment.
"Mostly the opportunities that I have gotten here at UH helped me on my journey," Mier says. "We're given a lot of resources and a lot of freedom to make mistakes, try again, get back on track and kind of iterate through ... so coming in and being given those opportunities, I wasn't afraid to fail. I think that's one of the things that keep people from innovating – a fear of failure."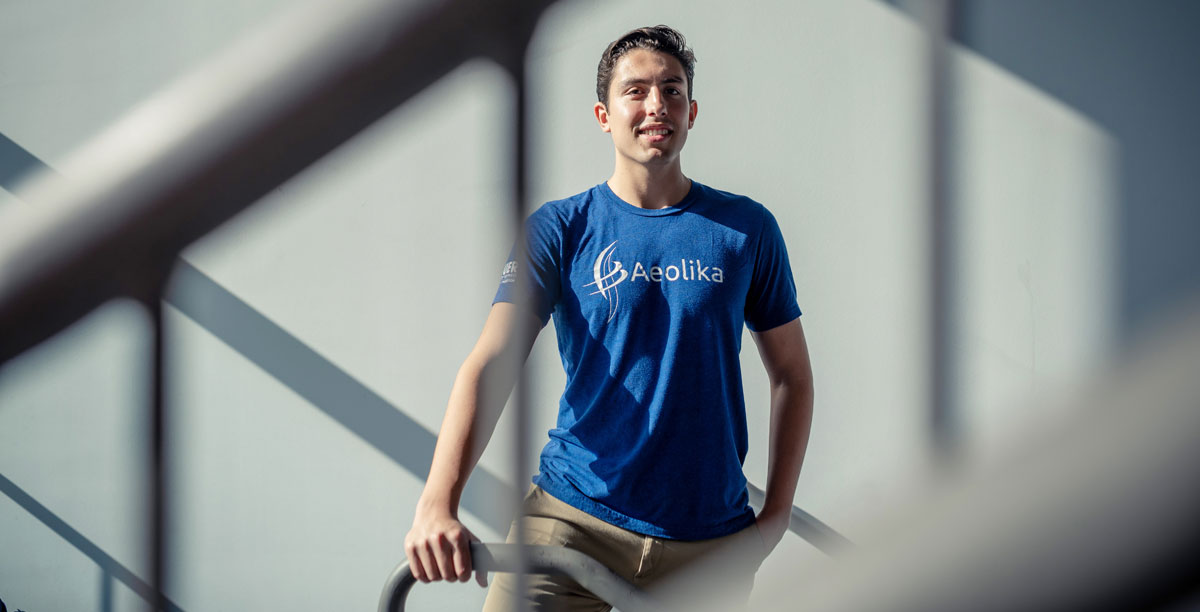 innovator spotlight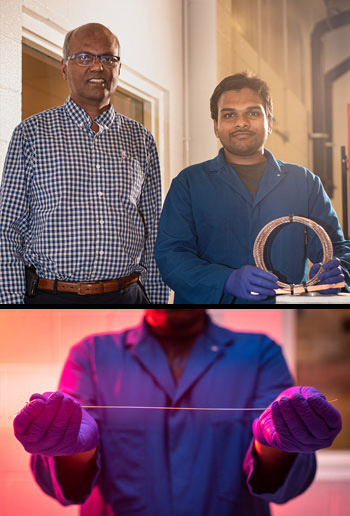 Venkat Selvamanickam
Venkat Selvamanickam, M.D. Anderson Chair and professor of mechanical engineering at the Cullen College, is one of the world's leading experts and pioneers of innovative manufacturing technologies related to superconductors. With a master's degree in mechanical engineering and a Ph.D. in materials engineering from the UH Cullen College of Engineering, Selvamanickam has compiled 32 years of research contributions in applied superconductivity, specifically the development and manufacturing of superconductor wires.
Selvamanickam established a startup company – AMPeers – in 2009 to scale up novel round superconductor wires developed at UH. AMPeers, which stands for Advanced Materials Pioneers, provides innovative solutions to material problems in a broad range of sectors – from defense to medicine and other industrial applications; consultancy; and continued research in partnership with UH.
The Houston company, housed at the UH Technology Bridge, received two Small Business Innovation Research (SBIR) contracts including a Phase 2 in which manufacturing technologies are being developed to scale up these round superconductor wires from a few centimeters in the laboratory to hundreds of meters.
The above-mentioned accomplishments are just a drop in the bucket. Selvamanickam has held a variety of positions at various instituions, and his research at the University spans a wide range of advanced processing techniques for high-performance materials for energy and electronics applications such as high temperature super-conducting thin film wires, photovoltaics and flexible electronics. His students receive exceptional mentorship and exposure not only in conducting very intensive, innovative research but also in broad engineering skill sets at his unique facilities and through his highly experienced engineering and scientific support staff.