EAA Awards Gala — 6/6/2019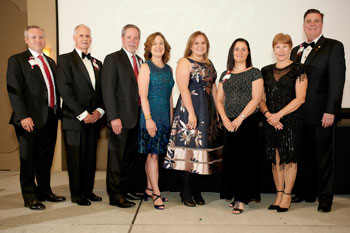 The 2019 UH Cullen College of Engineering Alumni Awards Gala was held at the Bayou City Event Center on Thursday, June 6, 2019. The annual event, hosted by the Engineering Alumni Association (EAA), celebrates the professional achievements and contributions of college alumni and faculty. Honorees included Ryan J. Baird (BSEE '01), Charles N. Grichar, P.E. (BSChE '73), William A. Brookshire, Ph.D. (BSChE '57)†, Carol K. Schmidt, P.E. (BSChE '07), Debora Rodrigues, Ph.D., Heidi Alderman and The Honorable Dennis R. Paul, P.E. (BSCE '86, MSCE '91).
Engineering Career Fair — 9/12/19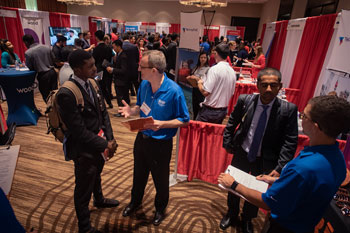 Over 100 companies came to the University of Houston campus to recruit hundreds of engineering students for internship, fellowship and full-time positions at the Engineering Career Fair in September. More than 1,800 UH engineering students attended the fair, many of whom conducted or scheduled interviews with company recruiters. This year's fair attracted sponsorships and recruiters from LyondellBasell, Shell, Schlumberger, ExxonMobil, P&G, Daikin, Ineos, Sulzer, Oxy, Phillips 66, Enterprise Products and many more top companies.
UH Offshore Industry Crawfish Boil — 5/5/19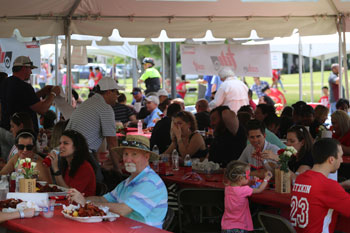 UH Engineering kicked off the Offshore Technology Conference at the 31st annual UH Offshore Industry Crawfish Boil held on Sunday, May 5.
Alumni, faculty, students and industry leaders gathered to network and mingle as they enjoyed crawfish, barbecue and live music.
EAA Annual Meeting & Networking Social — 8/22/19
The Engineering Alumni Association (EAA) held its annual meeting on August 22nd at Saint Arnold's Brewery. This annual event furthers the EAA's mission of championing, supporting and uniting the Cullen College's students, faculty and alumni.
Attendees enjoyed free craft beer, tacos, raffle prizes and updates about the Cullen College throughout the evening.
G.R.A.D.E. camp 2019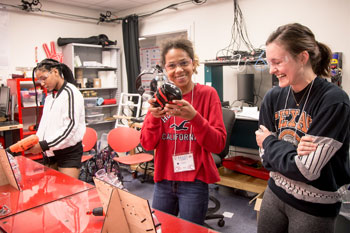 G.R.A.D.E. (Girls Reaching and Demonstrating Excellence) Camp, offered by the UH Cullen College of Engineering is a one-week camp (offered twice in the summer) that introduces girls from ages 13 to 17 to the wonders of engineering, starting them on a journey of recognizing their potential and considering careers in science and technology.
To learn more about events and outreach at the Cullen College, visit www.egr.uh.edu/events or follow us on social media!
View more photos online at www.flickr.com/photos/cullencollege/albums.