Alumni and Support & Giving
Once a Coog, Always a Coog
Alumnus Miguel Gonzalez Leads UHCL's College of Science and Engineering
By Rashda Khan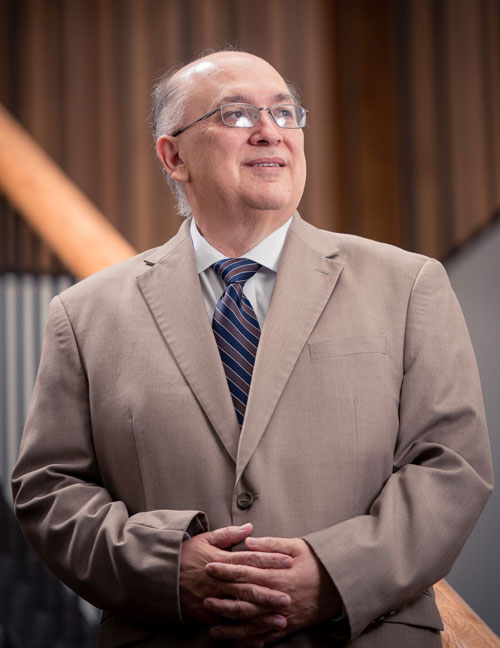 UH Cullen College of Engineering alumnus Miguel A. Gonzalez ('83, MSIE '85, Ph.D. IE '95) recently took the helm as the new dean of the College of Science and Engineering at University of Houston-Clear Lake. He will also serve as a professor of engineering.
Accepting the appointment brought Gonzalez full circle to his roots. For him, his new job is more of a homecoming.
"I have always been a very mission-driven person, so being able to make a difference in supporting the mission of the institution and the University of Houston System is very important to me," he said. "It's coming back to the system that gave me my education, this is where I started my career in academia … it makes it very special and at the same time very important to make a difference here."
Gonzalez earned his bachelor's and master's degrees in industrial engineering as well as his Ph.D. in the same discipline from the UH Cullen College of Engineering. It's also where he got the teaching bug after working as a teaching fellow during 1983-85. He served as an instructor of industrial engineering 1986-88 and 1993-95, and then as a visiting assistant professor for part of 1995 at the Cullen College.
"I started as freshman in 1978 and finished up as a faculty member at the UH Cullen College. That, along with my industrial experiences, prepared me for what I'm doing today," Gonzalez said. "I owe the college a lot and I have a lot of fond memories."
From 1986 to 1994, Gonzalez joined the family business Citro Mexico, one of Mexico's largest citrus processing operations. There he served in various roles, rising to the position of Citro Mexico's president and chief corporate executive officer. He also served as assistant professor of industrial and systems engineering at the University of Memphis from 1996 to 1998.
Prior to joining UH-Clear Lake, Gonzalez spent 20 years at the University of Texas Rio Grande Valley (UTRGV) and its legacy institution in Edinburg, The University of Texas-Pan American (UTPA). He served as an assistant professor and then director of UTPA's manufacturing engineering program.
Later, Gonzalez was involved in several initiatives in the community, including serving as director of the Rio Grande Regional Center for Innovation and Commercialization. Through these activities, he fostered University partnerships with existing and developing industries — something he also wants to do at UHCL.
Gonzalez eventually became an endowed professor; dean of UTPA's College of Engineering and Computer Science; and associate vice president for research at what is now the UT Rio Grande Valley – a result of UTPA's 2015 merger with UT-Brownsville.
He brings all this vast and diverse experience to his position at UHCL with the aim of making a difference. He wants the college to support students, the institution and the surrounding community by building on existing programs and forging new partnerships to make the most of opportunities.
But his driving force is student success.
"The focus is on actually helping students succeed, that's why I got into academia," Gonzalez said. "It is not just about getting students into the institution, but making sure they're getting a quality education and getting them successfully graduated … [and] we'll have to work on activities that makes them successful after graduation."
He paused for a moment of reflection. "I lived it as a student within the UH System and I was mentored in such a way that we were able to do some very good things," Gonzalez said. "I know this is going to be pretty much in that tenor."