Outstanding Senior and Junior Named for Spring 2022
By Stephen Greenwell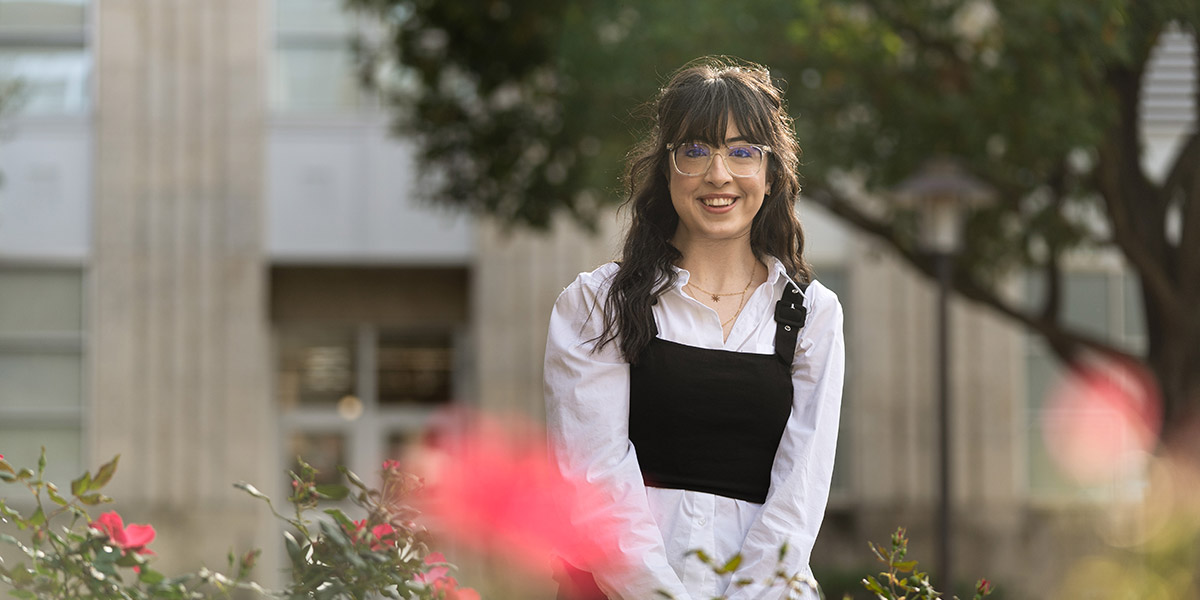 Outstanding Senior
Sarah Hakam
Growing up, Sarah Hakam knew she wanted to go to medical school, but she also knew that she didn't want to go via the conventional route, by pursuing a biology or chemistry major.
"I wanted more out of my undergraduate education," she said. "I wanted to develop a lot of my life skills, like problem-solving. I decided engineering would really allow me to mature my brain."
She was also influenced by her father, Hassan Hakam, who earned his master's degree in Computer Science from the Cullen College of Engineering.
"My dad majored in computer science and my mom majored in biochemistry. By majoring in biomedical engineering myself, I felt like it was the perfect combination of the two," she said. "My parents have both always encouraged me to follow my goals and are so proud of me. I could not have done it without them."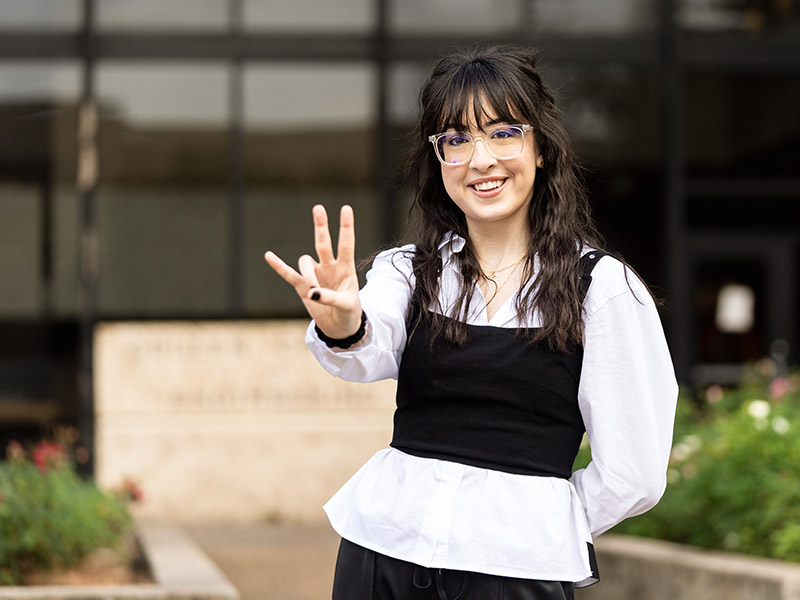 Hakam has followed her father's path to UH. She has flourished as a Biomedical Engineering student, and as a result, has earned the college's Outstanding Senior award for the 2022–23 academic year. It came as a surprise to her — and members of her household.
"At first I was confused because I wasn't sure what was going on, but then I was really excited," she said of being notified about winning the award. "The first thing I did was run downstairs and tell my parents, we were all so happy and I could not believe it."
Sarah lives in Sugar Land with her family — her father, Hassan Hakam, mother, Rana El-Hakam, and three younger brothers, Anwar, Ahmad, and Mohammad. Anwar is also a Biomedical Engineering student at the Cullen College of Engineering, a sophomore.
Before she enrolled, Hakam identified her A.P. Physics teacher Brit Britton and A.P. English teacher Melodi Dixon Wyatt at Stephen F. Austin High School as significant educational influences for her.
"They were always encouraging me to go out and pursue every little thing, I really miss them sometimes," she said. 
Once she got to the Cullen College of Engineering, that effort and spirit persisted. Several faculty members also encouraged her to pursue an aggressive course load and advanced courses at the Honors College.
Hakam said, "Dr. Fritz Claydon really gave me so many opportunities. He helped me through a lot of things and honestly, I don't think I could have done my undergraduate work without him. He was amazing.
Hakam also praised the guidance she got from Gregory Spillers, the former director of the Pre-Health Advising Center and a former Biomedical Engineering advisor as well.
"He's an amazing man and so good at what he does," Hakam said. "From freshman year, when I told him what I wanted to do, to go to medical school, he laid out the entire plan for me and told me everything I needed to do." 
Spillers served as the faculty advisor for the student group that Hakam started at UH, the Engineering Pre-Medical Society — Epsilon Omega Pi.
"I remember when I came in as a freshman, there was like a considerable amount of engineering students who were pursuing pre-med, but by senior year I feel like a lot of them had fizzled out," she said. "I wanted to create a society where a bunch of engineering students can have other pre-meds to talk to and be able to transition better into medicine from engineering."
After earning her degree at UH, Hakam will be continuing her studies at Texas A&M College of Medicine. She has been accepted into a dual degree program there, to pursue her medical doctorate and a master's in interdisciplinary engineering at the same time.
"I'll be studying in the Texas Medical Center," she said. "I think we're going to do our rotations at Houston Methodist Hospital, which I'm really excited about because I've always wanted to stay in Houston, close to all my family and friends and I get to study in the biggest medical center in the world."
Ideally, she would like to stay in the area once she enters the professional world, but beyond wanting to be a surgeon, her goals are ever-changing, she said.
"I like taking things one day at a time. Seeing what interests me, and making up new goals as my interests change and as my life changes. As things change, you never know what may come next." 
---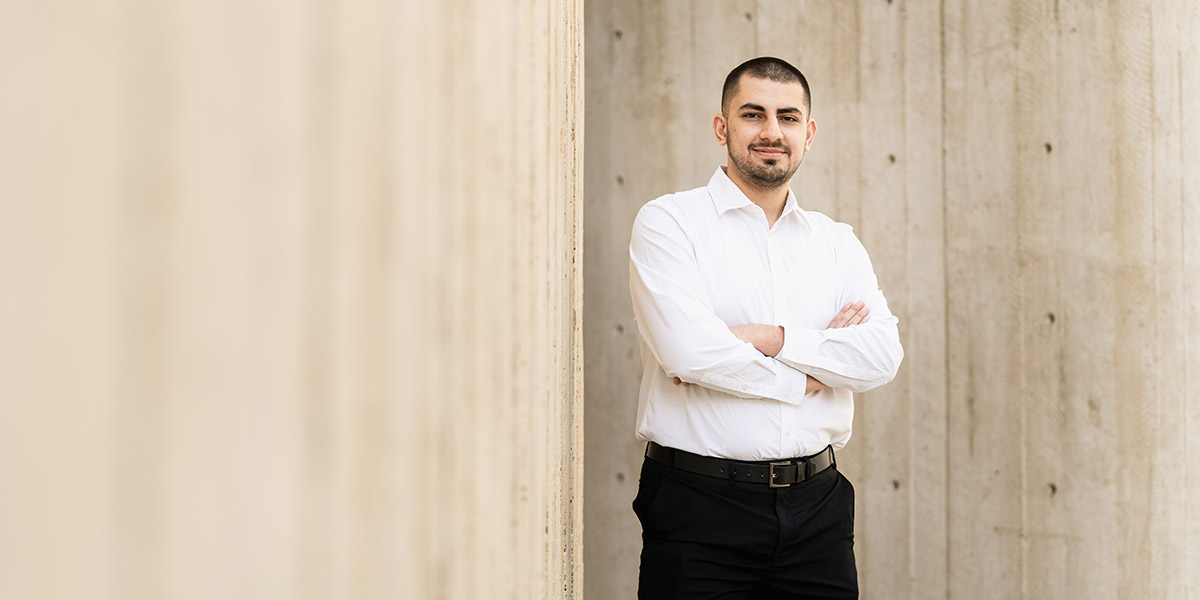 Outstanding Juinor
Faouzi Tahtouh
When Faouzi Tahtouh reflects upon being recognized as the Cullen College of Engineering Outstanding Junior for the 2021–22 academic year, he can't help but feel a bit surprised and a bit humbled.
"I'm just grateful for it," he said of the honor. "I was thrilled. It was exciting because just getting recognition for your hard work, that meant a lot to me more than anything. All the hard work I'm putting into my academics is paying off. It was exciting to tell my family and my parents all about it. They were proud of me and there was a lot of excitement about it."
The mechanical engineering student attributed his success to his work ethic. When asked how he developed that ethic, Tahtouh laughed and said it was thanks to the influence of his mother, first and foremost.
"As a young child, she got me right," he said. "She made sure from a young age that she spent a lot of time helping me develop. I always wanted to do my best at everything I wanted to do. Why not do my best if I'm going to put my effort into something? She really pushed me to stay on my assignments. As a child, the last thing you want to do is sit down and do your homework, but she stressed that you had to do these things."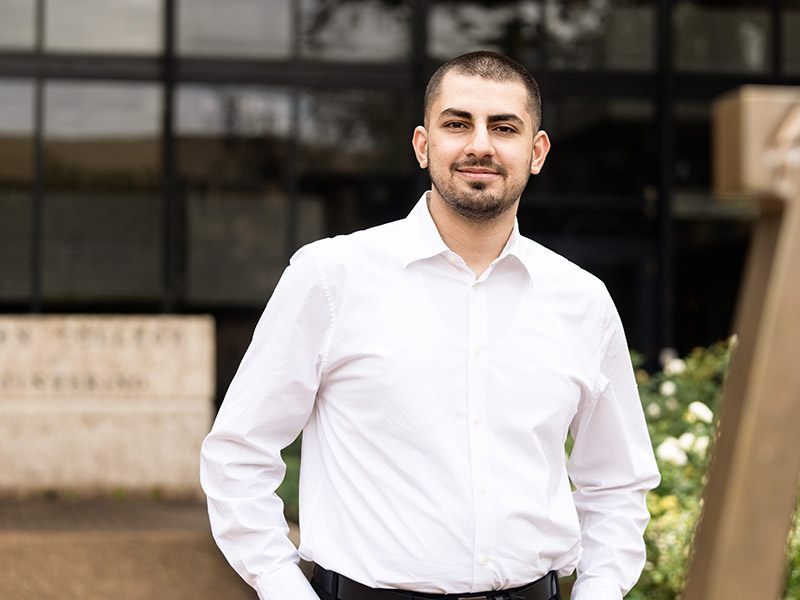 Tahtouh earned his high school degree from North Shore Senior High School, which is in the Houston area's Galena Park Independent School District. He then took advantage of geography when it came to continuing his studies — Before starting at UH, he took several general education courses at San Jacinto, which was close enough to his home for him to walk to campus.  
Because of his work ethic, Tahtouh said he wasn't worried about the shift in workload from high school to San Jacinto, or, from San Jacinto to UH.
"I know who I am," he said. "Regardless of whether I start here or there, I know I can put the hard work in. When I transferred over to UH, I wasn't really concerned."
Tahtouh cited the good reputation of the Cullen College of Engineering and the industry opportunities of Houston as prominent reasons why he decided to stay close to home.
"I love the city of Houston, and UH is right in the center of Houston," he said. "They have an excellent engineering program, and throughout the years they've continued to make improvements." 
He was drawn to mechanical engineering specifically because he's always had a fascination with how things "go" and move about in the world.
"I've always been interested in the physics of objects, and how they move," Tahtouh said. "For example, airplanes flying and cars moving, things flowing. When I was younger I didn't know how engineers dealt with that. My interest in those kinds of subjects, that's what pushed me toward mechanical engineering."
At UH, Tahtouh attributed much of his academic success to Holley Love, Ph.D., instructional assistant professor of mechanical engineering. He noted that she was the one who informed him about the Outstanding Junior award.
"She's really been helpful for my time at UH," Tahtouh said. "She's gone above and beyond helping me, whether it's been with classes or the opportunities with engineering. She's really gotten me excited about it."
Tahtouh has lined up his first internship for the summer with a multinational, Fortune 500-level company. After graduating in 2023, Tahtouh hopes to explore opportunities for working in industry.
"I'm interested in getting my feet wet in industry, and gaining that valuable experience," he said. "Energy, power systems, I'm interested in stuff like that. Everything is based on power, and I'm interested in learning more about that. There's a lot of things that I don't know, but I'm really open to learning more."