Innovating Drone Medical Supply Transport
By Stephen Greenwell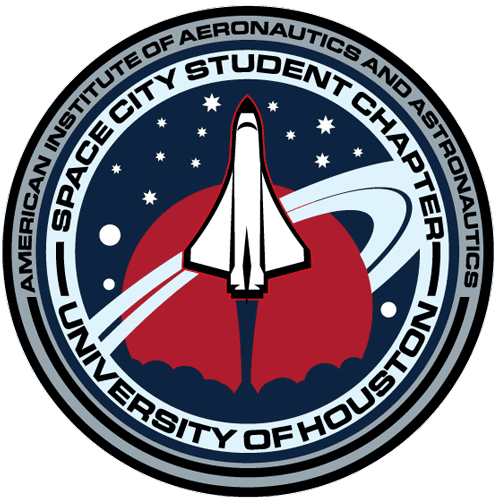 The dangers of face-to-face contact imposed by a global pandemic, as well as the transportation-based problems imposed by weather in the Houston area, illustrate some of the practical value that unmanned aerial vehicles (UAV) — more commonly known as drones — can have. In these situations, important supplies and medicine could be delivered by UAV.
The next time you hear the buzzing of a drone in the air while walking outside, you might want to gaze upward and check it for that distinctive Cougar Red hue, thanks to the efforts of the students in the Space City UAV team of the University of Houston chapter of the American Institute of Aeronautics and Astronautics.
Formed in 2019, the Space City UAV Team is an engineering-focused group that's building and piloting student-made, radio controlled fixed wing planes. It builds off a similar effort in 2018 by students completing a capstone project. Meeting three times a week throughout the semester, the group will be creating vehicles that adhere to the competition specs for the international AIAA Design, Build, Fly contest.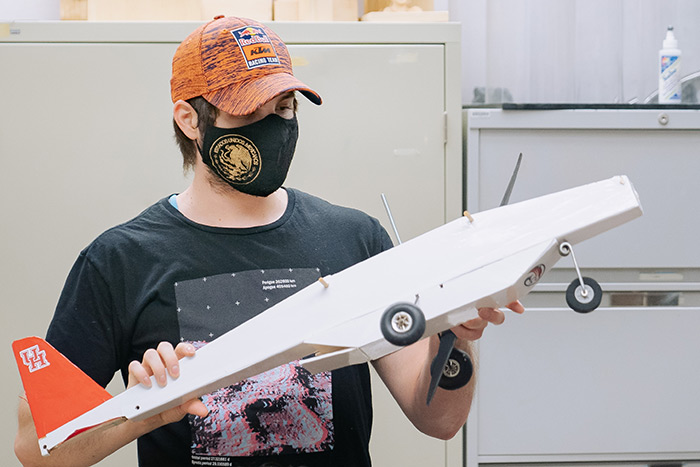 Chief engineer Andre Jimerson holds an example of a previous year's UAV.
The Space City UAV Team is led by project manager Shawyan Landi. The chief engineer is Andre Jimerson. Landi said that they're working on refining their team structure and improving their UAV from last year, the DeltaV, although they haven't settled on a name for the new unit.
"We've created two project teams, in electronics and structures. From those two teams, we've split it off into sub-teams – electronics and avionics, and air frame and payload," Landi said. "What we wanted this year was sub-teams that did similar things to meet at similar times, in order to brainstorm and help teams bounce ideas off one another."
Landi said retaining and building membership has been a key effort on their part, pegging their current numbers at 20 to 25. He described how he got involved with the group.
"I was in a lecture for my circuits class in Fall 2020, and there was a student rep who came into our class before the lecture and told us about a rocket team on campus, and they went in depth about the kind of things they do," he said, adding that he got interested in the UAV team because they had immediate openings for hands-on work.
"Honestly, I took a real interest in that, and the main reason as to why is because i feel like a really big part of undergrad for engineers is applying the knowledge and the theory that they learn in their classes. That was something I was really striving to do."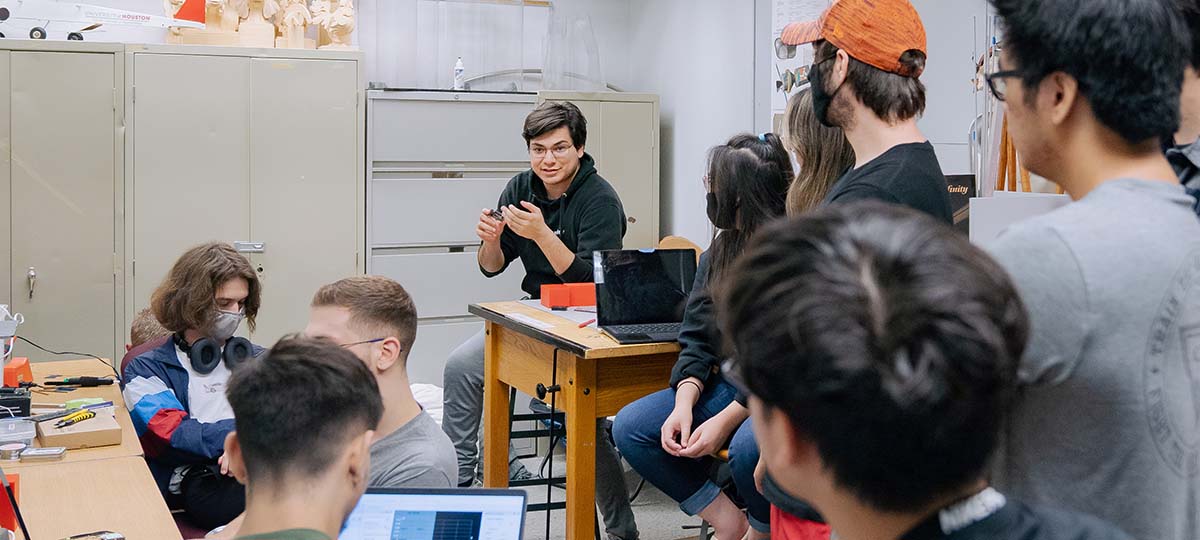 Space City UAV has shifted to smaller and tighter groups of students, both to compensate for the realities of the pandemic and to better focus work on the requirements of the device.
Aya Abushmeis, a December 2021 graduate in mechanical engineering and now an operations engineering intern at NASA, was also significant in getting the effort off the ground the past year.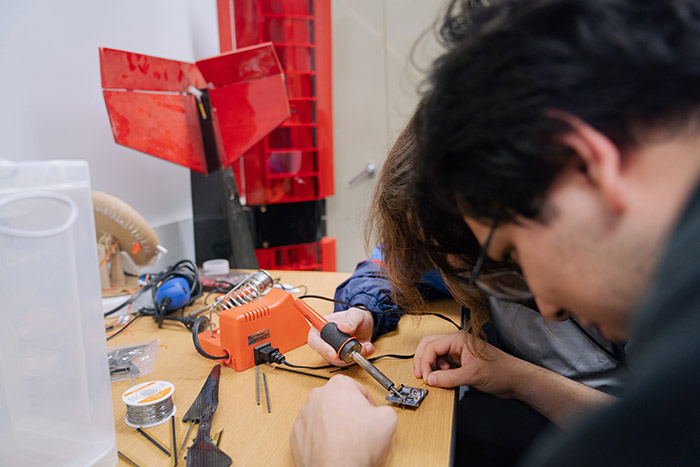 For many students in the Space City UAV, this will be their first application of classroom learning about circuity on a real world device.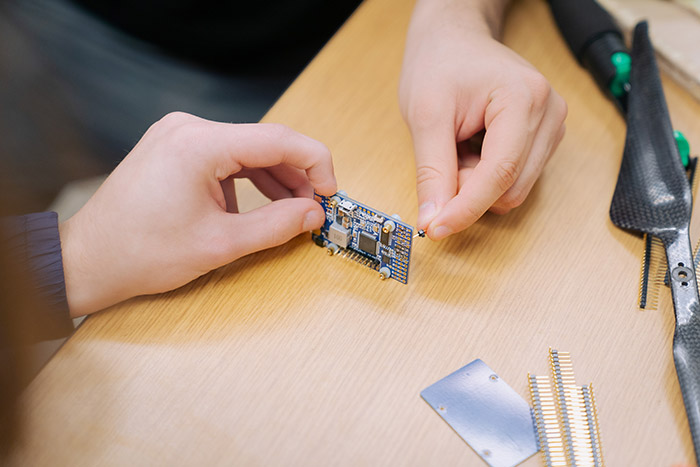 An example of the detailed, miniaturized circuitry work that goes into the UAV project.
"The UAV team is a very young team, and the DeltaV is the first aircraft we ever built," she said. "We had a very small team last year with minimal relevant skills and experience at the start, but we are all so passionate and dedicated to the goal that without much guidance, support or even lab space, we accomplished so much."
Now in its 26th year, the AIAA Design, Build, Fly contest is sponsored by Textron, Raytheon and the AIAA Foundation. It is the premiere event for college UAV groups, and in 2021, an initial field of 115 teams competed for honors. Each year, a Top 10 is picked, with the top three teams receiving $3,000, $2,000 and $1,500 in prize money.
For the competition, there are limits when it comes to the UAV's size, and at least one-third of the team must be freshmen, sophomores and juniors. However, the rules are otherwise open-ended, to allow for innovative approaches and vehicles. After being conducted remotely the past two years, this year's DBF will be held in Wichita, Kansas in April 2022.
Reflecting the needs of the past few years, the contest will require UAVs to be able to transport and deliver syringes in one mission, and in another mission, vaccine viral packages. Competing teams will be scored based on how quickly they're able to complete a run, as well as how much cargo they're able to properly transport.
Landi and Jimerson also noted that this year's design is small – the wingspan is less than four feet. A smaller wingspan requires less resources but more engineering work to create, which in turn increases the potential for points on the scoring rubric.
While the Space City group didn't qualify for last year's competition, they plan to continue improving the DeltaV, and to work toward the April deadline.
"This year, we want to see the project all the way through," Landi said. "We're planning on having our own mock competition, and going through the same rule set. Our main goal is to see the project all the way through, which is 100 percent attainable for us this year."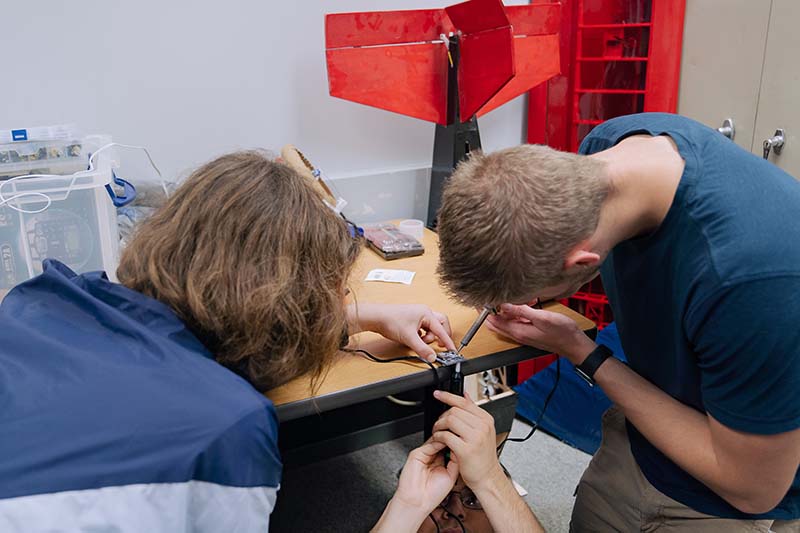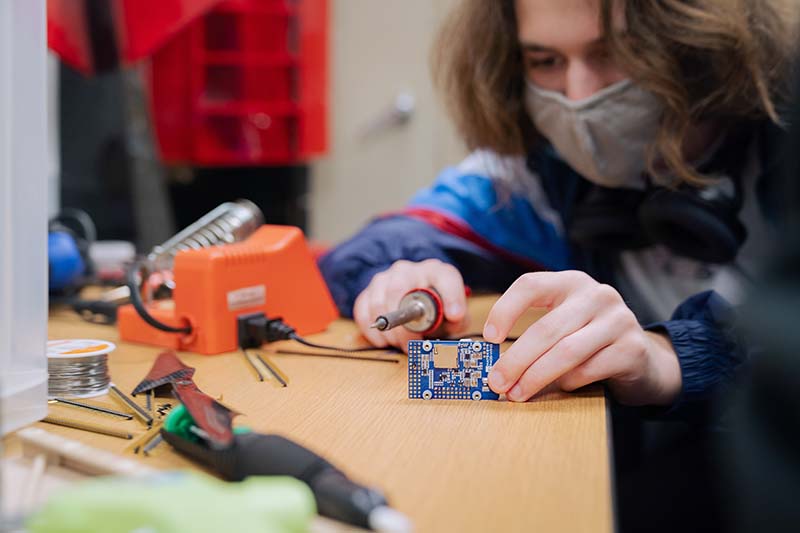 Space City UAV members soldering components for the drone.