Larissa Ikelle Earns NRSA for Eye Research
By Stephen Greenwell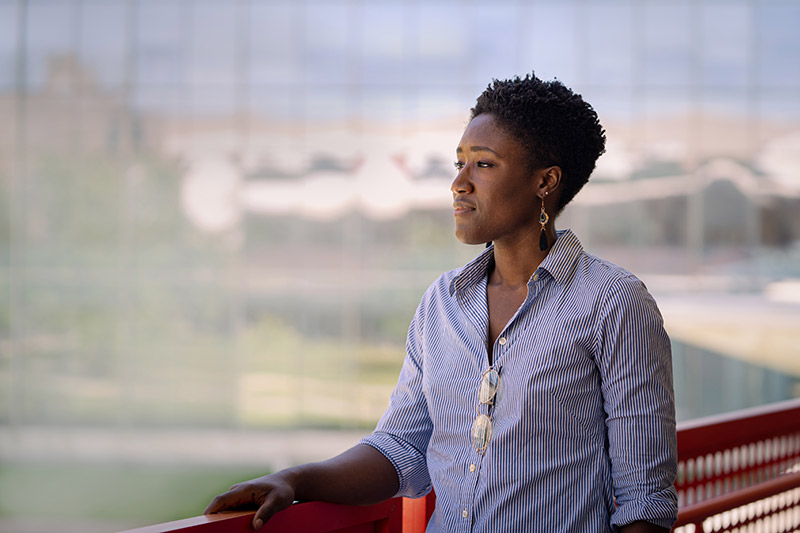 Larissa Ikelle at the University of Houston central campus.
Larissa Ikelle, a doctoral student in the Biomedical Engineering Department at the Cullen College of Engineering, has received funding from the National Institutes of Health's Ruth L. Kirschstein National Research Service Award to continue her research into the mechanisms of diseases associated with vision loss, and to develop therapeutic strategies to correct them. The award comes with funding for Ikelle's research proposal, as well as a stipend for tuition and a small spending allowance for her doctorate studies. Ikelle described her work as studying the biochemistry of retinal diseases, in order to develop therapies that can prevent or delay blindness.
The central focus of this investigation is to understand how the proteins Prph2 and Rom1 function differently in rods and cone photoreceptors, with particular interest in trafficking of the Prph2 since this protein is essential for building the photoreceptors cells necessary for vision.
"We propose two aims to address these goals: Aim 1 will assess the role of Rom1 in rods and cones and the mechanism by which it modulates Prph2-disease phenotypes," she said. "By eliminating or overexpressing Rom1 in Prph2-disease models, we will conduct careful biochemical, structural, and functional analyses to assess phenotypic differences, as they pertain to complex assembly and trafficking to the outer segments. Aim 2 will investigate the role of Prph2 interacting partners in its differential behavior in rods vs cones."
Ikelle earned her Bachelor's of Applied Science in Biochemistry and Cell Biology, as well as a B.A. in French Studies, from Rice University in 2014. After a year as a research assistant at Oxane Materials in Houston, Ikelle became a research assistant for the UH Department of Biomedical Engineering in 2016.
Initially, Ikelle wasn't sure what she wanted to focus her studies on, and assumed she would be working on cancers or virology.
"However, I am really intrigued by the retina. It is really unlike any other tissue," she said. "It is a complex, almost self-sustaining, interdependent system, all housed in a globe mostly separated from the rest of the body."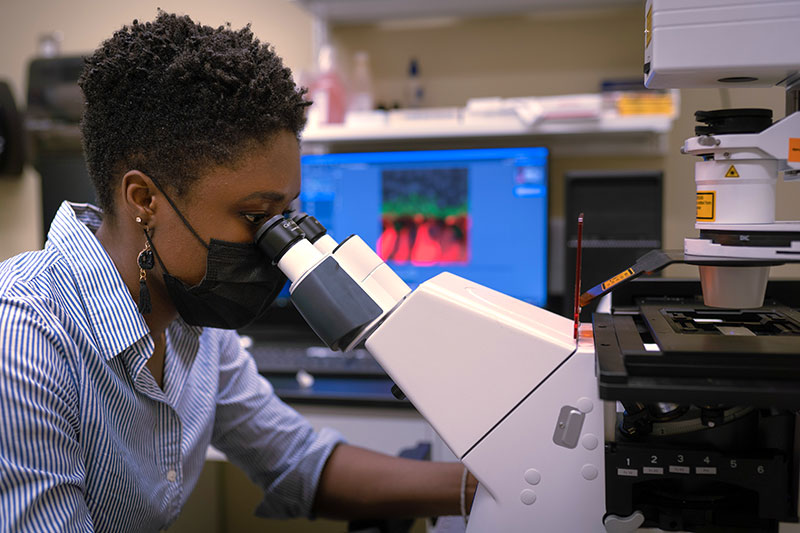 Larissa Ikelle conducting research.
"It is such a unique tissue and its isolation from major systems makes it ideal for developing therapies and understanding diseases, since there is only a minor concern of injuring other parts of the body. It is really a microcosm that can be studied to understand the pathogenesis of a host of diseases; it can even be used as a model to understand diseases in other neuronal tissues. By this reasoning, the potential for exploration in the retina seems limitless."
At UH, Ikelle has contributed to research by Muayyad Al-Ubaidi, Ph.D., and Muna Naash, Ph.D., both professors in the Biomedical Engineering Department. She has received authorship credit for several papers with them.
Our lab is very well equipped and UH has great facilities for doing amazing research, but it is really the people that foster an environment for growth and advancement," she said. "Dr. Al-Ubaidi and Dr. Naash are such talented scientists and they have been gracious in encouraging and nurturing my growth in this field. It was them who encouraged that I apply for this award, and I am very grateful. I do have a few more years left before I get my degree, but I am very excited to see where this project will takes me."
Ikelle is confident that she wants to continue studying the eye.
"I want to have an academic lab studying major retinal pathologies, and a maybe also a start-up for developing therapies for addressing these diseases," she said. 
Research award funded by: