Debora Rodrigues Selected as IAAM Fellow
By Stephen Greenwell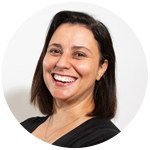 Debora F. Rodrigues, Ph.D., the Ezekiel Cullen Professor of Civil and Environmental Engineering, was selected as a Fellow of the International Association of Advanced Materials by the Executive Board of the IAAM.
According to the IAAM, the recipients of the honor are required to deliver the IAAM Fellow Lecture in one of the assemblies of Advanced Materials Congress, or as part of the online Advanced Materials Lecture Series. All the Fellow lectures are published in the IAAM's Open Access audio video journal, Video Proceedings of Advanced Materials.
The IAAM was established in 2010, and in that time, less than 50 people have achieved Fellow status. In February 2021, Rodrigues presented "Water Chemistry and Oxidation State of Mo Affects Dissolution and Visible-light Photocatalytic Activity of MoO3 Nanostructures." A video of that talk is online.
"The IAAM is one of the leading non-profit international scientific organizations working to promote advanced materials science, engineering and technology," Rodrigues said. "I was selected because the board believes I have made significant and direct impact to the field of materials science, engineering and technology. The IAAM has a rich legacy of more than 6,000 award winning scientists from more than 100 countries. This organization allowed me to network and connect with researchers from diverse multidisciplinary fields of engineering and science. Also, through their conferences, I was able to present my research accomplishments and gain international recognition."
While Rodrigues noted that she had research collaborators and funding in diverse materials science and engineering topics before joining the IAAM, the organization has helped her in both regards. In the past several years, she has started projects with researchers in Qatar, Brazil, and other countries in Europe.
"I already had collaborators before I joined the IAAM, but I did meet new colleagues and learn about other areas of research," she said. "Because it is an international organization, it allowed me to connect with researchers in Europe, China, India and other parts of the world, and expand my network internationally. This fellowship will certainly benefit my career in the future for larger and international projects, with collaborators from other countries than the United States. It'll also allow my research to gain further international visibility."