Alumni and Support & Giving
Eray Aydil Named Chairman at NYU
By Stephen Greenwell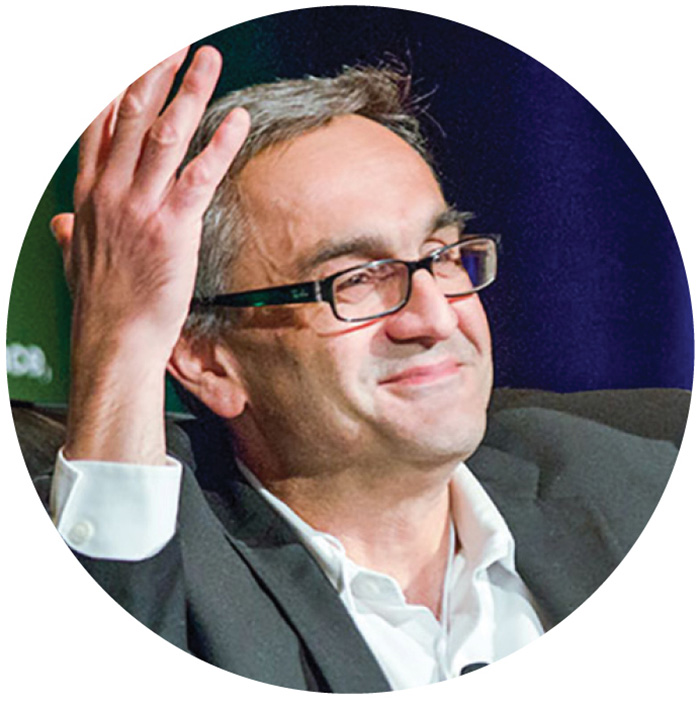 UH provided my first teaching opportunity, and I fell in love with teaching.    Eray Aydil
When Eray Aydil started at the Cullen College of Engineering in 1986, he didn't realize that he would be experiencing so many new opportunities for his professional development, research interests, and even his personal life.
Aydil initially planned to study with then UH-professor Harry Deans, who was known for inventing the field of Enhanced Oil Recovery. Aydil had done an internship with Standard Oil of Ohio, and his uncle and others that worked there encouraged him to study with Deans. However, he learned that Deans was leaving the department, and Dan Luss steered him toward a new advisor — Demetre J. Economou, who had joined the department as an assistant professor.
"He was just starting and setting up his lab, and he needed students," Aydil said. "I had double-majored in chemical engineering and materials science, which related to his research interests. I also liked his attitude and energy and the opportunity to set up a lab from scratch. Looking back, it is ironic that my research field now is renewable energy, given my initial interest in petroleum."
Aydil would earn his doctorate in chemical engineering from UH in August 1991. Then, after a two-year stint as a postdoctoral member of the staff at AT&T Bell Laboratories, he started as an assistant professor at the University of California Santa Barbara. He stayed there until March 2005, becoming a full professor and vice chairman of the Department of Chemical Engineering. Then, in 2005, the top-ranked University of Minnesota Chemical Engineering Department came knocking on his door, and he moved to Minnesota, where he spent thirteen years as a professor and five of those years as the department's Executive Officer.
"Those were special years, teaching at a department [Dr. Neal. R.] Amundson had built into the top-ranked program in the country before moving to the University of Houston. My office was in the "Amundson Hall," and every day, I was reminded of him and my days at the University of Houston.
In September 2018, Aydil joined the faculty at New York University's Tandon School of Engineering as the Alstadt Lord Mark Professor of Chemical and Biomolecular Engineering. In September 2021, he was promoted to chairman of the department.
However, it all started at the University of Houston, where Aydil received his first teaching opportunity, and the faculty recognized him with the Teaching Excellence Award in 1991.
"UH provided my first teaching opportunity, and I fell in love with teaching," he said. "There was an opening to teach thermodynamics to engineering students, and I applied for the position. I taught it a couple of semesters, and that is when I received the Teaching Excellence Award. I was still a graduate student. I have since taught undergraduate and graduate-level thermodynamics on and off. In fact, I am working on a graduate-level book now that combines chemical engineering and materials science thermodynamics. Although, I think the department chair position will put this book writing project on pause."
When asked if he kept in touch with anyone from his time at UH, Aydil had an easy answer.
"There is one peer I keep in touch with every day — my wife, Dr. Marianne Aydil, who did her Ph.D. with Professor Vemuri Balakotaiah. We met in grad school, and we got married when I graduated. She joined the department one year after me and graduated a year later."
Aydil said he also keeps in touch occasionally with Rusty Lacy and Fred Wasden. They worked in the basement labs with Abe Dukler, adjacent to Aydil. Lacy is now a senior flow assurance engineer with Shell, and Wasden works as a consultant after a 31-year career at Shell.
Beyond Economou, Aydil said that several other professors at the Cullen College of Engineering and beyond shaped him into the educator and researcher he is today.
"Professor Neal Amundson was very instrumental in my educational development," Aydil said. "I loved his math class. He also helped me secure my first faculty interviews. I did not know this at the time, but the schools who interviewed me told me that he had called them about me. I also liked the organized classes by professors Balakotiah and Dukler very much. I liked that they were methodical and exposed the subject in an organized way."