Spotlight on St. Elmo Brady Academy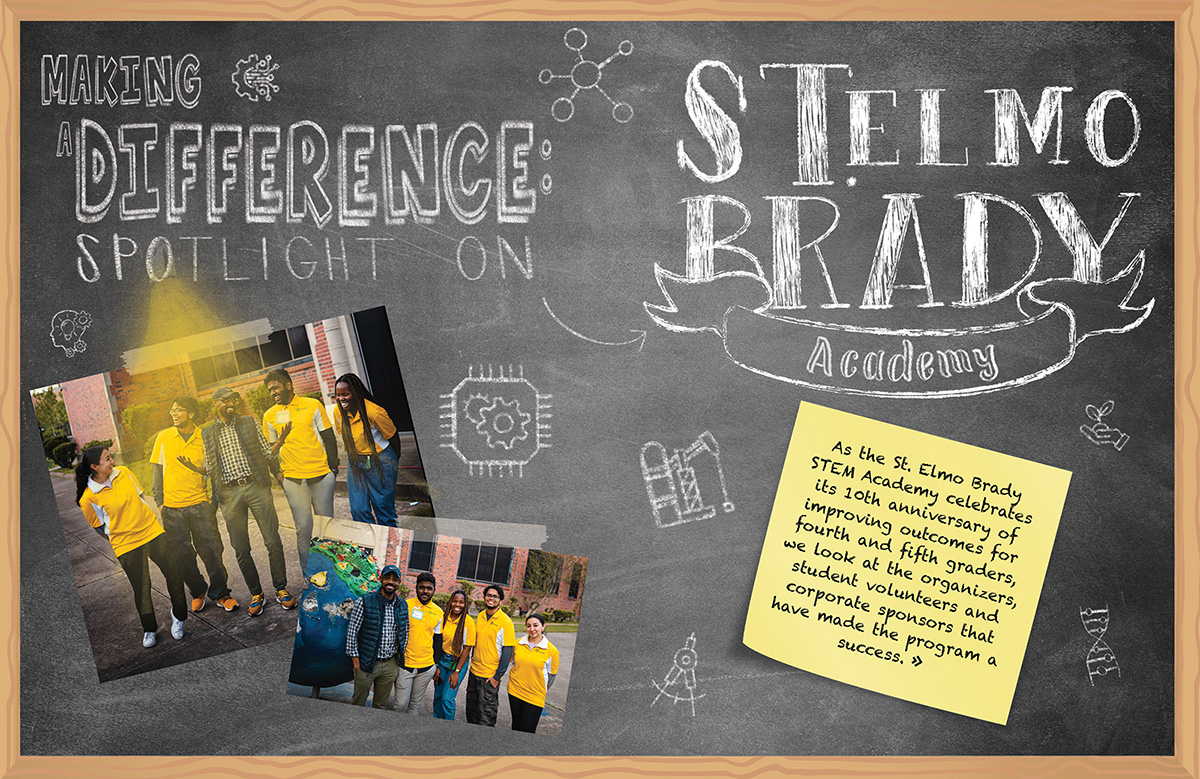 Bottom image, Pictured Left to Right: Rick Greer, Shaik Abdul Younus, Utienyin Pemu, Humberto Leal Acosta and Yolanda Perez.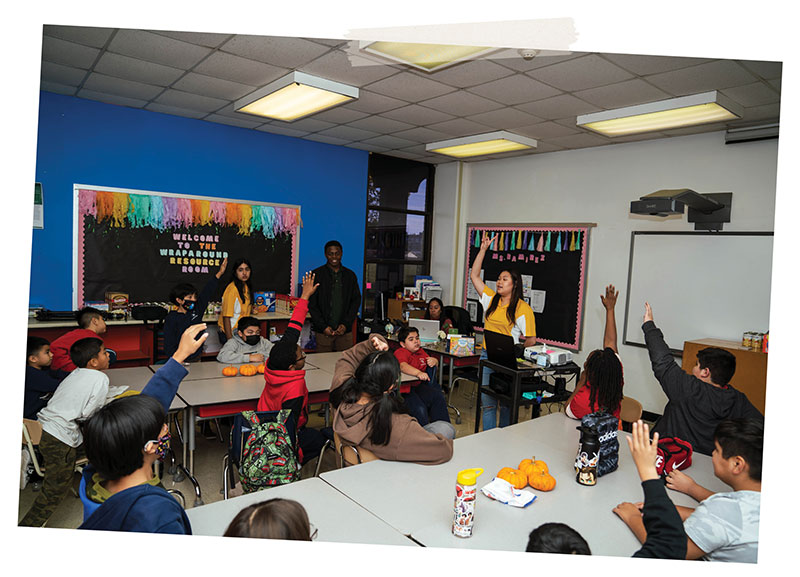 Three UH student volunteers [background, left to right – Alejandra Sanchez, Omar Sanchez and Nghi Lam] lead a group of young minds at Cage Elementary School through a discussion about the science they learned the previous week. For this session, Lam served as the main facilitator.
Are you Scientists Listening to Me?
The question rings out at the front of the classroom from Nghi Lam, a Cullen College of Engineering junior majoring in Chemical and Biomolecular Engineering. Almost immediately, she's met with a chorus of "Yes!" from the 16 students participating in this eight-week session of the St. Elmo Brady STEM Academy at Cage Elementary School, located in Eastwood of the Greater Third Ward area.
As part of this week's curriculum, the students are tasked with designing rescue baskets — constructed from pipe cleaners, toothpicks, tape and similar construction material — to be dangled from a helicopter (their hands) to retrieve someone from a snowy mountain crash. For the purposes of this activity, the "person" to rescue is a small potato.
Lam leads them through the scenario, while two other UH student volunteers – Omar Sanchez and Alejandra Sanchez – look on, occasionally nudging some of the students on task. When the students are told to break into groups, it's a cacophony of excitement as they set about their engineering task.
As the exercise is concluding, there is a similar energy in the air two miles away at Blackshear Elementary School on Holman Street, and about a mile and a half away at David G. Burnet Elementary School on Canal Street.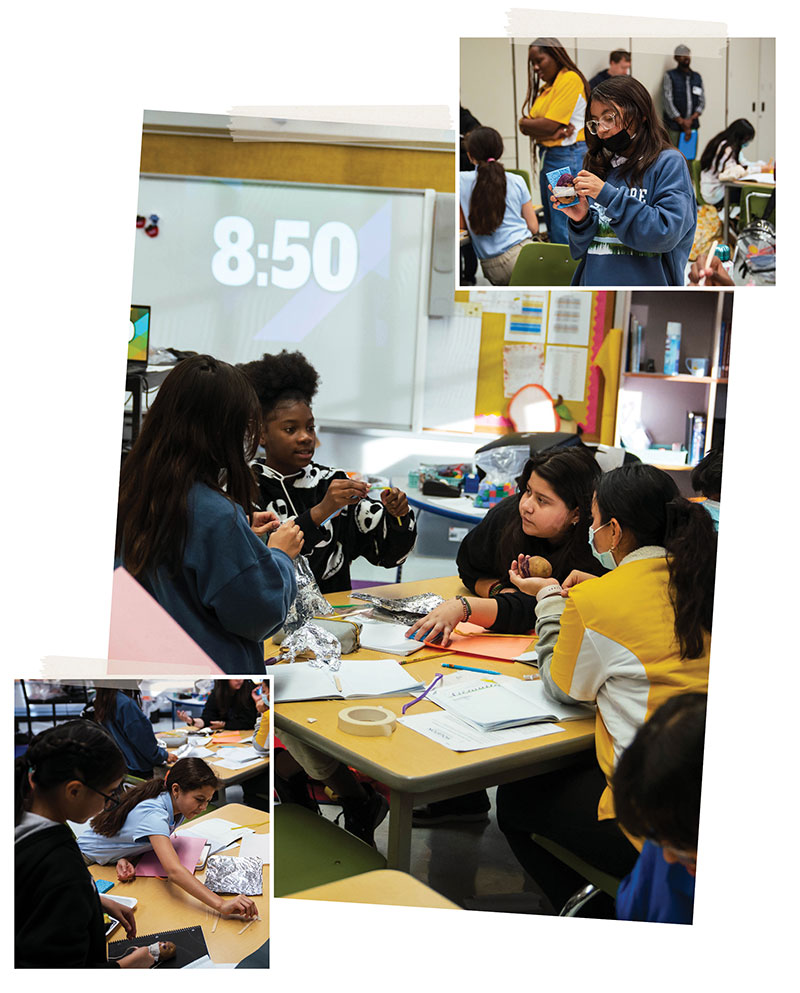 Pictured: Students in STEM academy working on their potato rescue baskets.
At Burnet, the group of about 20 young students is overseen by four UH student volunteers — Umberto Leal, Utienyin Pemu, Shaik Younus and Yolanda Perez.
The young engineers frantically try to implement last second improvements to their rescue baskets as a countdown clock on the whiteboard ticks down, with Pemu finally telling everyone to stop what they're doing.
To get their attention, she uses a call-and-response. "Solid, liquid..."
The classroom of students practically screams out, "Gas!"
Over the next five minutes, each group tests their device — with varying levels of success — and each member of the winning group gets a small prize. They're reminded that their next class — the Thursday on the week before Thanksgiving — will be their last session of the semester, and to sign up for the next eight-week session in February.
All of this comes on the heels of the first portion of the day, when they had a 20-minute presentation followed by a Q&A with a computer scientist from the Chevron Phillips Chemical Company. And before each student leaves, they have to share one thing they learned with one of the UH student mentors as they're posted at the door. 
The Goal — Encouraging Science Careers Among Minority Students
For eight weeks in the fall and eight weeks in the winter, the St. Elmo Brady STEM Academy initiative from the University of Houston's Cullen College of Engineering will provide these students with 90 minutes of additional science education twice a week. It is now the 10th year of operation for the program overall, and seven in Houston.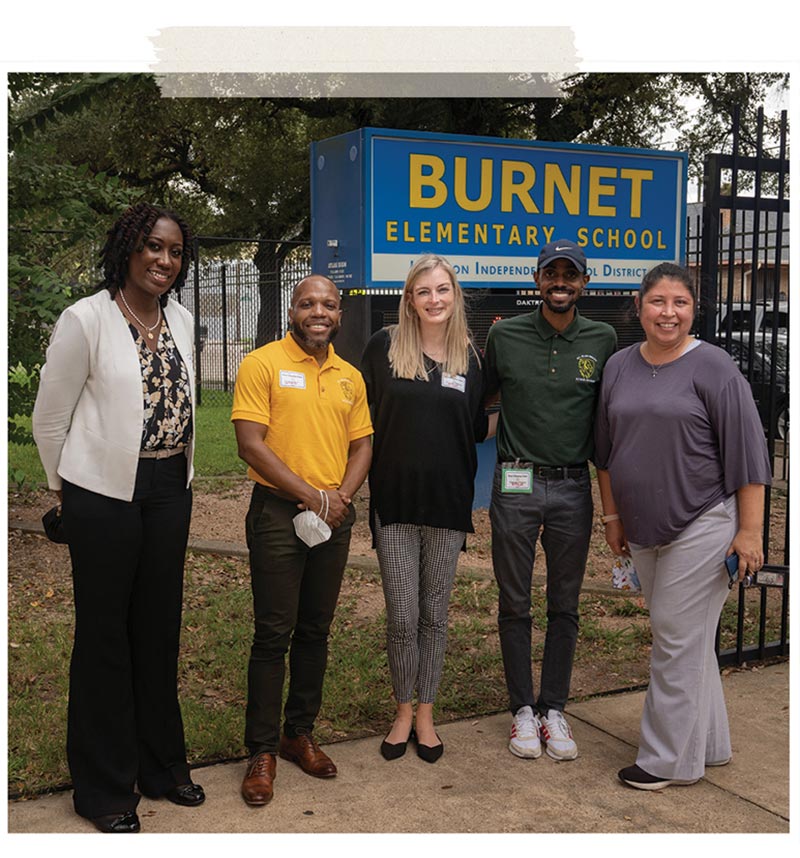 Left to Right: LeShorn Benjamin, Ph.D., Henderson Research Group postdoctoral fellow; Jerrod A. Henderson, Ph.D., SEBA co-founder and Assistant Professor in the William A. Brookshire Department of Chemical and Biomolecular Engineering; Melissa Abel, Chevron public affairs representative; Rick Greer, SEBA co-founder; and Ana Cantu, Burnet Elementary School principal.
The program was created by Ricky Greer, a K-12 education specialist employed by Cullen, and Jerrod Henderson, now an Assistant Professor in the William A. Brookshire Department of Chemical and Biomolecular Engineering. The idea came together when they were both working for the University of Illinois.
At the time, while there were STEM programs aimed at increasing general or female student participation, but not geared toward male, minority students. Greer and Henderson started SEBA in Spring 2013 to address this, developing it from an earlier program they did at a Boys and Girls Club in the area.
"What we personally saw was this kind of organic environment that students and their fathers were super excited about learning science, and I was so impressed by that," Greer said.
The program name comes from Saint Elmo Brady, an American chemist who was the first African American to obtain a doctorate in Chemistry in the United States. Greer noted that they chose the name because of Brady's multiple connections to their work.
Brady earned his doctorate from the University of Illinois — like Henderson — and Brady later taught at Tuskegee University — where Greer graduated from. Brady was also mentored by Booker T. Washington, and the first school SEBA was implemented at was named after Washington.
The program slowly grew over the next three years, and when Henderson received a job offer from UH, he moved SEBA to the Houston area with Greer. As of Fall 2022, it serves three HISD schools — Burnet, Cage and Blackshear — and about 70 students. In addition to the regular Tuesday and Thursday sessions, there are also Saturday courses offered for the students to participate with their parents present.
The program also gives the UH student volunteers valuable experience working in a classroom, and allows them to network with corporate sponsors Chevron and Chevron Phillips Chemical Company. Greer identified three vital traits for his volunteers — civic leadership, passion and academic excellence.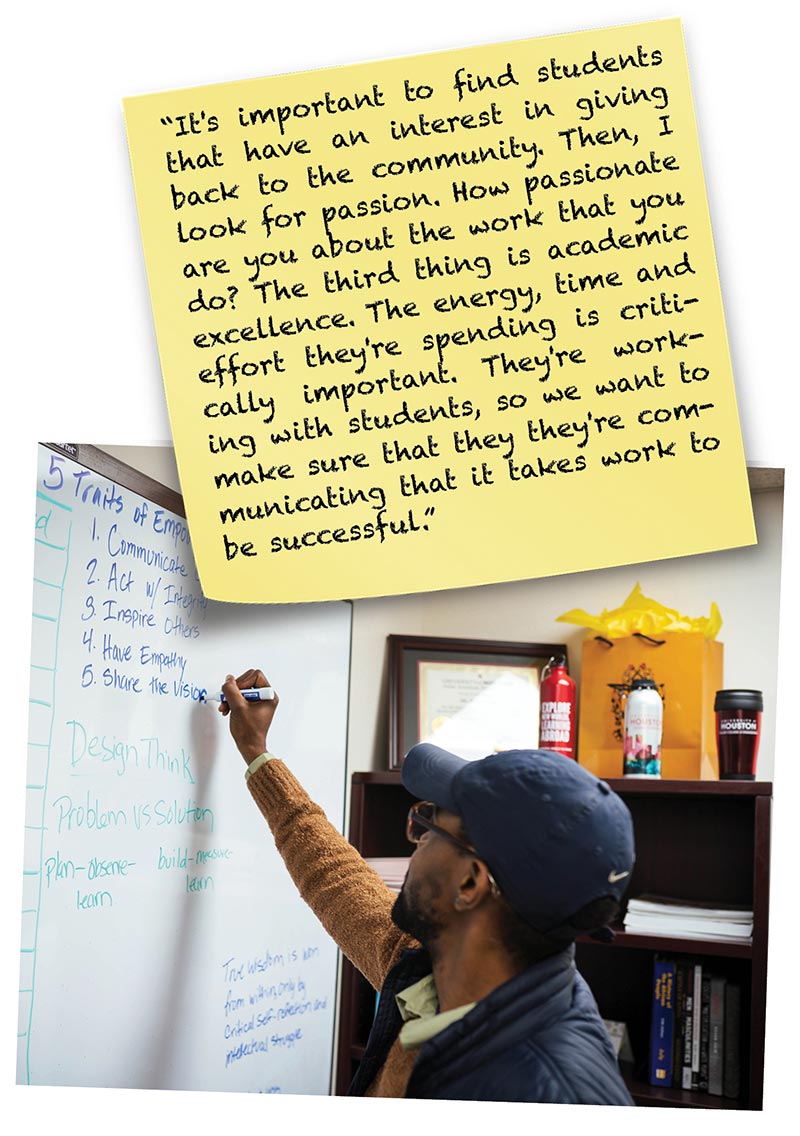 Pictured above: Rick Greer is a strong advocate for academic awareness and leadership in students. As a neurodiverse individual, he understands the importance of diversity and inclusion in all aspects of life.
A Measurable Effect
Given the age range of those involved — primarily, fourth and fifth grade students — some of the first students that went through SEBA in Illinois are now attending college. However, scale-up funding and grants are needed to more closely follow students as they move through their school systems. The program was also recently expanded to include girls as well as boys.
According to surveys done in the aftermath of the program though, as of 2018 about 96 percent of the students who participated in SEBA in Illinois were more interested in science. About 92 percent were more confident in their science and mathematics classes, and 88 percent participated more in their science and mathematics classes.
The program was also picked as one of the 2022 Inspiring Programs in STEM from Insight Into Diversity. In May 2022, SEBA received a $739,486 grant from the National Science Foundation to continue its efforts. Greer noted that the program does not cost participating students or participating schools anything out of pocket.
The Future
While Greer didn't have specific targets in mind for the program's size, he said their goal is to grow to more schools and to serve more students. He noted that the model they had in place could scale regionally, or even nationally, although a key principle going forward would be to keep it free for participants.
"We want to be sure that we're building out a robust program," he said. "And we want to be sure that we're building out a program that is sustainable. Ideally, I would love for the program to grow not only just throughout the City of Houston, but throughout the state of Texas, and hopefully at one point, it will become a national program. I know that's a big goal. But I think that we can definitely achieve it with the right resources, the right people involved, and the right attitude."  


Pictured: Students brainstorm, collaborate and sculpt various parts of their weekly project. The St. Elmo Brady STEM Academy helps students build their science education with hands-on experimentation.
If you're interested in becoming a corporate sponsor or contributing to SEBA, please contact Jerrod Henderson, jahenderson5 [at] uh.edu.
For more information on SEBA, visit their website.