Alumni and Support & Giving
Don Sparacino Named Chair of 2023 UH Engineering Energy Industry Crawfish Boil
By Stephen Greenwell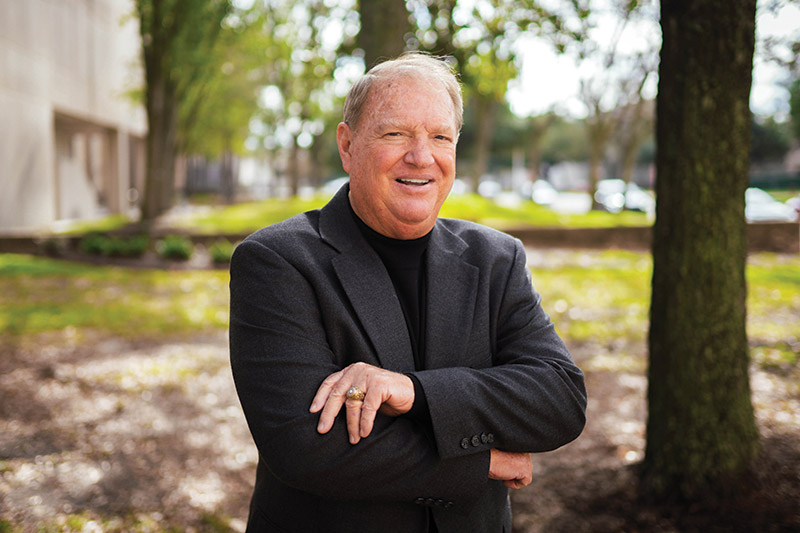 Given the ties that he and his wife have to the University of Houston, it wasn't a tough decision for Don Sparacino to decide to volunteer his time for events like the UH Offshore Industry Crawfish Boil. Well, especially now that his 11 children — eight girls and three boys — with his wife Cynthia are grown.
"My wife and I have 11 kids, so there's no stress level you can reach with me that they haven't already," he said, laughing. "We're both native Houstonians, and raised our kids in Houston. One wife, no twins, so that's a lot of work, and she's the drill sergeant of the family."
The comparison to the military is apt, because seven of the 11 children have gone on to serve in the Army, the USAF or the USMC. The family was recognized at a Houston Astros game for their devotion to the armed forces. Five of the seven serving are women.
Sparacino sees it as an extension of the work ethic he and his wife have always demonstrated, while giving credit to Cynthia for "keeping him on track" after he initially struggled with college. The two met while taking night classes at Houston Community College, before transferring to UH.
"We had a marketing class together," he said. "We were in that class, and I started talking to her and asked her out. Come to find out, we went to the same grade school together, but she was a year ahead of me. Her best friend was my best friend's wife. She lived on 32nd Street, and I lived on 31st Street."
The two first met in 1973, and they graduated from UH's College of Technology — Bachelor of Science and Technology, with a focus in Marketing — in 1979, followed by Master Degrees a few years after, from the same college. However, the years between were filled with activities. The couple married in May 1975, and had their first child together in January 1977. Both worked and went to school to pay their way through college, as well as raise a family at the same time.
"I wouldn't advise anyone to do that," Sparacino said, laughing. "If you want to get married, that's one thing, but if you want to have kids, finish school."
When people ask how he and his wife raised 11 kids and remained together for 47 years, Sparacino says he has a standard answer for them. 
"You're going to track meets, swim meets, basketball games... You're just on the move. You don't really have time to look back. Have you ever tightrope walked? What you do is, you don't look down and you don't look back, you just keep moving forward or you will scare the hell out of yourself! That's how it's like raising 11 kids. And we're up to 15 grandkids now."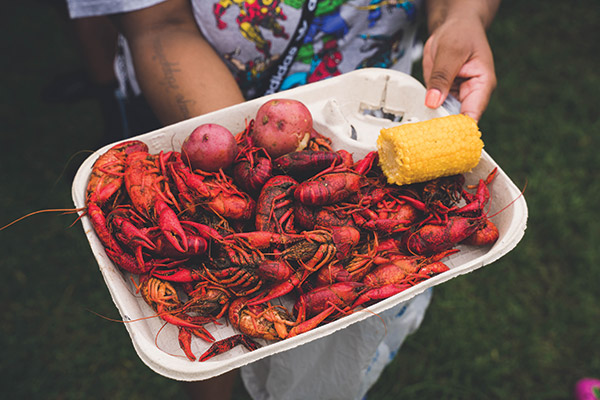 Sparacino at the 2022 Crawfish Boil
Sparacino's first job out of college was for Cameron Iron Works, where he worked in sales for aerospace forgings for a jet engine manufacturer. It was also the first time he significantly spoke to and worked with people outside of Texas.
"That was my first real jousting with the people from the northeast, the yankees. I told my wife, 'These people talk funny,'" he said, laughing.
Sparacino worked for about 21 years for Cameron, before moving on to several other companies, typically in sales of steel products in marketing management and director roles. He still loves sales, and for the past year, he's mostly worked part-time with his own company, Sparacino Associates, LLC, as a manufacturer's sales rep for about five Houston companies.
"I just kind of want something to do, to keep busy," he said. "I sit at the kitchen table and write emails."
After college, Cynthia taught school, earned her real estate license, and also has her own travel agency. The pair love to travel, especially cruises. So far, they've taken an Egyptian cruise down the Nile that Sparacino called a highlight, as well as a river cruises in Europe and another on the Mediterranean Sea, out of Rome. However, the best trip to date was a week in the Galapagos Islands, which everyone he said everyone should travel to once in their lifetime. 
"We have plans in 2023 to go to the Middle East and take a cruise on the Red Sea, which has been a goal for a good while now," he said.
Sparacino first got involved in giving back to the University of Houston when he attended the Crawfish Boil about five years ago. He thought his sales background would be a natural fit for the fundraising effort.
He viewed the university as serving a vital role for the students and the industry of the Houston metro area and beyond.
"I think UH is a really important part of the city, and the history of the city," he said, noting how much the school had grown. "When we went there at night, it was mostly a commuter school, and you didn't have people living on campus. It's a wonderful school for people, and when I'm around younger people, I try to get them to look at it as an option."
Sparacino is serving as both the Event Chairman and Sales Chairman for the 32nd annual UH Offshore Industry Crawfish Boil, which is scheduled for Sunday, April 30 from 1–5 p.m. at Lynn Eusan Park on the UH campus.