Aman Agrawal Elected Chair of Gordon Research Seminar
By Stephen Greenwell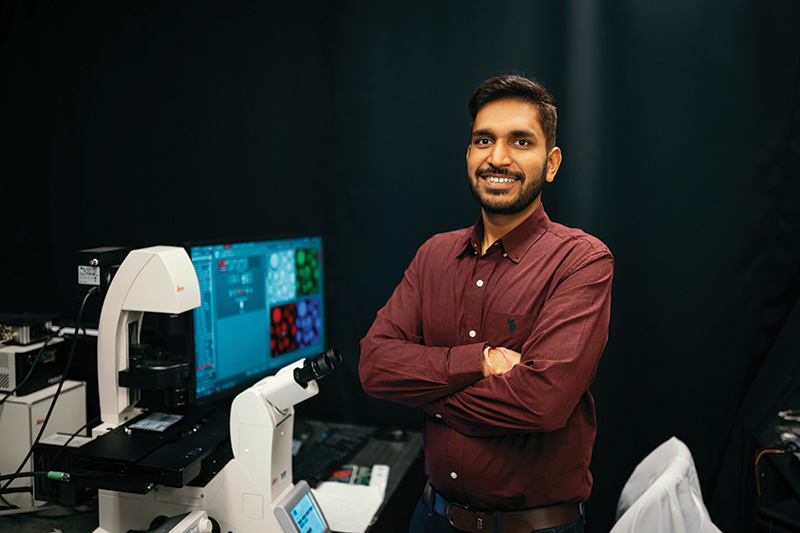 Aman Agrawal
Aman Agrawal, a Ph.D. student in the William A. Brookshire Department of Chemical and Biomolecular Engineering at the Cullen College of Engineering, was among those presenting at this year's prestigious Gordon Research Conference and Seminar on Bioinspired Materials in Switzerland, where he was elected to chair the next one, scheduled for 2024.
Agrawal is a Houston Endowment Fellow, pursuing his doctorate in Chemical Engineering as part of the research group of Alamgir Karim, Dow Chair and Welch Foundation Professor and the Director of the Materials Engineering Program.
The Gordon Research Conferences (GRCs) are traditionally held in scenic, rural or isolated locations on broadly defined topics with a smaller group of academics speaking off-record about their research. Contrary to traditional conferences, GRCs provide extensive time after each presentation for engaging and fruitful discussions, and the speakers are encouraged to present and discuss their unpublished research. Participants at this year's conference included faculty and students from universities across the globe.
"There are two parts to this conference," Agrawal explained. "The meeting starts with a student-led seminar called Gordon Research Seminar (GRS), which is held for two days, followed by the week-long Gordon Research Conference. While speakers in GRC are established scientists, GRS provides opportunities to early career researchers to present and discuss their work with peers from around the world."
It is a tradition of GRCs and GRSs to hold elections after each meeting to select organizers for the next iteration. Agrawal was elected, alongside Adele Gabba, a postdoctoral researcher at MIT, to chair the next GRS, which is scheduled for June 2024 in Les Diablerets, Switzerland. 
"Les Diablerets is one of the best locations for the Gordon Conference, and I was lucky to get a chance to visit there," he said.
I am thankful to the Cullen College of Engineering's Future Faculty Program, the Welch Foundation, and my advisor, Prof. Alamgir Karim, for financial support to attend this year's GRC and GRS," Agrawal said. "I am excited and can't wait to get started on organizing the next GRS. The experience will not only benefit my organizational skills but will also foster my academic networks. Aman Agrawal
Agrawal was among the few selected to present their work orally out of all the submissions. He talked about his then unpublished work on protocells, Manipulation of Polyelectrolyte Protocells with an External Electric Field, on the first day of the conference. 
"Life, as we see it today, is quite complex at the cellular level. Cells have various components that work together in complex ways," he said. "However, the cells must have evolved from very simple precursors. Protocell is a theoretical model of primitive cells that is proposed as a stepping-stone toward the origin of life on this planet. I talked about how I made protocells that can be moved with an electric field."
Agrawal said his presentation was well-received, and the nature of the conference allowed him to discuss it with many of the participants. When asked about his experience, Agrawal said "the best part about the conference was the ample time and opportunities provided to us to discuss and learn from others, including leading experts, in the area of bioinspired materials. I was thrilled to have discussions over lunches and dinners with eminent scientists like Anna Balazs (University of Pittsburgh), Zvonimir Dogic (University of California, Santa Barbara), Ehud Gazit (Tel Aviv University), and many others. It was a great experience to talk about the research I am doing here at UH as a grad student."
Much of Agrawal's research with Karim has been on polymers — materials made of long, repeating chains of molecules. In August 2022, Agrawal published his research in the journal Proceedings of the National Academy of Sciences. 
For his current projects, Agrawal is collaborating with the world's leading expert on charged polymers, Prof. Matthew Tirrell, and 2009 Nobel Laureate and an expert on RNA, Prof. Jack Szostak, both at the University of Chicago.
"I am working with them to understand how life would have originated in these protocells billions of years ago," Agrawal said.
He is working on completing his doctorate soon, but he plans to stay in academia.
"I love doing research, and the atmosphere and freedom in academia allow me to be creative and innovative," he said. "I am interested in broad topics of soft and living matter research, working with materials such as DNA, RNA, and proteins. I am hoping to move to a suitable post-doctoral position after graduating."