Three Online UH Engineering Programs Rank Among Best In The Nation
By Rashda Khan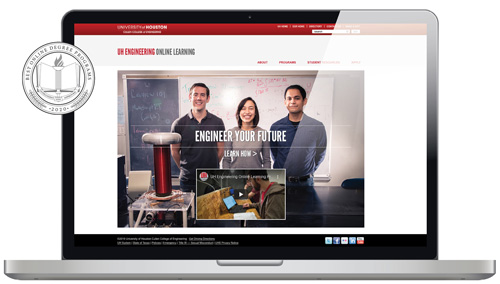 Intelligent.com, a student-focused website, included three online programs offered by the UH Cullen College of Engineering in its 2019/2020 national rankings list of best public institution programs.
The college's online master's program in civil engineering, offered through the Department of Civil and Environmental Engineering, ranked No. 9 and received special recognition as the "Best Blended Program."
The program prepares students to solve present and future challenges in the civil and environmental engineering field. Located in Houston, a city with one of the highest concentrations of civil and environmental engineering companies in the country, the Cullen College offers unique opportunities to enrolled students.
The Department of Electrical and Computer Engineering (ECE) was recognized for offering one of the "Best Electrical Engineering Degree Programs." The online master's program was ranked No. 12.
"Our research found your degree program to be one of the best in the nation, with a unique distinction for its power and energy systems focus," wrote Erica Fagien, director of communications at Intelligent.com, in the notification email.
The online master's program in mechanical engineering ranked No. 16. Fagien commended all three UH engineering programs for providing top quality education that helps students achieve their career goals.
The rankings are calculated using a unique scoring system, which includes student engagement, potential return on investment and third-party evaluations.
Intelligent.com analyzed hundreds of schools with comparable programs on a scale of 0 to 100. The methodology uses an algorithm that collects and analyzes multiple rankings into one score to easily compare different programs, according to Intelligent.com.
"We are a college on the move, and these most recent rankings are a wonderful reflection of this," said Joseph W. Tedesco, Elizabeth D. Rockwell Dean of the UH Cullen College of Engineering.
"Graduate programs at the UH Cullen College of Engineering provide a solid foundation of technical know-how for our students," he added. "We are excited to offer these degrees online and make them accessible to even more people seeking professional development in the dynamic field of engineering."
According to the U.S. Bureau of Labor Statistics, employment of engineers in the nation is projected to grow over the 2016-2026 period, adding about 139,300 new jobs.
"These three national rankings demonstrate the exceptional academic scholarship of the Cullen College of Engineering, and are a reflection of the college's distinguished faculty, led by Dean Joseph Tedesco," said Paula Myrick Short, UH senior vice president for academic affairs and provost. "I am proud more students are able to obtain their graduate degrees online from the University of Houston through these outstanding programs."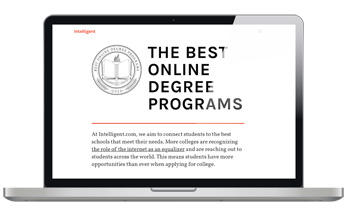 About Intelligent.com
Intelligent.com provides unbiased research to help students make informed decisions about higher education programs. The website offers curated comprehensive guides, including the best degree programs, as well as information about financial aid, internships and even study strategies.