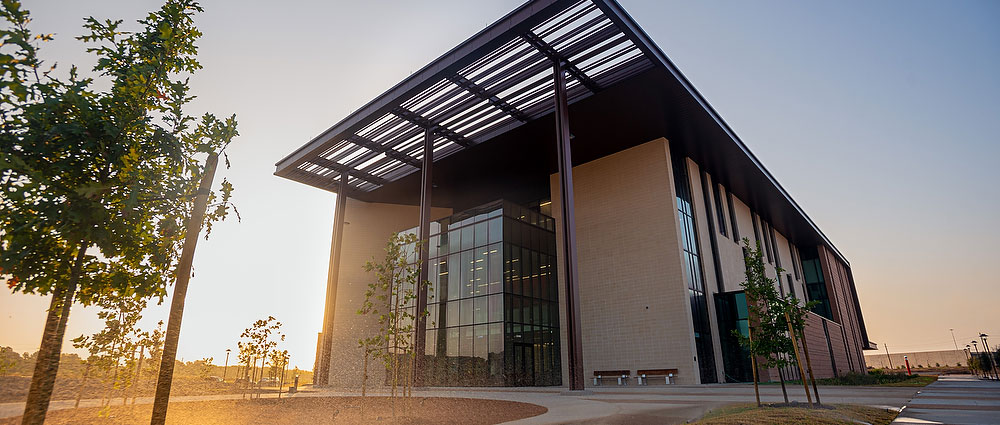 UH/HCC Engineering Academy at Katy
The University of Houston (UH) is proud to introduce its first Engineering Academy program, in partnership with Houston Community College (HCC), to the Greater Katy area!
Most transition programs require that students apply for admission to UH upon completing all academic requirements at the partner institution. The UH/HCC Engineering Academy is different in that students are co-enrolled at both institutions from the moment they are accepted into the academy. UH/HCC Engineering Academy students are official UH Engineering Cougars from the very first day!
Students take their core curriculum courses through HCC while taking engineering courses from UH Cullen College of Engineering faculty at the University of Houston at Katy.
After completing all academy requirements, students then transition to the UH main campus to complete their bachelor's degrees in civil, electrical, computer, industrial or mechanical engineering. Academy requirements are designed to be completed in one or two years.
The UH/HCC Engineering Academy program is the only one of its kind to offer two points of entry:
High School graduates and current college level students may apply through the UH/HCC Engineering Academy Application on the HCC engineering website.
Students who have been newly admitted to UH for Fall 2020 and would like to pursue an alternate degree path for a four-year engineering degree may also choose to apply to the Engineering Academy through the UH/HCC Engineering Academy Application.
UH/HCC Engineering Academy Brochure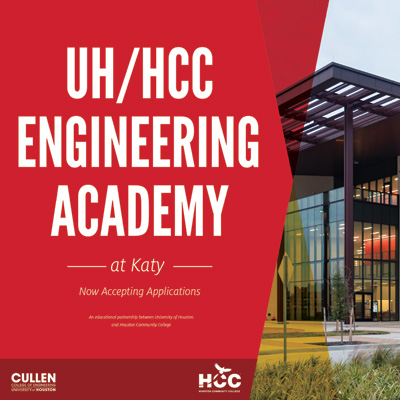 Watch our video to learn more about the Academy!
Why should I apply for the UH/HCC Engineering Academy?
There are many advantages for students enrolled in the UH/HCC Engineering Academy, including:
Co-enrollment at UH and HCC. The following courses will be taken at each partner institution:

All engineering courses will be led by UH faculty and taken at UH at Katy.
HCC faculty will lead all math, science and other core curriculum courses at the HCC Katy campus;

Access to student services, activities and organizations at both institutions, including resources and amenities at the University of Houston main campus, which is just a 30-minute drive from the University of Houston at Katy;
Smaller class sizes for all cohort math and science courses. Student-faculty ratios are purposely kept low to allow for more individualized educational support and a better chance at success;
Potentially lower tuition and fees. Students pay per course and are charged by the institution through which it is offered;
Engineering Academy students who earn a minimum 3.25 cumulative grade point average (CGPA) at both HCC and UH and fulfill the required coursework will be automatically admitted to their first-choice engineering major upon completion of the academy, typically at the end of their second year. The process of how CGPA is calculated is detailed below in the GPA Calculation section;
Students that apply early and are approved will have the benefit of enrolling early in Fall cohort classes when enrollment begins.
Characteristics of a good candidate for the Academy
Student is ready for Calculus I (MATH 2413) and Chemistry I (CHEM 1311).
If currently in college, student has a cumulative college GPA of 3.0 or higher. GPA will include repeated courses.

Student with a cumulative college GPA lower than 2.5 will not be prequalified.

Student has a flexible schedule for cohort classes, which are defined as math, science, and engineering. Cohort classes are taught at the HCC Katy Campus and the UH Katy location at various times.
Student is committed to a rigorous academic schedule including at least one math, one science, and one engineering course each long semester.
Student does not have a Bachelor's degree or higher.
Student is not a former UH student.
Student is interested in earning a 4-year degree in civil, electrical, computer, industrial or mechanical engineering.
Apply Online
Students may apply online through the HCC engineering website.