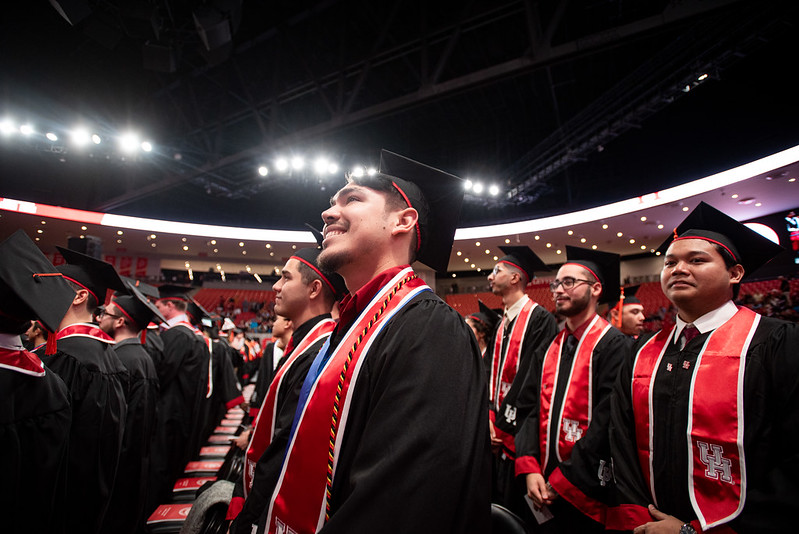 Cullen College of Engineering Commencement
Date: Saturday, May 14, 2022
Time: 9:00 am
Location: Fertitta Center
IMPORTANT: All graduation candidates report to the Athletic Center promptly at 7:30 a.m dressed in your cap and gown. You will receive final instructions at that time.
The procession will begin promptly at 8:45 a.m. Note: If you are late there is no guarantee that you will walk across the stage.
Face masks are optional and may be worn during the ceremony for those who choose to do so.
Commencement Speaker
Chris Angelides
Chris Angelides serves as the Honorary Consul of The Republic of Cyprus to Texas. He is the Head of Energy Transition Program at Shell. He is also an Adjunct Professor at the University of Houston (UH) C.T. Bauer College of Business where he currently teaches a course on ESG/Corporate Social Responsibility in Industry. He also serves as a Board Member of the UH Bauer College, and as an Advisory Board member of the Consortium for Energy Corporate Social Responsibility (CECSR) at UH Energy.
Tickets are required for the Engineering Commencement and will be provided by University Events. Graduates will receive an email notifying them on how to download tickets.
If you have questions about University of Houston commencement, please email director [at] uh.edu.
Ticketing Information
Tickets will be required for all University Commencement ceremonies. Each graduate will be emailed a link to download six (6) electronic tickets. Graduates themselves will not require a ticket. Children two (2) years of age and younger will not require tickets. Additional tickets will not be issued.
Unable to Attend Commencement? Stream it Live!
To view the live streaming version of the engineering commencement, please click here.
Graduation Deadlines
Friday, March 4. End of regular filing period to apply online for May 2022 graduation with non-refundable $25 fee. Go to myUH to apply.
Friday, March 25. End of late filing period to apply online for May 2022 graduation with non-refundable $50 fee. Go to myUH to apply.
Graduate Students
PhD Dissertation and Master Thesis students must submit your first draft for review two weeks before you defend or the latest by Wednesday, April 20, 2022 to Miranda Vernon-Harrison by email at mavernon-harrison [at] uh.edu. Graduation candidates must successfully defend the thesis/dissertation by Wednesday, May 4, 2022. After being approved by Miranda Vernon-Harrison, your thesis or dissertation must be submitted for binding to her by Wednesday, May 11, 2022.
Grad Fair
The bookstore will host a Graduation Fair on March 8-10, from 10 a.m.–4 p.m. It will be held in the bookstore in the UC, lower level, or call them at 713-748-0923.
Graduation Celebration
April 25, 2022
10 a.m. - 4 p.m. 
Students can pick up grad fair orders. Bulk orders will be available for those that did not order online or at the grad fair. These are first come, first serve on sizing. 
Cap and Gown
All graduates participating in the Commencement ceremonies are required to wear academic regalia. Graduation regalia may be ordered at the UH Bookstore Graduation Fair or directly from Herff-Jones online. Last day to order online is April 17, 2022. Orders will be shipped to the student. Any student trying to order after the cut-off date can purchase from the UH Campus Store once we receive our bulk order. For questions regarding regalia purchase or rental, call the UH bookstore at 713-748-0923.
Invitation
Students may order personalized announcements from Herff Jones at the UH Bookstore Graduation Fair or directly from Herff Jones at 281-379-3825 or online.
Cougar Spirit Cord
The Cougar Spirit Cord is a red and white honor cord that graduating Coogs wear at the commencement to show pride and support for your university. More information here.
Undergraduate Students: Graduating with Academic Honors
Academic honor is determined upon final completion of all degree requirements.
Undergraduate students who complete their degree requirements under catalogs beginning in Fall 2010 will graduate with the stated academic honors if they achieve the following grade point averages earned in the last fifty-four (54) hours (all of which must be A, B, C,…letter grade courses) completed at the University of Houston. Grades of S, U, I and W are not assigned grade point values and are not used in the computation of the grade point average. (See Catalog for Honors)
| | |
| --- | --- |
| 3.90 to 4.0 | Summa Cum Laude (with highest honors) |
| 3.70 to 3.89 | Magna Cum Laude (with high honors) |
| 3.50 to 3.69 | Cum Laude (with honors) |
Further, the honors calculation will include all hours completed in the semester in which the first of those final fifty-four (54) hours was completed.
Undergraduate Students: Walking with Academic Honors at Commencement
For the graduation ceremony, the final semester is not factored into the calculation because final semester grades are not completely posted until after the ceremony.
Honors announced during the graduation ceremony are calculated using the last 54 hours less the number of hours taken in the final semester.
After the graduation ceremony and when final semester grades are fully posted then honors eligibility is recalculated using the final 54 hours. This will then be the official honors if any that will be listed on the transcript and diploma.
Commencement Program
Unless privacy protected, all student names will be included in the Commencement Program regardless of participation. Every effort is made to include the names of all official graduates in the printed Commencement Program. We also will include any honors earned by the student. However, please be aware that the program is not an official document with regard to eligibility for graduation or any honors conferred. Inclusion of a name in the program IS not a guarantee of graduation or honors.
Photography
There will be a professional photographer on stage during the ceremony who will take photos of each graduate. You will receive proofs at the mailing address on your walk card. You will then be able to order photos directly through the commercial firm. The website link for the professional photographer: www flashphotography.com. Please ask your family and guests to take their photographs from their seats or before/after the ceremony. The Fire Marshall asks that we keep the aisles of the Fertitta Center clear at all times.
Diploma
Diplomas will be mailed out 6-8 weeks after graduation. If you do not receive your diploma, call the Office of the University Registrar at 713-743-1010.
Commencement Name Pronunciation Meeting
Location: Engineering Building 2, Room E421H-Dean's Conference Room
Dates:
| | |
| --- | --- |
| May 10, 2022 | 1:00 pm - 3:00 pm |
| May 12, 2022 | 9:15 am - 11:15 am |
Additional Questions
If you have any questions regarding the Engineering Commencement ceremony you may contact:
Undergraduate students may contact Stephanie Williams at 

sewill10

[at]

central.uh.edu

Graduate students may contact Miranda Vernon-Harrison at

mavernon-harrison

[at]

uh.edu