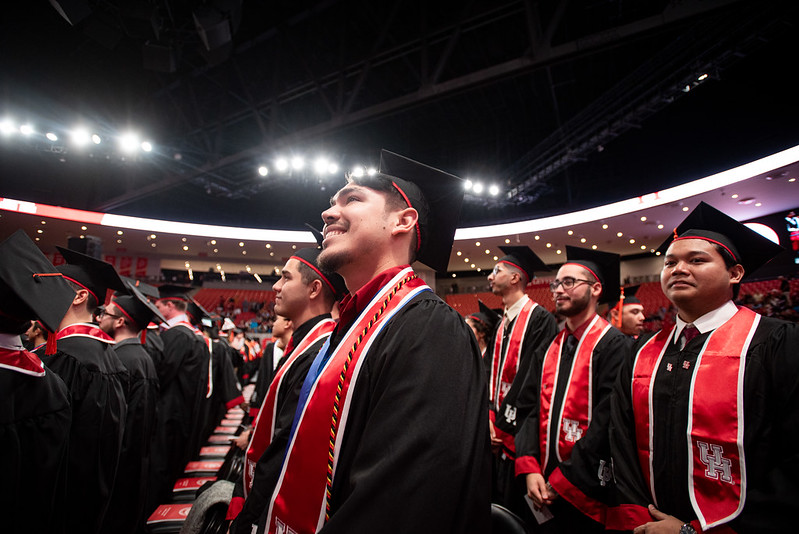 Spring, Summer and Fall 2020 Commencement
Thursday, December 17, 2020
University-Wide Commencement Ceremony | 7:00pm
Watch online here - http://uh.edu/commencement-live
The University of Houston will confer degrees in a virtual University-Wide Commencement ceremony on Thursday, December 17, which includes spring 2020, summer 2020 and winter 2020 graduates.  Following this ceremony select colleges will host virtual celebrations. 
We acknowledge the disappointment and dissatisfaction that the postponement of an in-person commencement ceremony has caused our graduates this year. We are committed to inviting back graduates to a future, in-person ceremony when it is safe to do so.
Please continue to check the university commencement website, www.uh.edu/commencement for the most current information.
UH Commencement Page - Contains a Frequently Asked Questions page link at the upper right.
If you have questions about University of Houston commencement, please email director [at] uh [dot] edu.
Commencement Contact at the Cullen College of Engineering
Sandra Sierra, 

ssierra2

[at]

central [dot] uh [dot] edu

, 713-743-1045
Undergraduate students may contact Kelly Schulz in call 832-842-4840
Graduate students may contact Miranda Vernon-Harrison, 

mavernon-harrison

[at]

uh [dot] edu

 in Room E421-D3 or call 713-743-3395
Cullen College of Engineering Fall 2020 Virtual Graduation Celebration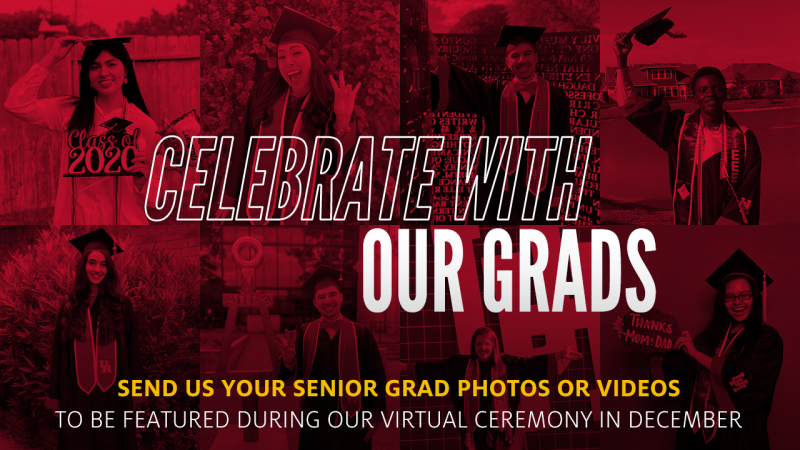 Friday, December 18, 2020 
Cullen College of Engineering Celebration | 2:00 - 4:00pm
Streaming online and on Facebook LIVE 
The Cullen College of Engineering will be hosting a virtual graduation celebration event to honor our Fall 2020 graduates. Please check back here and keep an eye out for emails for more information.  
Official website: www.egr.uh.edu/events/2020/virtual-fall-2020-graduation-celebration
Convocation Speaker
Anu Lal, Vice President Marketing & Sales, Piping Technology & Products
Important Dates and Additional Information
Graduation Deadlines
Friday, October 2nd: End of regular filing period to apply online for Fall 2020 graduation with non-refundable $25 fee. Go to myUH (Peoplesoft) to apply.
Friday, October 30th: End of late filing period to apply online for Fall 2020 graduation with non-refundable $50 fee. Go to myUH (Peoplesoft) to apply.
Graduate Students
PhD Dissertation and Master Thesis students must submit your first draft for review two weeks before you defend or at the latest by Wednesday, November 25th to Miranda Vernon-Harrison by electronic submission at mavernon-harrison [at] uh [dot] edu. Graduation candidates must successfully defend the thesis/dissertation by Wednesday, December 9th . After being approved by Miranda Vernon-Harrison, your thesis or dissertation must be submitted for binding to her by Wednesday, December 16th. 
Name Pronunciation
Do you want to make sure your name is pronounced correctly at the convocation ceremony? The UH Cullen College of Engineering offers Phonetic Spelling Meetings prior to commencement. To learn more about upcoming Phonetic Spelling Meetings, please visit the Important Dates webpage.
Cullen College of Engineering Commencement Name Pronunciation Meeting
Official times and dates coming soon. 
Location: Engineering Dean's Conference Room (E421H in Engineering Building 2)
Caps and Gowns
Graduation regalia may be ordered directly from Herff-Jones online at www.herff-jones.com/college/uh.
The bookstore does not have regalia in store, exceptions, a la carte items: hoods, tassels and caps for those that do not want to purchase a full set. 
Please note that regalia is not necessary to participate in the virtual ceremonies.
If you have any further questions please send an email to: campusstore [at] uh [dot] edu.
Cougar Spirit Cord
The Cougar Spirit Cord is a red and white honor cord that graduating Coogs wear at the commencement to show pride and support for your university. More information here.
Class of 2020 T-shirts
Class of 2020 T-shirts are available for purchase online here. 
Undergraduate Students: Graduating with Academic Honors
Academic honor is determined upon final completion of all degree requirements.
Undergraduate students who complete their degree requirements under catalogs beginning in Fall 2010 will graduate with the stated academic honors if they achieve the following grade point averages earned in the last fifty-four (54) hours (all of which must be A, B, C,… letter grade courses) completed at the University of Houston. Grades of S, U, I and W are not assigned grade point values and are not used in the computation of the grade point average. (See Catalog for Honors.)
| | |
| --- | --- |
| 3.90 to 4.0 | Summa Cum Laude (with highest honors) |
| 3.70 to 3.89 | Magna Cum Laude (with high honors) |
| 3.50 to 3.69 | Cum Laude (with honors) |
Further, the honors calculation will include all hours completed in the semester in which the first of those final fifty-four (54) hours was completed.
Undergraduate Students: Walking with Academic Honors at University Commencement
For the graduation ceremony, the final semester is not factored into the calculation because final semester grades are not completely posted until after the ceremony.
Honors announced during the graduation ceremony are calculated using the last 54 hours less the number of hours taken in the final semester.
After the graduation ceremony and when final semester grades are fully posted then honors eligibility is recalculated using the final 54 hours. This will then be the official honors if any that will be listed on the transcript and diploma.
Commencement Program
Unless privacy protected, all student names will be included in the Commencement Program regardless of participation. Every effort is made to include the names of all official graduates in the printed Commencement Program. We also will include any honors earned by the student. However, please be aware that the program is not an official document with regard to eligibility for graduation or any honors conferred. Inclusion of a name in the program is not a guarantee of graduation or honors.
Diplomas
Degrees will not be posted to transcript until the college checks your Fall 2020 grades.
Allow about 6 to 8 weeks from Wednesday, December 16th for Fall 2020 grades to be checked, degrees to post to transcripts and diplomas to be mailed.