UH Students Exhibit Robots Created In Makerspace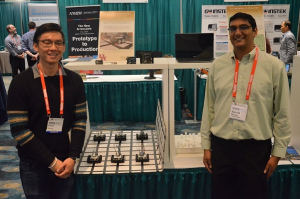 New and interesting things are being made at the UH Makerspace, which opened this spring in the M.D. Anderson Library.
Two University of Houston electrical and computer engineering students — Kaushik Mandiga and Denny Luong — exhibited the robots they made in the makerspace at the 2018 Electrical and Computer Engineering Department Heads Association conference in California. ECEDHA is a non-profit that serves a membership of about 300 colleges and universities.
"The best part of the conference was networking and socializing with all the people in the industry who were present," said Mandiga. "They were genuinely interested in our projects and gave us plenty of terrific advice."
One of the projects displayed was the "Non-Living Assembling Machine Ensemble (N.A.M.E.)," featuring seven robots able to assemble into different preset positions based on user input.
The Makerspace, a collaboration of the library and the ECE department, has five work bays open to individuals or groups to use for maker activities. A sixth bay offers access to high-end measurement and testing equipment. Walk-up use and class reservations are available. Students can bring their own materials or use what's available in the makerspace — outfitted with a variety of kits, supplies and tools for programming and electronics projects.
"The UH Makerspace is an exciting place for students to build projects in their free time and a great outlet to experiment with ideas," Luong said. "I participated in the Makerspace for fun as it is a passion of mine to create projects and work on teams with other people."
Luong said his next project will be to build a sentient-like robot to tie in with artificial intelligence.
Mandiga also has plans for the makerspace. "In the short term, I plan to use the Makerspace to help finish my Capstone Design project and for any simple side projects I can think of and find time to create," he said
Related News Stories
Posted on October 14, 2021
Posted on October 12, 2021
Posted on October 5, 2021