Posted on November 30, 2006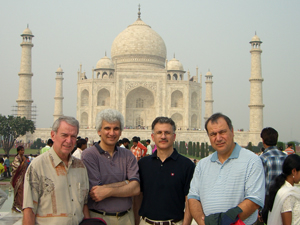 A contingent from the University of Houston Cullen College of Engineering has returned from India with informal agreements to discuss research and educational partnerships with institutions throughout the country.
The group, which visited India from Nov. 6 to Nov. 10, was led by Larry Witte, the college's associate dean of graduate studies. Other members included Haluk Ogmen, chair of the electrical and computer engineering; Hamid Parsaei, chair of industrial engineering; and Haider Malki, associate dean of research in the UH College of Technology. Together, they visited five universities in India: IIT-Delhi, Delhi College of Engineering, Maharajah Agrasen University, Benares Hindu University, and Rajiv Gandhi Technical University.
According to Witte, there were three purposes behind the delegation's visit: to recruit potential graduate students; to discuss the formation of cooperative education programs; and to explore faculty collaboration on research projects.
Officials from these institutions agreed to discuss partnerships in these areas with UH in the coming months. The next step in these negotiations, said Witte, will be drafting formal memorandums of understanding that will outline the scope of the talks. These MOUs will likely be completed in the next six months, he said.
"We really created the basis for some ongoing negotiations," he said. "That's where we are now. I'm in the midst of contacting the principals of these universities to see if we can chart out some future action."
While the college is far from reaching a final agreement with any of these institutions, the cooperative educational programs could well involve students completing three years at their home institutions and then one to two years overseas for either a bachelor's or master's degree.
On a more immediate basis, the trip served as a useful recruiting tool for the college's graduate program. Within days of returning from India, in fact, the college received its first graduate school application from a student who learned about UH through the delegation's visit.
"We can no longer live in little silos because things are now globalized," Witte said. "We're very impressed with the universities in India…They have some of the best students in the world. We're always after the best and brightest for our graduate programs."
Department/Academic Programs: