Research Challenge — Innovating in Resilient Infrastructure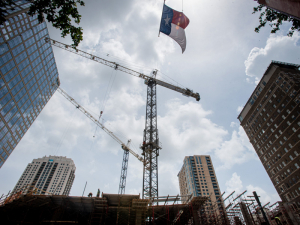 Infrastructure is at the heart of urbanization. From water and wastewater plants to solid waste collection facilities, from built and natural environments to the Internet, power and transportation grids, pipelines, and hazardous waste disposal sites; these infrastructure systems are critical to our cities and communities. Their resilience to disruptions and shocks is urgent, their renewal and rehabilitation has never been more important as many have aged beyond their service lifetimes.
Faculty in the Cullen College is inventing new materials and technologies to renew bridges and roadways and ensure their retrofit to sustain hurricanes and wind damage. They are investigating microgrids and novel technologies for backup power systems that are more energy efficient than conventional power grids. They are developing new sensors that can prompt an infrastructure to heal itself when failure is detected.
Contact Us
Mail: University of Houston
Cullen College of Engineering
Engineering Building 2, Room E421
4222 Martin Luther King Boulevard
Houston, TX 77204-4007
egrrsrch [at] uh.edu
Google Map
UH Map & Driving Directions
(includes parking information)