Engineering Communications wins 2 AMA Crystal Awards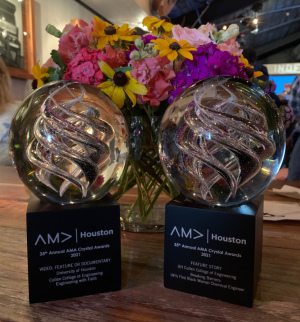 The Communications Department of the University of Houston's Cullen College of Engineering took home two honors from the 35th annual American Marketing Association Houston Crystal Awards 2021 at a ceremony at the Armadillo Palace on May 19.
"Engineering With Faith," a video about graduate Faith Malton, took first place in the category of Interactive, Multimedia and Video – Video Feature or Documentary. The YouTube presentation can be seen here, and an accompanying article in "Parameters" can be read here.
"Breaking Barriers: UH's First Black Woman Chemical Engineer," a photo and story feature package on Cynthia Coleman, won first place in the category of Communications and Public Relations – Feature Story. The story can be read here.
The AMA Houston Crystal Award entries are judged strongly on results. The panel of judges, which includes the country's top marketing thought leaders, CMOs, business owners, other AMA Chapter leaders, marketing educators and authors, rate a project's objective, strategy, tactics and finally the measurable results, which counts double.
AMA Houston is the leading educational information, career-building, and networking resource for Houston's marketing professionals and has been serving marketing professionals for more than 60 years. AMA Houston is one of the nation's largest chapters and a repeat Chapter Excellence Award winner including a Bronze winner in 2020. To learn more about the AMA or to join Houston's largest marketing professional organization, visit https://www.amahouston.org.