Posted on September 25, 2019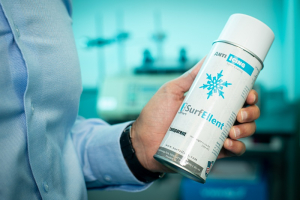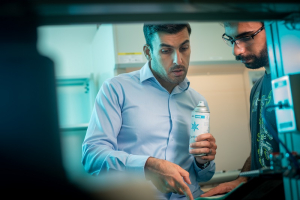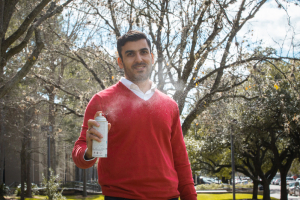 The Inside Story of a Tech Startup
SurfEllent, a UH startup which brings innovative and durable anti-icing coating technologies to the market, is hot, hot, hot! It has raised $470,000 in funding and the year is not over yet.
The company tasted success and started its financial windfall at the 2019 Texas A&M New Ventures Competition (TNVC) earlier this summer. The first-time TNVC competitors won the second place award and its accompanying $35,000 check as well as the Texas A&M Engineering Extension (TEEX) Product Development Center Prize of $10,000, walking away with a total of $45,000.
At the same competition, SurfEllent managed to snag the attention of several other interested parties, including the U.S. Department of Defense. Three months down the road and many discussions later, a private company, which wishes to remain confidential, invested $350,000 in seed funding.
In addition, the DoD encouraged SurfEllent representatives to apply for federal grants. About the same time, an independent study out of the University of Iowa proved the efficacy of SurfEllent's current coating by trying it out on a jet engine.
As a result, SurfEllent was also awarded a $50,000 Small Business Innovation Research (SBIR) grant and a $24,999 Small Business Technology Transfer (STTR) grant this summer.
Congress established the SBIR and STTR programs to support scientific excellence and technological innovation through the investment of federal research funds in critical American priorities to build a strong national economy.
"Ice is a problem that will exist as long as we live on the earth. It impacts a wide range of things, including aircraft wings and engines, automobiles, buildings and bridges, ships and vessels, and power transmission systems," said Hadi Ghasemi, Bill D. Cook Associate Professor of mechanical engineering at the UH Cullen College of Engineering and the brain behind SurfEllent. 
The technology he nurtured into a product can be used to de-ice cars to airplane engines.
"The end goal is to improve the quality of human life," Ghasemi said. "This recognition is another proof of the critical need for advanced anti-icing coating technologies and opens opportunities for collaboration with various industries and business partners."
The Beginning
"I know firsthand the amount of problems icing can cause," said Ghasemi, who completed his Ph.D. and post-doctoral work in Canada and Boston. During this time, he experienced power outages as well as transportation and infrastructure issues.
"It's not only about the financial losses, but it also affects the quality of life for people," he added. "I myself have slipped on ice several times so I know that icing is not a good thing."
At University of Houston, Ghasemi has launched a research program focused on icing and developing durable anti- icing coatings. His research group – was able to innovate a new bio-inspired durable anti-icing coating based on North American Wood Frogs that can tolerate freezing up to 65 percent of their total body water and still survive in the winter.
In 2017, NASA chose Ghasemi's project from entries submitted by over 130 organizations across the U.S. for its potential to broadly impact human life on earth and the future of space travel.
Once Ghasemi had plenty proof of concept for his novel material, he partnered with his then student Peyman Irajizad (MSME '16, Ph.D. '18) and co-founded SurfEllent. A $50,000 grant from the University of Houston Technology Gap Fund, a program designed to support inventors as they move their technologies closer to commercial readiness, helped get the company off the ground.
The challenge
While the startup is about a year old, the research and development of its product took five long years.
"It was a few research assistants or interns, myself and my co-founder working on it in our spare time," Ghasemi said. It meant long hours, sacrificing weekends and balancing family and other responsibilities. "We didn't have dedicated time or resources to put towards the project like the big companies have."
The team members started with looking at the problem of icing and how it could be solved. They came up with different ideas, failed several times and had several breakthroughs. "One of these breakthroughs allowed us to develop this coating technology and it has performed really well," Ghasemi said.
However, the scientific challenges didn't faze the two co-founders as much as the business aspects of bringing their technology from concept to market.
"To make a business case from your technology, and then to convince people to invest in your technology – those were our major challenges," Ghasemi said. "But now I think we're in a good position to move forward into the next stage."
What's next?
SurfEllent is located at the UH Technology Bridge – a research park that offers 30,000 square feet of incubator space and 700,000 square feet for laboratories and light manufacturing. The company is expanding.
Plans are to move its manufacturing facility into a larger lab – about three times the size of the current one – at the UH Technology Bridge and increase market share, Ghasemi said. The company has also hired three additional employees, including a new chief executive officer.
Brian Huskinson as CEO will oversee Surfellent's operations, including business development, marketing, financing and strategic partnerships. He earned his Ph.D. and master's degree in applied physics from Harvard University and has a B.S. in chemical engineering and political science from Yale University. Huskinson also has experience with ATP, a seed-stage venture capital firm; and McKinsey and Co., a well-established consulting firm serving a number of companies across multiple sectors including deep tech, chemicals, energy, aerospace, and automotive.
Research and development is an ongoing process at the startup.
"We've worked with a wide-range of small customers, but now we're looking at B2B or selling business to business," Ghasemi said.
In other words, they're shifting gears and focusing on making sure the technology is ready for customers with larger-scale needs. Once that is validated, the SurfEllent team will begin considering options for scaling up production.
"It has been a long journey, both fruitful and challenging," Ghasemi said. "But we're pushing forward to further develop this technology's commercial potential and make new products available as soon as possible."
Actively working to take the technology from an idea to product form has been a rewarding experience for Ghasemi.
"As a scientist, one of my main goals and dreams was to develop a technology that I can commercialize," he said. "I wanted to commercialize my technology because you can directly see the impact of your innovation on people's lives."
SurfEllent's products, available as aerosol sprays and paints, are available through the company's online shopping platform at https://www.surfellent.com. Besides being useful on airplane wings and transmission lines, the products also have more everyday applications such as de-icing vehicles and porches.
Here's a short video about how SurfEllent's coating works: https://www.surfellent.com/demo
Department/Academic Programs: