Solving Texas Water Problems: One Project At A Time
UH Researchers Receive Grants from the Texas Hazardous Waste Research Center
Texas has water issues.
Massive flooding caused by Hurricane Harvey nearly drowned Houston and other coastal areas last August. Months later, many residents across the Gulf Coast are still dealing with problems left in the wake of the floodwaters, such as contamination and damage. In West Texas, earth-cracking drought threatens the well-being of people and wildlife year after year. As the State's population continues to grow, the possibility of water scarcity becomes more and more tangible.
Researchers all over Texas are looking for ways to find solutions to these problems and stretch this precious resource. Three of them are University of Houston professors in the civil and environmental engineering department of the Cullen College of Engineering.
The Texas Hazardous Waste Research Center awarded the UH professors grants totaling $32,650 to encourage alternative or innovative technologies that could improve the handling of hazardous wastes to better protect human health and the environment.
Here are their projects:
Devin Shaffer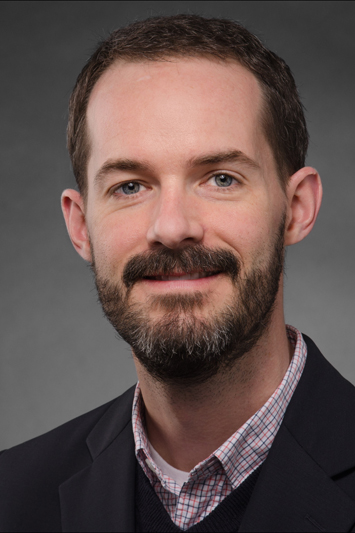 Title: Enabling Reuse of Hydraulic Fracturing Wastewater Through Integrated Forward Osmosis and Reverse Osmosis Treatment
Amount: $10,500
Water is already tight in Texas, and the growing shale gas development in the Barnett (near Dallas/Fort Worth) and Eagle Ford (in South Texas) shale plays – two of the largest shale formations in Texas – are stressing limited resources even further, according to Devin Shaffer, assistant professor at Cullen College of Engineering.
"We're looking at a way to potentially treat and reuse some of the produced water within the exploration and production framework instead of taking additional water," Shaffer said.
Currently, the large quantities of wastewater produced from oil and gas operations are injected underground for disposal.
"In Oklahoma, disposal of this produced water underground has been linked to earthquake activity," said Shaffer, who grew up in that state and clearly remembers experiencing seismic shifts in his parental home. "It was just a quick shake of the house, a sudden shifting, but it woke me up…that's definitely a motivator."
His research lab will build a mathematical model of a dual membrane treatment process targeting the wastewater from the Barnett and Eagle Ford shale regions. Shaffer is trying to understand the limitations on treating this water in terms of water quality as well as the efficiency of the treatment process.
Shaffer hopes the project will produce an economical way to treat and reuse produced water, which would make it attractive to the oil and gas industry, especially if water stress starts making water more expensive or less available in water stressed regions where they operate.
The THWRC grant provides critical seed money to start studying this area, Shaffer said. He hopes that as his team better understands the process and gains insights, this work can lead to further studies, experiments to validate the model and further exploration.
"It's a topic that's very relevant for Texas," Shaffer said.
Cumaraswamy Vipulanandan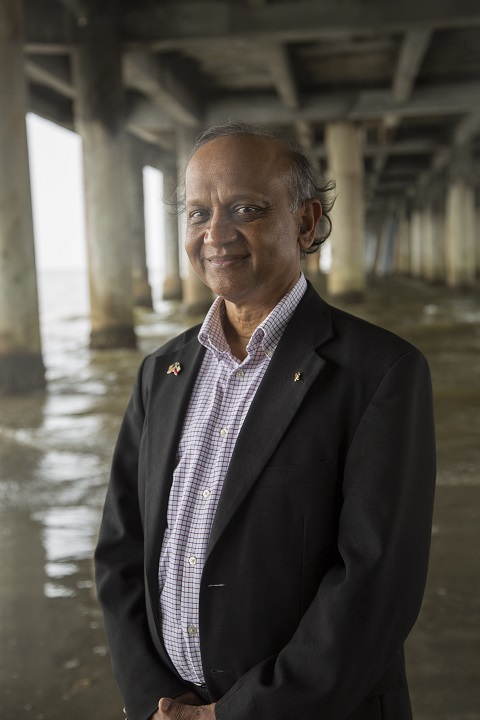 Title:  Multiple Cathode Microbial Fuel Cell (MFC) with Integrated Nanotechnology and Solar Energy for Rapid Treating and Recycling Oily and Salty Wastewaters with the Production of Biosurfactant (Anode Chamber) and Algae Fuel (Cathode Chambers)
Amount:  $10,500
UH Professor Cumaraswamy Vipulanandan (Vipu), who invented the revolutionary "smart cement" designed to make offshore drilling and other construction safer, is also focusing on treating and recycling most of the wastewater produced by oil and gas operations and chemical companies.
Rapid development of unconventional natural gas resources in the deep shale is expanding in Texas and 28 other states in the U.S. with about 35,000 wells hydraulically fractured annually, according to Vipulanandan. This fracturing creates large volumes of wastewater contaminated with high concentrations of dissolved solids – like salt – and oil.
Vipulanandan wants to use the grant to develop an innovative multi-cathode microbial fuel cell (MFC) device  integrated with nanotechnology and solar energy to rapidly treat the wastewater while producing useful marketable byproducts — biosurfactants (or soap), algae fuel and bioelectricity. The different chambers can hold different waste materials.
The project is based on previous UH research with promising results where the MFC technology reduced the salt content in the wastewater while also producing bioelectricity. Until now, the research team has worked on a two-chambered MFC device to rapidly treat salty water. The proposed device would have four chambers and takes a multi-disciplinary approach.
Vipulanandan envisions there will be many future applications and said the end user could be industries, cities and even individuals.
"At the end of the day, waste is a big problem in our lives and you have to treat the waste in a cost-efficient way," Vipulanandan said. "Basically you have to make the world better with your understanding. It takes time."
Bill Rixey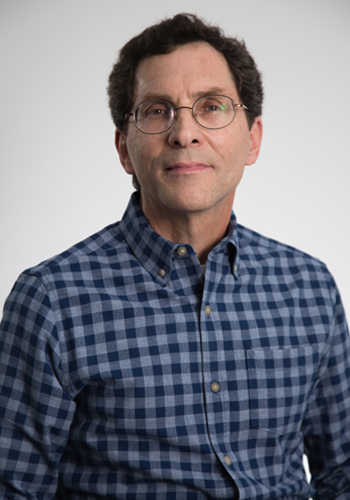 Title: Impacts of Alternative Fuels on Groundwater Contamination and Vapor Intrusion
Amount: $11,650
The use of ethanol (or alcohol) in gasoline has increased due to America's renewable fuels program, and it comes with a growing concern about the potential for increased contamination of groundwater when spills or leaks happen, according to Bill Rixey, an associate professor at the Cullen College.
The THWRC grant-funded research will focus on higher ethanol content fuels than E10, the typical ethanol fuel currently in use, because the ethanol content in gasoline is expected to increase as the future ethanol renewable fuel use requirements increase.
Experts like Rixey expect the content change to potentially impact water quality because of increases in hydrocarbon concentrations and undesirable ethanol-related byproducts (such as volatile fatty acides and methane), as well as the potential for transport of methane and benzene to the soil surface. The generation of methane – if sufficient amounts of ethanol are released – brings the additional danger of potential explosions at the surface.
Rixey's research will focus on spills of higher ethanol content fuels likely to occur at retail service stations. The goal of the study is to understand how the higher ethanol fuel content affects the release of ethanol into groundwater and the formation of byproducts, the impact on water quality, vapor intrusion and the possible risk of explosion.
The end results of the study will not only apply to ethanol, but will also be relevant to other alcohols being considered as alternative fuels.
This research is important to understand how ethanol impacts soil and groundwater, and to establish guidelines for appropriate corrective action for impacted sites. 
Related News Stories
Posted on December 15, 2021
Posted on December 9, 2021
Posted on December 2, 2021