UH Researcher Developing Smart Artificial Skin Inspired by Underwater Masters of Camouflage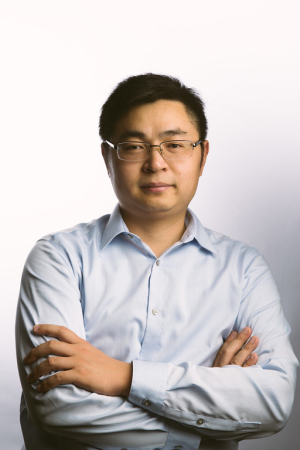 Cunjiang Yu wins 2018 Office of Naval Research Young Investigator Award
Imagine U.S. Navy divers wearing camouflage 'skin' suits and gathering intelligence. They could swim undetected in enemy waters as their suit changed color and texture to blend in with the environment — whether it be in the deep sea below a naval destroyer or a rocky, marshy river bottom.
Cunjiang Yu, the Bill D. Cook Assistant Professor of mechanical engineering at the UH Cullen College, wants to create smart, artificial skin that mimics the natural abilities of cephalopods — creatures like cuttlefish, squid and other related marine life — to perform incredible feats of camouflage.
The proposed research has won Yu a 2018 Office of Naval Research Young Investigator Award (ONR YIP). He is among 31 scientists selected from more than 340 applicants.
The award comes with a three-year grant of $510,000 to use for Yu's project, "Cephalopod inspired camouflage skins: Adaptive color changing, pattern tuning and texture morphing." Yu, known for his work with stretchable semiconductors and electronics, was inspired to pursue this latest project during a visit to an aquarium.
"Cephalopods are well-known masters of camouflage. They have the most amazing camouflage abilities — they can change their color, their texture," Yu said. "I got inspired by these marine animals and started thinking: Could we build a similar 'skin' or device to mimic those abilities? Something that could be scaled up for important real world applications?"
He expects this proposed flexible skin to be a complex system of sensors, circuits and activators, combining materials, mechanical design and electronics.
"It has to be an extremely smart skin to be able to do so many things like understanding the environment and then changing to blend in," Yu said.
While the work would definitely have defense industry applications, Yu believes it can also be useful to other industries such as healthcare, cosmetics and textile.
Yu, who is 34, has an extensive record for innovative skin technology work and recognition. Last year he reported a breakthrough in stretchable electronics that would allow users of wearable robotics (such as artificial limbs) to actually feel the sensation of touch.
In 2017, Yu made MIT Technology Review's "35 Innovators Under 35" list of researchers Chinese edition and earned the Junior Faculty Research Excellence Award from the Cullen College. He received the National Science Foundation CAREER Award and the Doctoral New Investigator Award from the American Chemical Society Petroleum Research Fund in 2016 as well as the Paul Holloway Young Investigator Award from the American Vacuum Society in 2015.
The ONR's Young Investigator Program is one of the nation's oldest and most selective science and technology based research programs. Since 1985, the program has sponsored early career academic researchers whose scientific pursuits show outstanding promise for supporting the Department of Defense, while also promoting their professional development.
"To meet the demand signal from the 2018 National Defense Strategy, we must attract the best and brightest minds to work on naval warfighting challenges," said Rear Adm. David Hahn, chief of naval research. "The Young Investigator Program does just that."
Related News Stories
Posted on September 29, 2021
Posted on September 28, 2021
Posted on September 1, 2021