UH Cullen College Recognizes Outstanding Students
Every academic year, the University of Houston's Cullen College of Engineering celebrates student academic achievement by choosing an Outstanding Senior and an Outstanding Junior. Not only do the chosen represent hard work and dedication, but also passion and intellectual curiosity. They serve to inspire.
For 2017-2018, the two students are: Biomedical engineering senior Megan Goh and chemical engineering junior Christine Stroh.
These are their stories.
2017-2018 Cullen College Outstanding Senior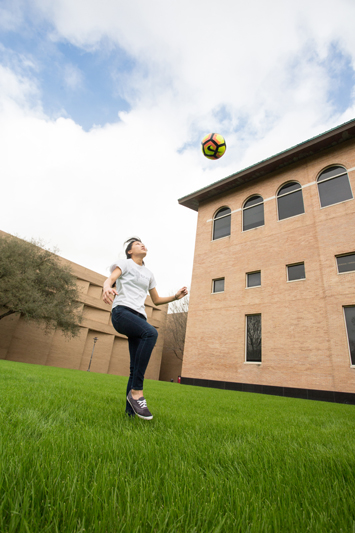 Megan Goh
Graduation Year: 2018
Major: Biomedical Engineering
GPA: 3.98
Megan Goh, who played on the UH NCAA Varsity Women's Soccer Team, is no stranger to pain and injuries. She had her first surgery at age 14 for a torn ACL (anterior cruciate ligament) and suffered two concussions before starting college thanks to her passion for soccer.
Her experience with her injuries and working with medical professionals to heal and get back on the soccer field had a profound impact.
"I wanted to be able to help other people in my situation," Goh said. "So going into biomedical engineering was the best fit for me. It was kind of a marriage between problem solving and the medical aspect, which has played a pivotal role in my personal life."
She won the Houston Scholars Program's competitive independent research grant three times and used it to investigate how concussions might affect biomechanical properties of the brain in rats. Goh's poster presentation on the project received the Audience Favorite Award at the UH Undergraduate Research Day.
Additionally, Goh works as a biomedical engineering undergraduate fellow in the Biomedical Imaging Optics Lab led by UH Professor Kirill Larin and has served as a Harris Methodist Hospital intern.
Goh's passions and research interests have taken her all over the world.
She participated in the National Science Foundation's Bio-X Summer School in Crete, Greece, where she worked with and learned from leading researchers in the biomedical engineering field. Goh also presented work about the use of optical coherence elastography to characterize the biomechanical properties of biological tissues.
Goh visited India as part of a medical relief trip. She helped with medical exams, distribution of medical supplies and providing health education to more than 200 orphans and 2,500 villagers.
Volunteering is important to Goh. She has been invited to speak at several Houston-area elementary schools — introducing students to science and engineering concepts, conducting demonstrations, devising lesson plans and sharing how science and engineering are a part of everyday life.
"I try to be as involved as I can be in giving back to the community because I think the Houston community is amazing," she said.
Goh said her time at UH has been a blessing. "I have had a wonderful time in college where you just get to be a student and engage in all different kinds of experiences," she shared. "I have been blessed with a lot of opportunities here and have nothing but good words for my UH experience."
With her May 2018 graduation drawing closer, Goh is busy planning for the future.  She's applied for overseas research positions as well as some graduate schools. Now she's studying for the MCAT and plans to apply to medical schools as well.
"I would love to apply for a M.D. /Ph.D. program," said the master organizer. "I'm just waiting to see what works out."
2017-2018 Cullen College Outstanding Junior
Christine Stroh
Graduation Year: 2019
Major: Chemical Engineering
GPA: 3.90
Christine Stroh credits her parents for her scientific bent, creativity and penchant for exploration. Both her parents are chemical engineers, but her father plays the saxophone and her mother is a flutist. "They have a good mix and they help me see both worlds," said Stroh, who was drum captain and salutatorian in high school. "That's what allows me to explore."
She chose engineering because it combined her love of math and science with creativity, and chemical engineering because it offered her an array of options.
"Back in high school I didn't know what I wanted to with my life," Stroh said. "With chemical engineering you have so many possible routes — you could go into the medical field, industry, grad school or start your own company," Stroh said. "I felt like it gave me more options to figure out what I wanted to do."
As part of exploring the medical field, Stroh participated in the UH Honors College Honduras Service Learning Abroad program with the Houston Shoulder to Shoulder Foundation. She spent a semester communicating with a clinic in Honduras and learning about diseases and medical care there. At the end of the semester, her group traveled to Honduras and worked with the clinic staff and their patients.
Stroh said her UH classes helped prepare her to deal with real-life work tasks at her internship at BASF Corp. in the summer of 2017.
"I was nervous because I didn't know what to expect," she said about the internship. "But thanks to my classes, I was like, 'I can do this, I know what to do.' Just the higher level thinking they teach and being aware of the resources helped."
Since then, she's landed another internship. This time with Albemarle Corp. at their facility in Silver Peak, Nevada. "They produce the lithium used in the batteries for Tesla Inc.'s electric cars," Stroh said. "I am curious about battery storage and electric cars. It's not efficient yet, but it's the up and coming new thing."
The internships are another way to explore her options.
"I'm still narrowing down what I really want to do. BASF was a large [global] company with lots of interconnected parts, while Albemarle is smaller and more specialized," Stroh said. "Now I'm narrowing down which part of the industry I want to work in and still exploring."
Stroh is also an active member of Engineers Without Borders, belongs to the Phi Beta Delta International Honor Society as well as Tau Beta Pi Engineering Honor Society, and is a Phillips 66 Fueling Future Engineers Award winner.