Cullen College Professor Combines Math and Engineering to Enhance Safety, Efficiency in Oil and Gas Industry
Inspired by Deepwater Horizon, researcher targets equipment failure
Equipment failure in capital-intensive industries such as oil and gas, aerospace and more has serious consequences — from loss of assets and production time to environmental impact and even loss of life.
The BP Deepwater Horizon blowout and oil spill of 2010 is often held up as an example of catastrophic disaster: 11 people died, millions of barrels of crude oil spewed into the Gulf of Mexico covering 68,000 square miles and innumerable birds and marine animals perished.
The devastation and the heroic accounts of the survivors of Deepwater Horizon inspired a movie of the same name in 2016.
Sitting in the dark and watching the big screen fill with explosions, roiling smoke, flames and fireballs as the backdrop for personal stories inspired by the accident, had a big impact on Qianmei (May) Feng, a UH Cullen College associate professor of industrial engineering.
"We are in Houston, where there's always talk about energy, oil and gas, so I'd been thinking about how to apply my knowledge and my research in that area for a long time," Feng said. "But I hadn't found that right connection."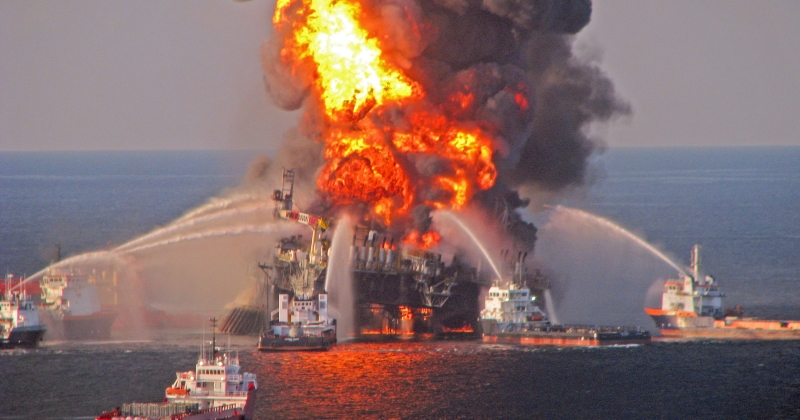 The BP Deepwater Horizon incident is the worst oil spill in U.S. history. Photo Credit: Associated Press
Deepwater Horizon, the worst oil spill in U.S. history, was caused by a mix of factors including human error, confusing policies and equipment failure. According to a New York Times article, poor maintenance and disregarded inspection schedules was part of the problem.
Feng realized that while risk couldn't be eliminated entirely, it could be mitigated.
"I felt like I could do something important to help. We [industrial engineers] can't eliminate human error, so we try our best to make the equipment as safe as possible." ~ Qianmei (May) Feng, UH Cullen College associate professor of industrial engineering.
Feng's research about failure analysis, failure time prediction, reliability modeling and maintenance work could be applied to drilling equipment that operate in harsh and dynamic environments.
"That movie motivated me to dive in deeper and think about how we could come up with a meaningful grant proposal," Feng said.
The project
Her hard work paid off in the summer of 2017 when National Science Foundation awarded Feng and her collaborator, Yisha Xiang — an assistant professor of industrial engineering at Lamar University — $627,102 for a four-year research project.
Feng and her team will work with Schlumberger, American Bureau of Shipping (ABS) and General Electric (GE) to explore equipment failures in capital-intensive industries, specifically the oil and gas industry, to come up with better models for maintaining equipment and reducing failures.
She is excited about applying the team's efforts to real world data sets.
"Hopefully by using the data we have from the industry and mathematical tools, we can come up with a solution to help with their maintenance decision-making," said Feng, who specializes in statistics as well as quality and reliability research.
"Being in Houston with different connections to oil and gas companies, we have the access to people in those companies who have data and who have domain knowledge," she added.
Impact
Feng hopes the research project will provide insight about:
How to predict the failure time of equipment from signs of fatigue or other degradation signals, so that the problem can be addressed before the equipment breaks; and
When and what preventive action — such as an inspection or a part replacement — should be taken.
All this information should help achieve greater efficiencies and help extend the equipment life while creating a safer work environment.
There will also be cost savings.
The energy industry invests heavily in high-cost, long-lived assets — oil fields or power plants — with lives measured in decades. As such, equipment failure, loss of assets and lost production hits the bottom line hard.
Investigations show that the majority of accidents and economic losses in these industries were caused by equipment failures, Feng said.
"We would be making equipment more efficient and taking preventive actions in a timely manner, which would reduce all the related costs," she said. "Instead of fire-fighting and dealing with a critical failure cost, they would be dealing with minor inspection and replacement costs…so that should dramatically reduce the companies' expenses."
To Feng, a piece of equipment is just like a car — one has to maintain it to keep it reliable and make it last. She wants companies to stop "fire-fighting" or addressing issues reactively, and instead take proactive measures that head off major problems.
"You want to take care of your car before it breaks down somewhere," she said.
Related News Stories
Posted on October 12, 2023
Posted on October 4, 2023
Posted on October 4, 2023