Meeting of the Minds: BRAIN Center Hosts Inaugural Meeting to Brainstorm Future of Neurotechnologies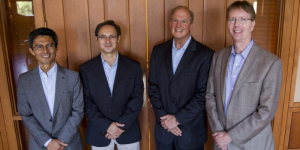 The Building Reliable Advancements in Neurotechnology (BRAIN) Center, an Industry–University Cooperative Research Center (IUCRC) dedicated to bringing new neurotechnologies and treatments to market, held its first industry advisory board meeting in June to map the future challenges, strategies and goals of the collaborative enterprise.
The BRAIN Center, a collaboration between Arizona State University, the University of Houston and industry members, was officially funded earlier this year with a $1.5 million grant from the National Science Foundation. Since its inception the center has attracted nine industry partners, including companies Medtronic, the CORE Institute, Indus Instruments and Brain Vision LLC, as well as medical institutions such as the Phoenix Children's Hospital, The Institute for Rehabilitation and Research Memorial Hermann Hospital.
Professor Marco Santello of ASU and Professor Jose L. Contreras-Vidal of UH are directors of the respective ASU and UH BRAIN sites. Santello and Contreras-Vidal will lead the center, which includes more than 40 faculty members from ASU's Ira A. Fulton Schools of Engineering and UH's Cullen College of Engineering.
The pair defined the center's five main research areas as neurological clinical research, mobility assessment and clinical intervention, invasive neurotechnology, noninvasive neurotechnology and neurorehabilitation technology.
BRAIN's industry advisory board meeting was held June 29-30 at ASU's Tempe Campus. Attendees included Joseph W. Tedesco, Dean of the UH Cullen College of Engineering, and Kyle Squires, Dean of ASU's Ira A. Fulton Schools of Engineering, Dmitri Perkins, director of the NSF's IUCRC program, and industry partners.
Read more about the BRAIN Center's inaugural advisory board meeting at ASU's website.
Learn more about the BRAIN Center at brain.egr.uh.edu
Related News Stories
Posted on January 12, 2021