Posted on November 22, 2016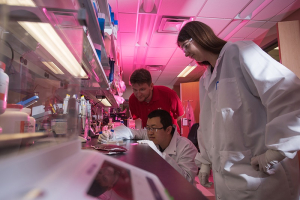 Every two seconds someone in the United States needs blood, according to America's Blood Centers, generating a fundamental need to keep the blood supply healthy. A significant part of that process is to remove the white cells (leukocytes) from donated blood. Sergey Shevkoplyas, associate professor in the Cullen College department of biomedical engineering, along with his research team, have created a new, advanced system to do just that, ideally leading to a healthier blood supply, while also creating an innovative way to isolate white cells for research.  
"Prior systems to separate cells have been very crude, but here we have something completely new -- no one has ever done this before," said Shevkoplyas. He and his team have written an article published in the journal Scientific Reports that outlines their newly-developed system that will gently isolate platelets and plasma from white blood cells, potentially leading to healthier platelets for transfusion. "Cancer patients need frequent platelet transfusions, so delivering a high-quality blood product is essential for these already immunosuppressed patients," Shevkoplyas added.
The system, called "Controlled Incremental Filtration," (CIF) is small, yet fast. The patent- pending technology was developed in conjunction with Halcyon Biomedical, a start-up company Shevkoplyas founded with Dr. Sean Gifford, a co-author of the article.
For the field of microfluidics, which is the study of processing small volumes of fluids, Shevkoplyas said their system represents "a complete revolution" in how quickly samples can be processed. "For the first time, microfluidics can be used to process blood products in a timeframe that makes the process not only feasible, but an attractive alternative to conventional large-scale filters," said Shevkoplyas.
Separating white cells
In blood donation, great care is taken to isolate the red cells, platelets and plasma (the transfusable components) from the leukocytes. Leukocytes are extremely valuable inside your body, but they can wreak havoc inside someone else's.
"Leukocytes are your immune system," said Shevkoplyas. "They literally contain information about all infections you've ever had and they can produce antibodies against those infections.  Also, some of those white cells are basically designed to kill things. They go and actively eat all of those infections."
They are hard workers, these little white cells that keep us healthy. So why not have them in the blood supply?
"I don't want yours! Mine will look at yours and kill them, because of the different genetics," said Shevkoplyas. It can be a process like organ rejection, in which the body might start attacking everything in the bloodstream, similar to an autoimmune reaction.
Dead-end filtration
Current protocol calls for donated blood to be spun in a centrifuge to separate the components. This results in the platelets being suspended in plasma, however, leukocytes still remain. Then the process to remove the white cells is called dead-end filtration, it's similar to how coffee is filtered. In this instance, however, it's the leukocytes that are collected in the filter while the to-be-transfused plasma and platelets pass through as the filtration process continues.
"What our device allows is to not filter leukocytes out, but isolate them, in a very gentle manner, from the blood product," said Hui Xia, Shevkoplyas's postdoctoral fellow and lead author of the article.
This way, the leukocytes don't continue to be trapped and possibly release toxins into the purified platelets and plasma. Instead, they are separated gently from the blood product where they can be collected for later use.  Because of that, CIF not only provides a well-filtered blood supply with potentially healthier platelets for transfusion, but also finds its secondary benefit: A new stream of white cells for researchers.
"The white cells could actually be a cure for cancer," Shevkoplyas casually drops into the conversation. "Some of these cells are T cells, the lymphocytes that contain your immunity, and T cell-derived therapies, like immunotherapy, are all the rage right now for treating cancers."
"It's an incredibly efficient improvement," says Briony Strachan, Shevkoplyas's postdoctoral fellow, and another author of the article. "You get the white cells as a byproduct of doing what needs to be done anyway."
As Strachan, who's from the United Kingdom, might say: "That's bloody brilliant."
Department/Academic Programs: