Cullen College Names 2016 Outstanding Students
The Cullen College of Engineering is proud to recognize its outstanding students of the 2015-2016 year.
With an enrollment of more than 3,000 hard-working and dedicated undergraduate students, finding ways to shine among a sea of overachieving students is no small task. This year, however, two students managed to stand out among the Cullen College's seniors – chemical engineering student Nhan Peter Tri Vo and petroleum engineering student Sarah Elizabeth Williamson will share the title of outstanding senior at the college. Mechanical engineering student Tam Nguyen was named the college's outstanding junior.
In addition to naming an outstanding junior and two seniors at the college-level, administrators named outstanding juniors and seniors for each of the engineering departments.
The Cullen College's outstanding students will all be recognized at the Outstanding Student Recognition Luncheon, hosted by the Texas Society of Engineering at Prairie View A&M University on Feb. 23, 2016.
Learn more about this year's outstanding students below!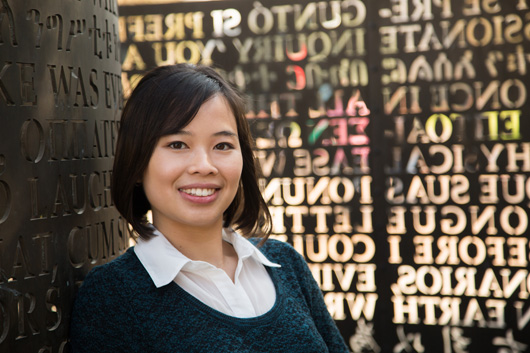 Outstanding Junior: Tam Nguyen
Nguyen, who describes herself as a lifelong learner, said she was drawn to the Cullen College's mechanical engineering department because she enjoys solving complex problems and working with mechanical systems.
"When I see a problem with something in daily life, I often think about ways to solve or improve it," she said. "I find the process of finding a solution very gratifying."
As she embarks on her second semester as a junior at UH, she has a wealth of research experience behind her, a handful of distinguishing accolades on her resume and a summer internship at Shell on the horizon.
Last summer, she was a recipient of the 2015 Summer Undergraduate Research Fellowship (SURF) at the University of Houston. During the 10-week fellowship, she studied how chaos theory causes inaccuracies in weather prediction over a long period of time. Going beyond the SURF requirements, she also built a Lorenz waterwheel to demonstrate characteristics of her research.
However, it was in her faculty advisor's lab that Nguyen found her true passion. Since 2014, she has worked as a research assistant studying nanomaterials for lithium-ion batteries with Haleh Ardebili, Bill D. Cook Assistant Professor of mechanical engineering.
Lithium-ion batteries have various everyday applications and play an integral role in many people's day-to-day lives, powering everything from cell phones and electric vehicles to energy storage systems and even hoverboards. However, some lithium-ion batteries carry major safety concerns, including a high risk of flammability as evidenced in recent cases of exploding hoverboards, and in instances of electrical vehicle accidents and cellphone and laptop fires.
"Hoverboards explode because lithium batteries are not as safe as they could be, but we want to improve them," she said. "I want to make batteries that are safer, last longer, are more affordable and have better storage capabilities."
Nguyen said she plans to pursue a doctoral degree in mechanical engineering with an emphasis on nanomaterials to further her current research.
When she's not studying for classes or working in the lab, Nguyen can be found with her "second family" at the UH Society of Asian Engineering Students (SASE), an organization for which she serves as president. She also strives to become a bona fide "foodie" in the dining-out mecca that is Houston.
When asked what the secret to her success is, Nguyen said: "Dedication! I always try to put in my best and avoid doing just the minimum to get by."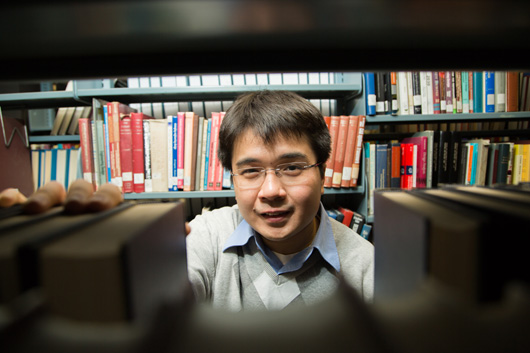 Outstanding Senior: Nhan Peter Tri Vo
Vo said he was first inspired to pursue a degree in chemical engineering education by his father, who has a doctorate in chemistry. Throughout his five years at the Cullen College, Vo found himself drawn to chemical reactions, catalysts and chemistry's role in contributing to human development.
"Ultimately, everything in the world is governed by chemical reactions," he said. "Because catalysts facilitate and speed up reactions, their interactions are where some really amazing things happen."
Last summer, Vo interned with the Japanese pharmaceutical company Kaneka North America at their location in Pasadena, Texas. He said that the hands-on industry experience he gained during the internship prepared him to tackle his senior year, providing him with skills he could apply directly to his Senior Capstone Design Project.
For the project, Vo and his Capstone teammates began designing the concept for a fully-functional chemical plant last fall under the guidance of his faculty advisor Micky Fleischer, adjunct professor of chemical and biomolecular engineering at the Cullen College. This semester the team will explore the economic aspects of developing a plant, such as calculating operational costs, reducing utility costs and developing a practical budget.
"For this project, all the information we've learned from our first years in school is combined and applied to the design," he said. "It's really great to come back to everything and see how it works together."
Outside of the classroom, Vo is an avid sports fan. He supported the UH Cougars through their entire 2015 football season, even cheering from the stands at the Peach Bowl in Atlanta, Georgia.  He said he identified with the spirit of determination displayed during the games, and tried to apply the same attitude to his academics.
"[The players] tried very hard, every time. Even when we would be behind in a game by several points, they would continue fighting until the end," Vo said. "I think the most important advice [for engineering students] is to try hard and don't give up. Even though engineering degrees require more time that other degrees, it's important to concentrate and keep going."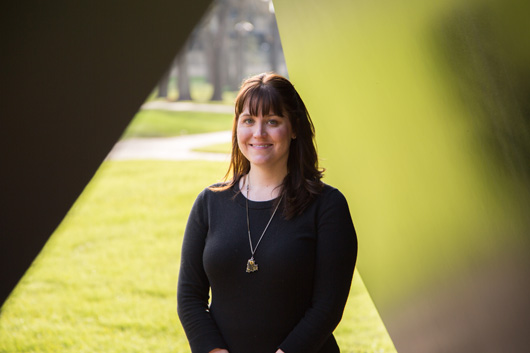 Outstanding Senior: Sarah Elizabeth Williamson
Williamson's career began in the education field, where she worked in an elementary school teaching math, science and reading skills. However, she was inspired to return to school to pursue a degree in petroleum engineering by her father.
"Growing up, I saw how much he enjoyed his career," she said of her father who worked as the VP of Operations for an energy company in California and Houston.
As she begins the final semester of her undergraduate studies, Williamson's resume boasts a variety of honors, awards and scholarships. She gained field experience through a summer internship with Pacific Coast Energy Company in southern California and is actively involved in several professional organizations through the University of Houston, including the American Association of Drilling Engineers, the Society of Petroleum Engineers and the Society of Women Engineers.
This semester also marks a major milestone for the Cullen College's petroleum engineering program. When Williamson began her education at the college, the petroleum engineering program was housed within the chemical and biomolecular engineering department. At the end of 2015, the Texas Higher Education Coordinating Board approved the establishment of the Department of Petroleum Engineering within the college. She said it's been exciting to be a part of the program's evolution to a full-fledged department at the University of Houston.
She also said the diversity of students at UH is one of the University's greatest resources.
"It taught me to be more flexible and to trust other people. I think that's one of the most beneficial things because we are going to have to learn to rely on other people when we go into the real world," Williamson said.
Although the road to earning her engineering degree at UH has required a great deal of time, dedication and elbow grease, Williamson said that earning the outstanding student award for the Cullen College was a reward for her years of hard work.
"Pursuing my engineering degree has been, by far, one of the most challenging things I've ever done. So, to know that all the hard work and persevering through it paid off, it's a really big honor and very humbling," she said.
See below for the full list of outstanding students from the Cullen College of Engineering.
Department                  Outstanding Senior         Outstanding Junior
Biomedical Engineering   Juan Reyna                       Alexis Deleon
Chemical Engineering     Nhan Peter Tri Vo              Priya Patel
Civil Engineering             Rodolfo Mendoza Garana William Arsola
Computer Engineering    Cherub Harder                  Ryan Galate
Electrical Engineering     Julia London                      Derian Widjaja
Industrial Engineering      Antonio Cabrales Juan     Rebeca Oliver-Gomez
Mechanical Engineering  Hamdi Sherif                     Tam Nguyen
Petroleum Engineering    Sarah Williamson              Bryan K. Printz