Researchers are gaining momentum with adoptive cell therapy (ACT), a type of immunotherapy that uses the patients' native or genetically modified immune cells to attack diseases such as cancer and chronic infection.
In fact, a team of Universtiy of Houston researchers, in collaboration with M.D. Anderson Cancer Center physicians and scientists, recently identified attributes of those immune cells that could help researchers to optimize cell designs for improved mediation of tumor regression in leukemia patients.
Ivan Liadi, UH Cullen College chemical and biomolecular engineering graduate student, was lead author on a paper that published in the May edition of Cancer Immunology Research, a journal of the American Association for Cancer Research. He utilized Timelapse Imaging Microscopy in Nanogrid Wells (TIMING), a novel technique developed in the UH Single-cell Lab, to examine the functional efficacy of chimeric antigen receptor-modified T cell (CAR+ T cell) in killing of tumor cells in vitro.
"We anticipate that TIMING may be used to rapidly determine the potency of T-cell populations and may facilitate the design and manufacture of next-generation CAR+ T cells with improved efficacy," Liadi wrote in the journal paper.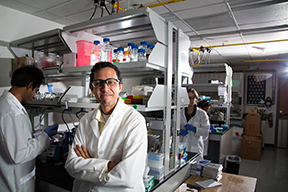 Navin Varadarajan
The research was also conducted by Navin Varadarajan, UH professor of chemical and biomolecular engineering, Badri Roysam, UH department chair and professor of electrical and computer engineering, and Gabrielle Romain, UH postdoctoral fellow, among other scholars.
"The Single-cell Lab at the University of Houston aims to pioneer single cell methodologies with an eye on translation," Liadi said. "We've tried to look at the bigger picture in order to optimize and expand the methodology, either with applications into different immune cells or into the realm of dynamic imaging."
World-renowned immunotherapy expert Carl H. June referenced the UH study in his Cancer Immunology Research commentary that published this month. June, a professor of immunotherapy at the University of Pennsylvania, indicated that one of the strengths unique to Liadi's study was his use of CAR+ T cells already in use in clinical trials.
One of the challenges of CAR+ based immunotherapy is identification of specific antigens present on target cells by immune cells with minimal off-target toxicity. In the context of leukemia, approximately 95 percent of malignant B cells express CD19 surface markers, making them highly attractive targets for CAR+ based immunotherapy.
The UH team constructed a unique array containing approximately 85,000 nanowells to capture, observe and repeatedly image interactions between the immune cells and tumor cells. They classified the CAR+ T cells into CD8+ CAR+ T cells (CAR8/cytotoxic T cells) and CD4+ CAR+ T cells (CAR4/helper T cells) and found that both CAR+ T subsets can participate in serial and multiplex killing. 
The researchers discovered that CAR4 cells kill less efficiently than CAR8 cells because they take two hours longer to kill tumor cells. This is caused by lower expression of a cytotoxic molecule called granzyme B. However, improved resistance of CAR4 cells to activation-induced cell death (AICD) counterbalances this inefficiency. Furthermore, both cell subgroups suggested that highly motile CAR+ T cells could indicate high killing efficacy of tumor cells as well as low activation-induced death of immune cells.
"So instead of infusing heterogeneous mixtures of CAR+ T cells, specific modified phenotypes could lead to better tumor regression in patients," Liadi said. "Helping design new generations of optimized CAR+ T cells used in clinics is rewarding, high-impact research."
Read the study by UH engineers and the commentary by Carl June that published in Cancer Immunology Research.
Department/Academic Programs: